Introduction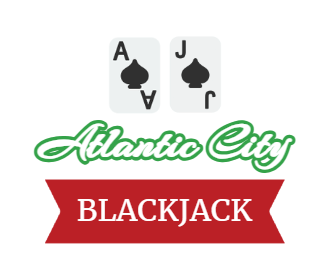 Atlantic City Blackjack, also known simply as ACB, is a casino-based table-comparing game popularized by one of America's premier gambling towns.
Obviously beaten in popularity by Las Vegas in Nevada, Atlantic City in New Jersey is still one of the most famous casino towns in the United States.
Despite the name, the game is not simply Blackjack played in Atlantic City. It's a full variation of the game with its own particular ruleset, explained below.
How to Play Atlantic City Blackjack?
Atlantic City Blackjack is played, using six-to-eight copies of the Standard Anglo-American 52-card deck. These decks are combined together into a large single deck, known as the "Shoe." This Shoe is then used continuously to deal without shuffling, until it is completely depleted. Once depleted, the deck is reshuffled.
Atlantic City Blackjack, borrows most of the mechanics and procedures from the original game. As such, the general rules of Blackjack will not be explained in depth here.
Procedures
Each Player places an Ante, within the bounds of the casino's stated maximums and minimums.
After this Ante has been paid up by each participating Player, the Dealer will give two cards face-up to each Player that has paid their Ante.
Once each Player has the two cards of their initial hand, the Dealer will then give themselves two cards. One, the bottom card, will be dealt face-down, while the other, the Top card, is dealt face-up.
If this face-up card is an Ace, or a 10, the Dealer may peak their Bottom card to check for Blackjack.
If it is not Blackjack, the card remains face-down. If it is, the Dealer will expose the Blackjack, and all Players without it lose their wagers.
Players will push, rather than automatically being paid.
Players have all of the usual positions available to them in traditional Blackjack: Hits, Doubles, Stands, Splits.
Players also have two abnormal options, the Surrender, and the Insurance. When Surrendering, Players can forfeit half of their total wager to the Dealer, including half of their Split and Double bets.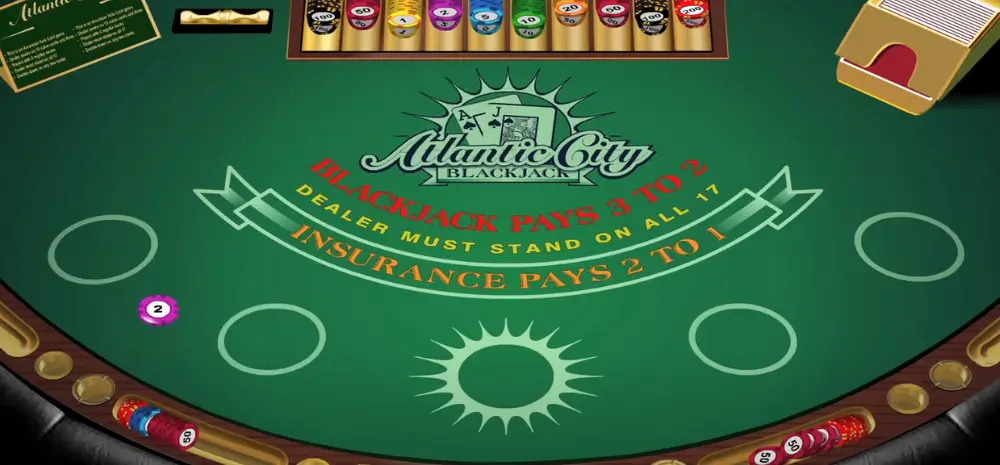 Late Surrender
ACB offers a "Late" Surrender option, which means that after the Dealer checks for Blackjack and finds a complete Blackjack, Players can still surrender.
Once it's certain that you will lose to Dealer Blackjack, you can simply forfeit half of your wager rather than the whole thing.
Insurance Payout
In addition to the Late Surrender, ACB offers an insurance payout for Dealer's Blackjack. Players are able to win 2-to-1 money based on the wager made on the Insurance.
However, the Insurance is generally capped at half of the Ante, meaning the Insurance will only ever help you break even.
Showdown
Each Player, per usual, takes their turn during the Showdown after the Dealer has revealed their Bottom card.
Once each Player has compared their final hand to that of the Dealer's, and money has been lost or won appropriately, the cards are collected and new ones are dealt from the Shoe to Players that place a new Ante.
Rules
The rules of Atlantic City Blackjack are summarized below:
Players may Split a pair of Aces, though they may only Split such a hand once, even if they are dealt two more pairs.
Players can Split non-Ace cards up to three times, and may Double Down after Splitting. Players may only Double Down on two-card hands, however.
Dealers may check their Bottom card if their Top-card is a 10, J, Q, K, or Ace. If they have Blackjack, they reveal their bottom card and immediately begin the Showdown.
The Dealer will always stand on 17, soft or hard.
Atlantic City Blackjack Payouts
All Ante wagers, including Splits and Doubles, pay out even money after the Showdown if the Player wins. If the Player has Blackjack, they win 3:2 their wager if the Dealer does not have Blackjack. Otherwise, there is a push.
The Insurance payout may seem good because it offers a 2x payout. However, the Insurance wager is limited to half of the Ante in Atlantic City Blackjack. It will only break even in the best of circumstances and will be a waste of money at worst.
Example Scenario
Suppose the following are your cards in a game of ACB:
8♦ 8♣
Players in ACB are allowed to Split up to three times, for a total of four possible hands. Further, Players should always Split if they are able. Since this is a pair of 8s, Split and be dealt two hands.
Although one hand is rather weak, forced to stand at 18, there is another Split opportunity. Splitting again yields three hands.
Players may double after Splitting, and you have an 11 in the first hand. Always Double on 11.
8♦ 3♣ 10♣
21! This hand, with its double, wins double money. You must stand on the 18, because hitting on 18 is never recommended, but you can hit on the 15 in the middle.
8♠ 7♥ 2♦
The three hands are 21, 17, and 18 respectively.
The dealer reveals 17 for Showdown and must Stand. You win double for the first hand, push on the second, and win the third!
Strategy Tips
In General, Avoid The Insurance
Blackjacks are very rare, and even if the Dealer does have it, Players only stand to lose half their Ante due to the Late Surrender rule.
The Insurance is not a worthy use of money, because more often than not it is a waste. It is best to avoid the insurance offered by any casino unless that insurance pays out 3:1. Then it may be worth the investment on occasion.
House Edge
The overall House Edge of Atlantic City Blackjack is about 0.5%. This is in line with other games that do not offer any form of side bet.
ACB is a good game to Play if you have a lot of time and don't mind walking away breaking even or with low-margin profits.
ACB is particularly beneficial to the Player in that it allows splitting on Aces. Most Blackjack games do not allow this, and so Players do stand to win their Splits slightly more often because of this.
Also read