Introduction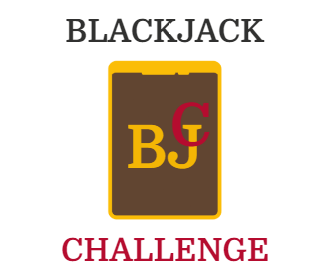 Blackjack Challenge is a Table-Comparing game, based on the traditional casino game Blackjack. The game is very similar to the original, though it offers a few rule changes that affect the odds and edge of the game.
Blackjack Challenge is most popular at Star Casino in Sydney Australia, a gambling hotspot for wealthy tourists and domestic Australians alike.
How to Play Blackjack Challenge?
Blackjack Challenge uses six to eight copies of the Standard Anglo-American 52-card deck, combining them into a Shoe. The Shoe is the name for a deck composed of many decks.
These cards are shuffled, and just like other Table games, Players must make an initial Ante in order to be dealt cards. This is all familiar to Blackjack Players.
Players have the same betting positions as in Blackjack as well (Hit, Stand, Double, Split).
Automatic Payouts
The differences between traditional Blackjack and Blackjack Challenge arise when looking at the Player's potential automatic payouts.
In Blackjack, a Player is given a 3:2 automatic payout if they have an Ace and a Face-card/10 in their first two cards dealt by the Dealer.
There are no other automatic payouts in Blackjack, but there are in Blackjack Challenge. These additional automatic payouts are called the Five Card Charlie, and the 21-Auto.
Five Card Charlie
The Five Card Charlie, as its name suggests, pays out automatically 1:1 when Players have a non-busted five-card hand.
Something like 2♦ 2♣ 3♣ 4♠ 7♣. There are five cards in the hand, it does not go over 22, and it does not equal 21. This means a Player wins on Five Card Charlie.
21-Auto
The 21-Auto pays out 1:1 when a Player forms a hand of any size (though less than five as otherwise a Player just wins Five Card Charlie instead) that equals 21.
For example, a 5♦ 10♠ 6♣ would win a 21-Auto. The instant the Player Hits and receives a 6, they get paid out 1:1 for their hand.
Natural Blackjacks
Furthermore, the traditional Natural Blackjacks are very different in Blackjack Challenge. When a Player is dealt a Natural, rather than winning a 21-Auto, the Player simply waits for each Player to take their turn.
Once they do, the Dealer will deal their final card (Dealers do not deal a face-down at the start of the game, and instead deal their 2nd card during the Showdown) and see if they also win a Blackjack.
The following comparison and odds occur:
If the Dealer does not have Blackjack, the Player wins 2x their wager.
If the Dealer DOES have Blackjack, the Player, and Dealer compare the ranks of their 10/face-card. 10<J<Q<K.
The following procedures and odds occur based on this secondary comparison:
| Situation | Payout |
| --- | --- |
| Dealer's 10-card is ranked above the Player's | 3:1 |
| Dealer's 10-card is the same as the Player's | 4:1 |
| Dealer's 10-card is ranked below the Player's | 5:1 |
So, in Blackjack Challenge, Players will still always win if they receive a Blackjack, but it cannot be automatically paid out, as the Dealer and Player must have this Showdown comparison to determine what the Player's final payout will be.
Other Rule Differences
Aside from these specific payout differences, Blackjack Challenge is mostly played the same as the original game. There are a few more minor rule changes, that are simple modifications to existing Blackjack rules. These will be explained further in the "Rules" section below.
Rules
Players may Double on three-card hands, as well as the traditional two-card hands.
Players may Split as many times as they can, up to three, even when it is a pair of Aces.
Players may Double after Splitting, and can even Hit on their Split once before Doubling.
If a Player splits and receives a Blackjack on that split, it is considered a natural and is guaranteed to receive 2x the wager, and might be paid up to 5x.
You can also find the rules at The Star Sydney's website
Example Scenario
Imagine the following is your hand at the start of a game of Blackjack Challenge:
A♣ Q♠
This is an extremely strong Blackjack. Not only are you guaranteed a 2x payout, if the Dealer also has a Blackjack, you have a 75% chance of winning either a 4x or 5x payout.
The game continues and the Dealer deals out their second card, for a Blackjack of:
A♦ Q♣
This means you and the Dealer both have Blackjack, and upon comparing the non-Ace cards, reveals a tie as Queens are evenly ranked.
This results in a 4x payout, as both you and the Dealer had Blackjack, and your 10-cards are equal in value.
Strategy and Tips
House Edge
Blackjack Challenge, as far as Blackjack games go, has a fairly high House Edge of about 2.5%. Now, bear in mind that this is a very low House Edge compared to most other table games.
However, relative to traditional Blackjack, which has a House Edge of about 0.5%, Blackjack Challenge has a high House Edge. However, this higher edge comes at a much higher potential reward.
Not only may Players Split up to three times, but a tied Blackjack or even a superior Blackjack can pay out up to 5x.
If a Player Split, and somehow won winning Blackjacks on two of those hands, they could win up to 10x their original wager. 20x if they Doubled Down on both hands.
A Player would have to win ten Double Downs or twenty normal hands of Blackjack to receive the same payout.
Don't Alter Strategy Based on Special Payouts
The special payouts on offer in Blackjack Challenge are entirely luck-based. You have no control over receiving an Auto-21 or Five-Card Charlie, or a Blackjack.
As such, do not focus on those differences. Instead, play Blackjack Challenge like it is a normal game of Blackjack, and reap the occasional rewards of these special automatic payouts like they are bonuses. Do not play towards them, play in spite of them.
Also read