Introduction
Chinese Blackjack, also known as Ban-Luck, 21-Point, and Ban-Nag, is a Table Comparing game based on the traditional game of Blackjack.
It is a popular game around the holidays, particularly Chinese New Year. The game is perceived more as something to play with friends and family, rather than a high-stakes game of gambling.
How to Play Chinese Blackjack?
Chinese Blackjack is played using one-to-two copies of the standard Anglo-American 52-card deck. Use one deck if there are four or fewer players, and two if there are five or more. Theoretically, it can be played with up to 20 or more people, though this can get a bit unwieldy.
Ante
Before cards are dealt, Players must place their Ante into the center. The Players at the table will determine the minimum required Ante.
Shuffle and Deal
Unlike in normal Blackjack, the deck is usually shuffled between each deal in a game of Chinese Blackjack.
A Dealer is chosen randomly, and in subsequent games, the Dealing position will move around the table in a clockwise fashion.
Cards are dealt face-down to each Player, including the Dealer.
Winning Condition
The game's win condition is the same as traditional Blackjack; Players attempt to form a hand total of 21. However, as will be explained below, the values of cards in Chinese Blackjack are slightly different than in that of the traditional game.
Combinations
Furthermore, there are special hands, called "Combinations" that will be further explained in the relevant section below.
These combinations are something like melds in other Chinese games, such as Pai Gow. Players can expect a superior payout on a hand that contains one of these combinations.
Regular Gameplay
Aside from the Combinations, players win Chinese Blackjack in the same way as traditional. Players are attempting to achieve 21, or if they are lucky, Blackjack in their initial two-card hand.
Players must reveal their cards to declare Blackjack, and can do so immediately after the Deal.
If Players do not have any special combinations, or Blackjack (Ban-Luck), then they will play a normal game of Blackjack from that point onwards.
Players have required positions that they must take depending on the total value of their hand.
If Players have a 14 or less, they are required to hit.
If Players have a 16, 17, 18, 19, or 20, then they may decide to either hit or stand.
If a Player has a 21, or greater, they must Stand or Fold, as they have either 21 or busted.
Dealer's Turn
The Dealer's turn is always last, and on the Dealer's turn, they may force Players to reveal their hands for an immediate Showdown against the Dealer's current hand. Payouts are made according to that comparison.
After doing this as many times as they wish, the Dealer may still Hit before continuing into the proper Showdown.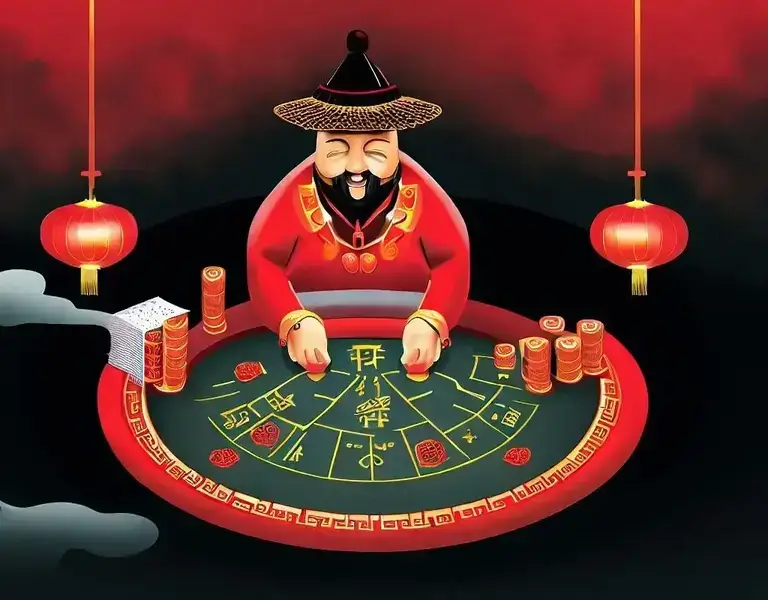 Card Values
The values of Aces in Chinese Blackjack are actually somewhat unconventional. Every other card in the game behaves as it does in the traditional version of Blackjack. Aces in Ban-Luck however, are extremely different.
The value of the Ace is determined by the number of cards in the hand.
If a Player has one Ace in a two-card hand, that Ace can either be worth 11, or 10, rather than 11 or 1.
If there are three cards in the hand, that Ace then becomes worth 10, or 1.
If there are four or five cards in the hand, the Ace in the hand always becomes worth 1, with no option to increase the value.
This means a hand of 2-2-2-3-Ace is not worth 21. The hand does still win, and in fact, wins more than a simple 21, but keep in mind that its value is not 21.
The reason for this hand winning is explained below in the "Special Combinations" section.
Special Combinations
There are a number of special conditions and card combinations in Chinese Blackjack. Many Chinese card games involve some such mechanic, with additional bonuses yielded for specific card arrangements.
There are two types of Special Combinations: Five-Cards, and Melds.
The Melds are specific cards that are in a specific arrangement in the hand. Players may reveal these special combinations the moment they are dealt out into their hand and they have been checked by the Player.
There are four of these Combinations: No Man's Land, Ban-Luck, Ban-Ban, Triple Seven, Five-Dragon and Five-21.
No Man's Land
If a Player has a card total of 15 in their initial two cards, then they are given a possible free push at no cost if they wish. In the case of a 15 Sweep, all of that Player's wagers are pushed.
Ban-Luck
The Ban-Luck is an Ace and a Face-Card or 10 in the initial hand. The Ban-Luck, as the alternative name of Chinese Blackjack suggests, is simply the Chinese name for Blackjack. Ban-Luck pays out 2x the wager. Player's Ban-Luck ties with the Dealer's Ban-Luck.
Ban-Ban
The Ban-Ban is a combination of two Aces. It is for this reason that Ace in a hand of two can either be worth 10, or 11. Two Aces combined in traditional Blackjack could be Split but will not equal 21.
Two Aces can also be split in Chinese Blackjack, but it is far better instead to reveal the Aces and receive a 3x payout.
The Triple Seven
The Triple-Seven is not a two-card combination like the others. Instead, a Player must have a pair of 7s, and then Hit on their turn.
If they receive a third 7, then they have achieved the Triple Seven combination. Some House rules make this lucky combination pays out 21x the wager. Others simply make it 7x.
Aside from the Meld combinations, there are two Five-Card combinations. The Five-Dragon, and the Five-21.
Five-Dragon and Five-21
If a Player manages to be dealt 4 cards, and they have not yet Busted, they must reveal their 4-card hand if they wish to hit again.
After revealing their hand, they may hit for a fifth card. If this fifth card causes the hand to Bust, the Player loses double their wager.
If the hand does not Bust, but does not equal 21, it is the Five-Dragon. Players are immediately rewarded with a double-wager win.
If the hand does equal 21, then it is the Five-21, and the Player is immediately entitled to a triple-win on their wager.
Chinese Blackjack Rules
In short, the game's core rules are:
The Dealer always takes their turn last and can force Players to reveal their hands.
Players that have four cards in their hand and wish to Hit again are required to reveal their hands.
Blackjack/Ban-Luck pays out 2x, rather than the standard 3:2 payout.
Players can Split, Double, Hit, and Stand as they normally would.
Example Scenario
Suppose you are in the following situation:
Even though the Dealer's turn is last, the Dealer and Players may all peek their hands for Combinations.
The Dealer peeks, and declares Ban-Luck, while turning over their cards. They have an Ace and a 10.
There are only three ways for you to walk out of this hand without losing money.
Firstly, you could have a Ban-Ban. Ban-Ban beats the Ban-Luck, and as such if you reveal a Ban-Ban against the Dealer's Ban-Luck, you will still win 3x your wager.
Secondly, you could have the Ban-Luck. If you and the Dealer both have Ban-Luck, then the hand is pushed for you.
Thirdly, you could have the No Man's Land. With a card total of Fifteen, you can declare the hand free and surrender your cards while losing no money to the Dealer.
Strategy and Tips
If a Player has at least a 16, then they can Stand. Considering that hitting on a 16 will result in Busting more than half of the time, it is better to simply Stand and hope for the Dealer to Bust.
You may think 16 is too low to Stand on, and you would be correct. The Dealer has to Bust for you to win, as the Dealer must hit until they have 16, unless they have a No Man's Land combination.
As such, if you Stand on 16, you are likely to lose. However, hitting on 16 will only further decrease those already slim odds. Stand on 16 maximizes your chance of winning on that rough hand.
Do Not Split a Pair of 7s
The odds of receiving a Triple 7 are quite low, but a Three-of-a-kind is not out of the realm of possibility.
Splitting might yield a maximum of 4x the bet, but Three 7s will yield a maximum of 21x the bet if the players agree to such beforehand.
Further, Split 7s are overall not incredibly useful. They increase the odds of receiving a No Man's Land, but that is their only real benefit.
Also read
External