Introduction
Double Attack Blackjack is a Table-Comparing game that is popular in many casinos, particularly in New Jersey.
Double Attack is actually a variation of a variant, being a twist on the game Spanish 21. Feel free to reference our Spanish 21 guide here on CoolOldGames if there is any confusion about the basic rules.
How to Play Double Attack Blackjack?
Double Attack Blackjack is played using the 48-card Spanish deck. A Spanish deck can be created from any 52-card Standard Anglo-American deck, simply by removing all four 10 cards from the deck and setting them aside.
Multiple copies of these Spanish decks will be shuffled together in order to form a single "Shoe", usually between six and eight of them.
Just like Spanish 21, Double Attack Blackjack is based on the traditional game of Blackjack. As such, it follows many of the same rules and procedures as that game, with a few rule variations that distinguish it as its own unique game.
Pre-Game
The game begins with each Player placing the required Ante before cards are dealt.
Once the Ante has been paid for the hand, The Dealer will deal themselves a single "Up" card face-up.
Once this has been done, each Player has the option simultaneously to "Double Attack."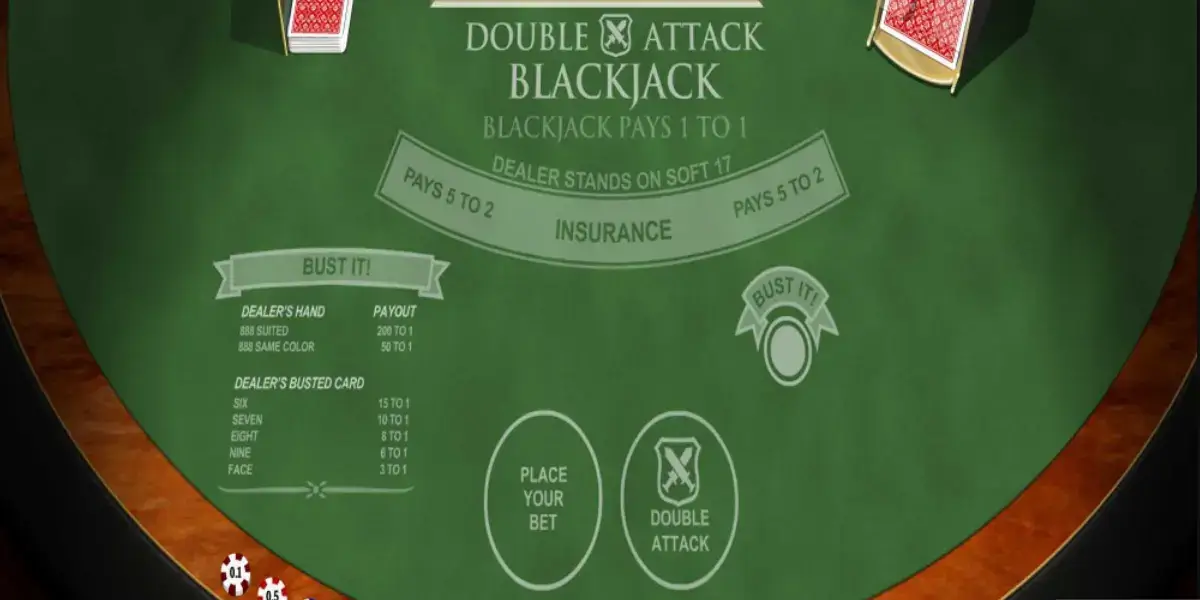 Doubling the Ante
The Double Attack allows players to double their initial Ante after seeing the Dealer's top card. Players must do this immediately after the Dealer's Up Card is dealt.
Dealing
After Players have chosen to Double Attack bet or not, the Dealer deals their "Down" face-down card, and the remaining cards are dealt out to each Player.
Each Player is dealt two cards, face-up.
Gameplay
Once each Player has been dealt out gameplay may begin. The Player to the immediate left of the Dealer takes their turn first. Players have all of the normal options available to them in a standard Blackjack game: Surrender, Hit, Double, Split, and Stand.
Insurance
The game also offers an Insurance option if the Dealer's Face-Up Card is an Ace. Double Attack's insurance, unlike almost every other Blackjack Insurance option, is actually somewhat useful.
Most insurances pay out 2:1, which results in an effective push if the Dealer has Blackjack.
Double Attack's insurance on the other hand pays out 5:2, or 2.5:1. With this payout available, players are actually able to make a profit on the insurance if the Dealer has Blackjack.
However, this is offset by the lack of 10s making Blackjacks slightly less common in a Spanish deck.
This reduced chance of Blackjack means that even though the Insurance pays out at a higher rate, it is less likely to occur and therefore points the House Edge back in favor of the House.
Ending and Showdown
Once Players have made their positions known to the Dealer, the Dealer reveals the Down Card and hits as necessary.
Players compare their hands to the final hand upon which the Dealer Stands, following the standard rules of a Blackjack Showdown.
Money is given to the appropriate Players, while all other Players lose their wagers, and a new hand is dealt out.
Rules
The essential Double Attack Blackjack rules can be seen below.
The Dealer will peek at their cards to check for Blackjack if the Up Card is an Ace. Players may also Double Attack if the Dealer's Up Card is an Ace.
Players may Split up to three times for four total hands. Players may only Split a pair of Aces once, and Players have the option to Double Down on a Split hand. Players may only Double once.
Blackjacks pay out even money (1:1).
Payouts and Side Bets
Bust It Side Bet
Double Attack Blackjack offers a "Bust It!" side wager that pays out if the Dealer busts on a certain card.
This bet must be paid before the Dealer's Up Card is dealt, but after the Ante has been placed.
Players cannot participate in the Bust It side bet without placing an Ante.
This side bet its own payouts, depending on the Dealer's card.
| Card that Causes Dealer to Bust | Payout |
| --- | --- |
| 6 | 15x |
| 7 | 10x |
| 8 | 8x |
| 9 | 6x |
| Face-Card (Jack, King, Queen) | 3x |
House Edge
The house edge for this bonus lies around 8%.
Triple 8s
There are also special payouts for Triple 8s dealt to the Dealer.
If they are all the same suit, then Bust It pays out 200x the wager.
If they are all colored (Either all ♦ and ♥ or all ♠ and ♣) then the it pays out 50x.
Some versions of the BustIt side bet pay out based on the number of cards a Dealer has when they bust, similar to the 5-card 21 bonuses in other games. However, the above is far and away the most common version of this bonus.
Playing Example
Suppose the Dealer shows a 4 for their Up Card.
Even though you have not been dealt cards yet, it is advisable to go for the Double Attack. Dealers with a 4 as their top card have a strong chance of Busting out, or at the very least being forced to stand on 17.
If the Dealer has a 4, and Players generally assume that the Down card is worth 10, that leaves the Dealer with a total of 14. On a two-card 14, the Dealer is forced to hit.
If the Dealer hits and receives an Ace, or a 2, then they are forced to hit again. If they Hit a 3, they are forced to stand per the Dealing rules.
The Dealer must hit a 4, 5, 6, or 7 to not bust, everything else will result in another forced Hit, a bad Stand, or a Bust. If the Up Card is a 4, you should always Double Attack.
Tips and Strategy
Understand When to Double Attack
You should always raise your bet when it has a high probability of paying out, such as Doubling Down when you have a total of 9, 10, or 11.
You as the Player want to maximize your chances of winning a profit. This means maximizing your winnings on hands that you can win, and minimizing losses on hands you will certainly lose.
Double Attack whenever the Dealer shows a 3, 4, or 5 for their Up Card, and Surrender when the Dealer has an Ace or Face Card if your hand is weak.
Avoid Insurance and Side Bets
Basic strategy tips apply, don't forget this game is a variation.
Stay away from the Insurance, because even if you do manage to win, you only win the value of half your bet in profit.
The Bust It bonus is slightly better, but because the Dealer will stand on 17, 18, 19, 20, and 21, the odds of the Dealer actually busting are dramatically reduced.
Bonuses in Blackjack games almost always tip the Edge in favor of the House. Focus on Doubling Down and Double Attacks, and you will win more money in the long run.
Where to Play Double Attack Blackjack?
There are multiple options:
You will be able to find it at an online casino offering Playtech software.
In real life, you will mainly find it at Atlantic City casinos. However, his TripAdvisor discussion on where to find Double Attack Blackjack also mentions Bally's and El Cortez in Las Vegas. Do keep in mind that this discussion is more than 10 years old.
You Might Also Like