Introduction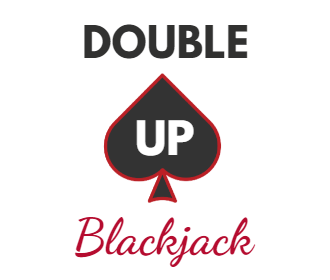 Double Up Blackjack is a Table-Comparing game based on the traditional game of Blackjack. Double Up is distinct from Blackjack in its feature allowing players to Double their wager.
While this might sound facetious, as players are free to Double Down in traditional Blackjack, the Double Up is in addition to that normal Double Down mechanic.
How to Play Double Up Blackjack?
Double Up Blackjack is played using six to eight copies of the Anglo-American 52-card Deck. These decks are combined to form one large deck, known in Blackjack as the Shoe.
Double Up Blackjack is in reality quite similar to the game from which it spawned. Most procedures and betting/playing positions are the same as normal Blackjack. Blackjacks also pay out at the same rate in Double Up as in the original game, 3:2.
Players familiar with the base game of Blackjack will be able to follow a game of Double Up Blackjack with few problems.
Game Setup
Players are dealt the normal two cards, and the Dealer deals themselves one face-up card. Casinos vary on whether or not the Dealer will also deal themselves a face-down. If they do not, a second face-up card will be dealt at the start of the Showdown phase.
Double Up Mechanic
In addition to the normal betting/playing positions of Blackjack, Double Up adds its eponymous mechanic to further the gameplay.
Doubling Up is different from Doubling Down. Next to the Ante Box will be another box, labeled Double Up. This is a separate wager from both the Ante, and any Double Downs that a Player makes.
This Double Up wager must be equal to the Ante, and a Player must stand immediately after they make it without taking any further playing positions.
Players may Double Up even after they have already Split and/or Doubled Down.
Players may Double Down after Splitting, and may Double Up after that.
Players may also Hit prior to Doubling Up, though they cannot Double Down after Hitting.
Players cannot Double Up if they have a Blackjack or 21.
Dealer's Standing Rule
In order to make up for this additional benefit to the Player, the casino naturally wants to add some mechanics in order to reduce their own risk.
As such, the Dealer will always Stand on 16. When the Dealer has a hand total of 16, they will always Stand and every Player will receive a push on all their wagers, except for Players with 21s and Blackjacks.
16 Bonus
As a form of insurance, Players are offered an additional bonus wager, on top of the Double Up. This box is usually placed below the Ante box, and is labeled the "16 Bonus".
The 16 Bonus pays out whenever the Dealer's hand totals 16 and triggers the full table Push. Although its payouts are explained further below in the "Bonus Payouts" section, the more cards the Dealer has in their hand to total 16, the more money a Player wins from the bonus.
Other
Aside from the Double Up and 16 Bonus, Double Up Blackjack follows all the normal rules of standard Blackjack, with some slight mechanical variations in addition. These are described in the section below.
Double Up Blackjack Rules
The Double Up wager will lose when tied, while the Ante and other wagers will push. The 16 Bonus pays out regardless of the game's outcome and is only based on the Dealer's hand.
Players may Re-Split, though casinos vary on the amount of Re-Splits they allow a Player in a particular hand.
Players cannot Hit after Splitting aces. They may Double Up, however.
All payouts are 1:1, except for Blackjack and the 16 Bonus. Blackjack pays the traditional 3:2, while 16 Bonus has its own pay table below.
Bonus Payouts
The payout table for the 16 Bonus is rather simple. The more cards in the Dealer's hand when they are forced to Stand on 16, the more money that this bonus pays out.
The 16 Bonus is a form of insurance against pushes, and has a fairly decent chance of payout depending on its configuration.
| Cards in Dealer's Hand | Payouts (On a to-1 basis) |
| --- | --- |
| Two Cards | 4x |
| Three Cards | 5x |
| Four Cards | 10x |
| Five Cards | 50x |
| Six or More Cards | 100x |
House Edge
In this version of the paytable, the House Edge is only 7%.
Example Scenario
Imagine the following is your hand in a game of Double Up Blackjack:
5♣ 6♠
11s are always very strong hands in a game of Blackjack. They are especially powerful in games of Double Up Blackjack, because you stand to win an additional multiplier on top of your optimal Double Down.
Players should always Double Down on an 11 if they can, and so after Doubling Down:
5♣ 6♠ 9♦
A 20! While this might seem disappointing, as you are not guaranteed to win, a 20 is actually the hand with the highest payout potential in Double Up Blackjack.
You cannot Double Up on 21, making 20 the strongest hand that can be Doubled Up. Now that you have a 20, Double Up in addition to your Double Down by adding a wager equal to the Ante.
The Dealer's hand is revealed as:
10♣ 9♥
A 19! You win and are paid for 1:1 for your Ante, Double Down, and Double Up wagers!
Strategy and Tips
Make use of the Favorable House Edge
The overall House Edge of Double Up Blackjack, when avoiding the Insurance Bonus and utilizing an optimal strategy, is between 0.2% and 0.4%.
This makes Double Up Blackjack an even better game than traditional Blackjack, in terms of Edge.
Avoid the Bonuses for Optimal Strategy
Bonuses in Double Up Blackjack are usually, in the statistical long-term, a loss for a Player to invest in. Bonuses offer the sweet promise of a large payout, but it is so statistically unlikely to hit that jackpot.
Players will often fall into the trap of paying into the Bonus every game. This is almost always a bad idea. The occasional play on a Bonus is fine, maybe you'll get lucky, but if you want to be a long-term strategic Player, bonuses should be avoided like the plague.