Introduction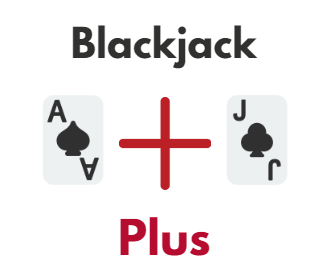 Blackjack Plus is a Table-Comparing game, most often played in casinos both online and land-based.
Blackjack Plus plays just like its parent game Blackjack, but with a few special modifications that alter the edge and payouts of the game slightly.
How to Play Blackjack Plus?
Blackjack Plus is played using six to eight Anglo-American Standard 52-card decks combined into one large deck, called a Shoe. These 416 cards are shuffled, and then each player that wishes to participate in the game places an Ante.
Busting
The Dealer in Blackjack Plus, does not payout for busting. Instead, Players and the Dealer will simply push in the event of a Dealer's bust.
This brings the Edge back in favor of the House, because the House's most common way to lose is now just a push and therefore far less risky.
Automatic Payouts
Blackjack Plus also offers new automatic payouts not present in traditional Blackjack.
Blackjack Plus has a natural Blackjack payout automatically, which is normal. However, in this game, Naturals are paid out 1:1 rather than 3:2.
There are also the Five Card Charlie and 21-Auto payouts. All of these payouts, as well as a normal hand, always pay even money.
Five Card Charlie
The Five Card Charlie is a special payout players receive when they have an unbusted hand of five cards.
For example, 2, 3, 4, 9, Ace (19 Total).
This hand contains five cards and does not go over 21. The five-card total does not need to equal 21 in order to payout, it only needs to be a hand of five cards.
21-Auto
The 21-Auto is simply an even payout for any Player that forms a 21 in their hand.
Essentially, all hands that combine to form 21 in total can be treated as Naturals.
For example, your hand is a 15 total, and you hit for a 6. You now have a three-card hand that equals 21.
In traditional Blackjack, this is still a strong hand, but you might push the Dealer or even lose if the Dealer has a Natural.
In Blackjack Plus, this is an automatic payout.
Other Rule Differences
Aside from these special mechanics, a few set rules exist for the normal procedures of Blackjack, such as when a Player may split, or Doubling rules.
Aside from the changes described above and in the immediate section below, every other aspect of Blackjack Plus can be played like a normal game of Blackjack, meaning fans of the original game will feel right at home when sitting at a Blackjack Plus table.
These smaller rule changes are slightly different in Australia and New Zealand, and those rules are reflected in their own relevant sections below.
New Zealand Rules
Players have the option to Split, but they cannot Re-split. So, a pair of 10s that splits into two pairs of 10s cannot be split a second time.
Players may Double Down on any two-card hand so long as it is not a 21 or Blackjack. Players cannot Double Down on three-card hands or more, but Players may Double after they Split.
The Dealer does not take a hole card (Face-down). Instead, the Dealer deals a fresh card from the deck during the Showdown.
If the Player participates in the Showdown, and the Dealer has Blackjack, then the Players will pay their original ante, as well as a share equal to that Ante per Split hand. In other words, Splitting Players that lose to the Dealer's Blackjack must pay 2x their Ante.
Australian Rules
Players may Double on any two-card or three-card hand. Just like in New Zealand Players may also Double after a Split.
Players CAN Re-split in Australia, unlike in New Zealand. This means you can Split, and then Split again. However, you may only Re-Split one of your two hands, not both of them, for a max total of three hands at once.
Split Aces are only allowed to be dealt a single card, similar to a Double Down. Players may Hit, or Double their Split Aces, but they may not hit more than one card.
Blackjacks in Australia are automatic just like New Zealand, but Blackjacks here only pay 3:2, instead of the more desirable 1:1
Official rules at Crown Melbourne (page 49).
Example Scenario
Imagine the following is your hand in a game of Blackjack Plus:
5♠ 5♣
This is great, you can use this to Split. Let's assume the game is in Australia, and you are dealt:
5♦ 5♣ \ 5♠ 5♥
Even though you have two more possible hands to Split, you may only Split one more time. As such, it doesn't matter which hand you chose to split. So now you have three concurrent hands of:
| Hand | Total |
| --- | --- |
| 5♦ 8♠ | 13 |
| 5♣ 10♦ | 15 |
| 5♠ 5♥ | 10 |
The first two hands should be Hit, but the final hand should be doubled down.
This results in three hands with a total of 17 (4) A total of 21 (6) and a total of 20 (J)
The 21 pays out automatically, while the 17 and 20 showdown with the Dealer. The Dealer deals their final card to themselves, and it's a Blackjack!
You must pay 5x your original wager. 1x for losing the Showdown, 3x for the splits, and an additional 1x for the Double Down on the final hand.
Strategy & Tips
Stand on 17s
The best thing to do in Blackjack Plus is standing on 17s, as this maximizes your chances of avoiding a bust. The Dealer's bust is simply a push, so you can still hope for a Dealer bust if you are stuck with a 17. Hitting on 17 is risky, and is more likely to lose than it is to win.
Manage Risk
The payouts of the game are all 1:1, this means the only way to increase your own winnings is to take on more risk and Split and Double as much as possible.
However, this potentially opens you up to large losses if the Dealer takes Blackjack, as shown in the example scenario.
Odds and House Edge
All the payouts for Blackjack Plus are 1:1, and the odds of each hand are the same as they are in any other Blackjack game.
However, the House Edge is significantly higher than other games. This is because the Dealer does not payout on Bust, and pushes instead.
A Dealer bust is one of the most common ways to be paid out in Blackjack, and it simply does not happen in Blackjack Plus. This turns a traditional gambling game with a razor-thin House Edge of 0.5%, into something more akin to a game with many gimmicky bonuses, with a nearly 7% edge!
Blackjack Plus is simply worse to play than traditional Blackjack, with no chance to win large profits on a bonus wager.
Also read