---
What is a Side Bet in Blackjack?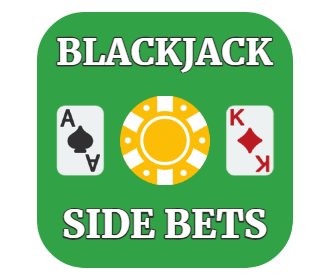 Blackjack side bets are additional wagers you can make to predict what cards you or the dealer will receive. These bets are placed before any cards are dealt and are based purely on luck, as little to no strategy can influence your chances of winning.
Side bets offer excitement and potentially lucrative payouts, which is enough for casual players to overlook the significant house edge that comes with them. The appeal of side bets lies in their unpredictability and the potential to win big.
To place a side bet, players can wager on the area next to the box for the main bet. Although it's a matter of luck, players can use advanced strategies like card counting to improve their edge and chances of winning.
Overall, side bets are an optional gamble that adds another layer of excitement to the standard blackjack rules and gameplay.
What are the Most Common Side Bets in Blackjack?
Below you can discover which side bets are available at your local or online blackjack table. There are many options available, here we focussed on the most popular ones.
Insurance
The Insurance side bet is a common way to protect your hand against the dealer's possible Blackjack. After the initial deal, if the dealer's face-up card is an Ace, the player may choose to make this wager.
It pays out at 2:1 if the dealer has Blackjack and involves half of the original stake. However, the Insurance Bet is risky and losing in the long term as there are only 1 in 3 chances that the dealer's hole card is a value of 10.
It is advised to avoid this side bet unless you are an expert card counter.
21+3
The 21+3 side bet is a common addition to a game of blackjack, originating from 3-Card Poker. It involves betting on whether your first two cards and the dealer's upcard can make one of five possible hands from Three Card Poker.
These hands include Flush, Straight, Three of a Kind, Straight Flush, and Suited Triple, with payouts ranging from 5:1 up to 100:1.
However, the house edge for this side bet can be high, reaching 13.39% in single deck blackjack games. While players can't apply any strategy to 21+3, it can add some extra excitement to the game.
Perfect Pairs
The Perfect Pairs side bet is an extremely popular option in blackjack games. It involves wagering on your first two cards to make a pair. There are three types of pairs that can be formed: Mixed Pair, Colored Pair, and Perfect Pair.
The payouts for these pairs vary, with Perfect Pair offering the highest payout of 25:1. However, the odds of getting a perfect pair are low, at just over 1 in 59.
The house edge on this side bet ranges from 2-11%, depending on the number of decks used. While there are no strategies to win this bet, it offers a fun addition to the standard game.
Lucky Ladies
Lucky Ladies is another popular side bet in blackjack, where players bet on their first two cards totaling 20 and ideally containing at least one Queen.
The payouts can vary between casinos, with the highest payout being 1000:1 if the player has two queens of hearts and the dealer has blackjack.
Other payouts include:
25:1 for a matched 20.
10:1 for a suited 20.
4:1 for any unsuited 20.
However, the house edge for this side bet is high at 17 to 25%, so players should be cautious before placing their bets. It's important to check with the dealer beforehand to ensure the best returns for their bankroll.
Royal Match
Are you feeling lucky? The Royal Match side bet in blackjack might just be for you. This exciting wager is available in both single and multi-deck games, and offers gamblers the chance to test their luck.
To win the Easy Match, your first two cards must be of the same suit – a payout of 5:2 awaits. If you're dealt a suited blackjack, the payout jumps to 5:1.
For the Royal Match, you'll need a King and Queen of the same suit – and if you're lucky enough to hit that, you'll win a princely 25:1 payout. But be warned – the house edge on this bet can range from about 6% to 11%, so choose your games carefully.
Super Sevens
The Super Sevens side bet is like a treasure hunt for lucky sevens, with increasing payouts for each one found.
It's a bet placed on the player's first three cards:
A 3:1 payout for just one seven.
If the second card is also a seven, the payout jumps to 50:1 for unsuited sevens or 100:1 for suited.
And if a third seven appears, the payout skyrockets to 500:1 for unsuited and a whopping 5000:1 for suited sevens.
But beware, some casinos raise the house edge if the player can't hit a third card with two sevens and the dealer has a blackjack.
Over/Under 13
The Over/Under 13 side bet in blackjack involves predicting whether the sum of the player's first two cards will be greater or less than 13.
Aces count as one and the bet pays even money for a correct prediction. If the sum is exactly 13, it depends on the casino's rules whether the player wins or loses.
The house edge is 6.5% for over 13 and 10% for under 13. Some casinos may offer a 10:1 payout for bets on exactly 13.
5-Card Charlie
The 5-Card Charlie side bet in blackjack is a rule where if a player is dealt five cards without going over 21, they automatically win the hand. This rule is not commonly found in most casinos as it lowers the house edge by 1.5%.
The side bet has the same objective and rules, only the player has to wager on themselves landing it. The odds of getting a 5-Card Charlie are generally around every 30 minutes, while 6-Card Charlie appears every hour and 7-Card Charlie maybe once in every 3-4 hour session.
It is often advantageous for players to ignore basic strategy to get to a 6- or 7-Card Charlie and get a higher payout.
Honorable Mentions
Lucky Lucky
Match the Dealer
Buster
Tri-Lux
Split Aces
EZ Bust
Hot 3
Super 4
In-Between
Fortune
Selected by Payouts and Odds
| Side Bet | Payout (High-Low) |
| --- | --- |
| Super Sevens | 5000:1 |
| Lucky Ladies | 1000:1 |
| 21+3 | 100:1 |
| Perfect Pair | 30:1 |
| Royal Match | 25:1 |
| Insurance | 2:1 |
| Over/Under 13 | 1:1 |
Blackjack side bet with the highest payout
Are Blackjack Side Bets Worth It At All?
Should you play side bets in blackjack? They can be viewed as a double-edged sword, we will explain why:
On one hand, they offer the potential for thrilling action and large payouts for relatively small wagers.
On the other hand, they involve no skill and are purely based on luck, with significantly lower odds of winning compared to the standard bets.
To determine if side bets are worth it, it depends on the player's goals.
For casual blackjack players seeking more excitement, side bets can be a fun addition to their experience. However, for those looking to make a profit, it is best to avoid them and focus on basic strategy and card counting.
In the end, side bets can be seen as an extra layer of complexity to the game, but should not be the main focus. Players should be aware of the increased house edge and think logically before placing side bets.
While they can offer potential rewards, it is important not to blindly place bets solely for the sake of higher pay-offs.