Introduction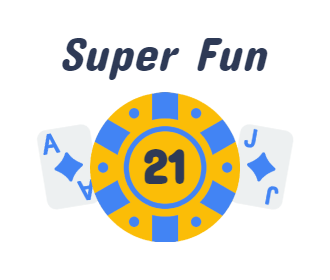 Super Fun 21 is a casino-based Table-Comparing game, based on the more popular game Blackjack. It is essentially the game of Blackjack but adds additional rules on top to make the game more fun and exciting.
Super Fun 21 is a proprietary game, patented and owned by Howard Grossman. This means it will only be legally available at casinos that have paid the required licensing fee to Mr. Grossman, or the company which retains the rights to the game.
How to Play Super Fun 21?
To start, the deck in Super Fun 21 is very different from that of a traditional Blackjack game. The game can be played using one, or six decks of standard Anglo-American 52-card decks. Most Blackjack games always use at least six decks, but Super Fun 21 can be played with just a single deck.
Ante and Table Layout
Players, like all casino table games, begin the game by placing an Ante in the required space on the table. Each seat at the Super Fun 21 table will have zones on it for Players to Place their Ante, as well as the Special Bonus zone.
Antes should exceed the table's posted minimum, and not go beyond the posted maximum.
Special Bonus
After Players have placed their Ante, they may participate in the Special Bonus.
The Special Bonus, or Special Side Bet, is not available at most casinos due to its unpopularity with seasoned gamblers. However, if it is available, Players will be allowed to wager only after the deck(s) have been shuffled, and no cards have been dealt.
If there is a fresh deck, and the Special Bonus is available, the Dealer will welcome Players to make the wager. Players who wager are hoping for Blackjack of a particular suit, sometimes chosen by the House and sometimes chosen by the Player.
The two cards of the Blackjack must be the same suit, and that suit must be the suit chosen by the House or Player. If these conditions are met, Players are returned 300x their wager on the Special Bonus.
Remember, the minimum and maximum wagers for the table still apply to the Special Bet as well.
The Deal
Once Antes and Bets have been settled, the Dealer will deal two face-up cards to each Player, before one face-down and one face-up to themselves. Players that wagered on the Special Bonus are paid out now. Once all Special wagers have been settled, the actual game of Blackjack begins.
Players have all of the same playing positions available to them in Super Fun as they do in traditional Blackjack. Players can Hit, Stand, Double Down, and Split.
Rule Changes
Much of the game follows the same procedures as in normal Blackjack, however, Super Fun 21 has a few additional rules that apply in niche circumstances.
Splitting
Players in Super Fun 21 are allowed to Split up to four times total, splitting their initial hand, then Splitting both of those new hands, and then one more Split on one of the two new hands.
Players can even Split Aces, something which is not allowed in traditional Blackjack. This is because of the advantage Split Aces give a Player, as well as the fact that two aces in the hand technically should not be split as one Ace will equal 1, and the other Ace will equal 11.
Doubling Down
Doubling Down is also different.
Players do not have to Double Down and then Stand. In SuperFun, Players can Double Down after as many Hits as they like.
Further, Players can surrender after Doubling Down in order to save half of their Bet. Players must surrender their Double Down before the Showdown, and cannot surrender without Doubling Down. If a Player doubled two or more of their Splits, they must surrender all of their Doubles in order to surrender.
Hitting
There are also some different rules regarding Hits.
Players that Hit until they have 6 cards total, with a hand value of 20, automatically win their hand against the Dealer.
A Player that Hits until they have 5 cards that equal 21 automatically wins 2x their Ante wager, rather than the usual 1x multiplier.
Having Blackjack
Players that have Blackjack always win against the Dealer, with no Push even if the Dealer has Blackjack as well.
However, Blackjack only pays 6:5 in SuperFun, except in the specific instance described in the previous paragraph. Sometimes, it will pay Even, 1:1 instead of 6:5, except in the specific instance described in the above paragraph.
Aside from these rule changes, Super Fun 21 can be comfortably played as a normal game of Blackjack.
Super Fun 21 Rules
A summary of the game rules can be found below:
Players can Double Down whenever they want, and can surrender after they Double Down.
Players can Split up to 4 times, and can Double Down on a Split.
If a Player has 6 cards with a hand total of 20, they win. If they have 5 cards with a total of 25, they win double their wager.
Blackjack pays 6:5, or 1:1, depending on the Casino.
Example Scenario
Suppose the following are your two cards:
2♦ 4♣
And the Dealer's top card is:
K♦
Hitting two times deals the following to you:
5♣ A♦
Since Ace cannot bust, instead of 22 this is 11.
Now, you have an 11, and if you are dealt one more card and get 21 you will win 2x your money on a Double Down. This is the best possible setup you can have. Although risky, a Double here will be worth 4x a normal hand.
Doubling yields:
J♣
A 10 for 21! 10s are the most likely card to be dealt in a game of Super Fun 21, and so Doubling Down on an 11 gives you the best odds of winning your Double.
Strategy and Tips
Knowing when to Double Down
Since you can Double Down even after Hitting, if your Hit creates a hand total of 9, 10, or 11, consider Doubling Down.
Just like in traditional Blackjack, Doubling Down when you have a total of 9, 10, or 11 gives you the greatest odds of winning the Double.
You are most likely to Hit a 10, and as such you can create a very strong hand to bring into the Showdown, increasing your odds of winning that double bet.
Avoid the Special Bonus if you see it
With a House edge of nearly 10%, most casinos stopped offering the Special Bonus because even novice Players begin to realize that the Special Bonus is a money hole, designed to take more money from the Player than it is to return it.
The game of Super Fun 21 has a razor-thin House Margin, one made even thinner if there is only a single deck in use and few Players at the table.
By playing the Special Bonus, you increase that House Edge and in turn are statistically more likely to lose money than you are to win it.
Payouts and Odds
Payouts for Super Fun 21 are predominantly based on a 1:1 basis. Players are paid 1:1 the value of their Ante if they are able to beat the Dealer in the Showdown, as in normal Blackjack.
Further, Players are paid 1:1 if they have a hand total of 20 with 6 cards in composition, and at some tables even when they have Blackjack. Even when a Player Doubles Down, they are still only being paid 1:1, they are simply being paid 1:1 on the Doubled Ante.
However, Players are paid 2x their Ante wager when they have a hand of 6 cards that have a hand total of 21. Players are also paid 300x their Special Bonus wager, if they are able to actually achieve the required conditions.
House Edge
The House Edge can vary based on a number of factors, but if you don't include the 10% edge on the rare-to-find Special Bonus, the House Edge of Super Fun 21 ranges from 1.2% to 1.5%, with the six-deck version having the higher House Edge.
Also see