Introduction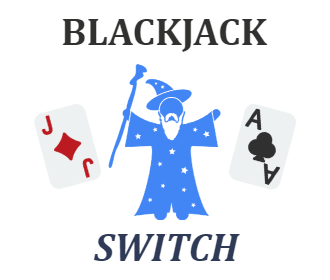 Blackjack Switch is a variation on the classic casino table-game Blackjack. Blackjack Switch alters the dealing procedure of the classic game, as well as altering the odds and house edge by giving the Dealer a higher probability to push.
Blackjack Switch was first patented in 2009, although the idea came to Geoff Hall about a decade earlier when he received a frustrating Double-Down in a game of Blackjack that could have been two winning hands if he were allowed to "Switch" the top cards, hence the name.
How to Play Blackjack Switch?
Blackjack Switch is played using 6-8 (sometimes more) decks of standard Anglo-American 52-card decks. These decks are combined and shuffled in order to form the "Shoe", the large deck of a Blackjack table.
The game can be played by 2-8 Players, with one of those Players being the Banker/Dealer. At a casino, the Dealer is always the same and is a representative of the casino itself, known as the House.
The aim of the game is to achieve the closest card value to 21 in each separate hand.
Blackjack Switch follows many of the same rules as Blackjack, though there are a few modifications to the classic card game.
Ante Wager
Firstly, players must wager an Ante before they can be dealt their cards. The Ante is a pre-game bet Players must make, that must be within a Table's posted Minimum and Maximum for wagers.
The Ante cannot exceed the Maximum, or fall below the Minimum. However, Players do not make a single Ante. Instead, Players must make two Antes that are equal in value. These Antes must both adhere to the betting minimum and maximum individually rather than a combination.
This means if the betting maximum is $20 for example, then the total wager for both Antes can be up to $40, $20 for each Ante.
Side Bet
Once each Player has placed the required double-Ante, but before cards have been dealt, Players are also free to wager on the "Side Bet." Like all table games, there will be a designated zone that designates chips placed in the zone as the Side wager.
This Side Bet is a wager that Players will be able to form 4-card Poker hands from the two hands they will be dealt. This will be explained further in the "Side Bet" section below.
Dealing the Cards
Once all Antes and Side wagers have been made, cards will be dealt to each Player.
Each Player will be dealt two separate Blackjack hands of two cards each. These hands can be treated as individual Blackjack hands in their own right, and can be individually doubled-down or split as a Player wishes.
Doubling Down and Splitting
A Player can choose to double-down whenever they wish. When a Player doubles down, they double their wager, and receive one more card before keeping that hand as is, known as a stand.
Players may split when they have been dealt two cards of the same rank, such as a pair of 10s. In this case, the Player may split the hand into two separate hands, dealt one more card on each 10 in order to make them complete hands.
In Blackjack Switch, a Player could have a maximum of four different Blackjack hands being played in the same round, assuming they can split twice.
Player's Turn
Once each Player has been dealt their initial two Blackjack hands, Players will take turns starting from the first player to the clockwise of the Dealer.
During their turn, Players decide whether they will Hit, Stand, Double-Down, or Split if able.
If Standing is keeping your hand as is, then a Hit would be adding cards to that hand in order to get closer to 21. When a Player hits, the Dealer will deal one card onto the hand the Player wishes to be hit.
After a hit, Players cannot split or double-down. They can only Hit again, or choose to Stand with the cards they have.
Switching
During their turn, Players have an additional option, the "Switch" for which the game is named.
Players must switch before they make any other decision to double, hit, or stand. If Players choose to switch, the second card they were dealt for each hand is then swapped, now combined with the card from the other hand.
If a Player can split after a switch, they may still do so if they choose.
Showdown
Once each Player has made their decision to switch, and sets up their hands as they wish, the showdown begins.
The Dealer reveals their hidden face-down, and hits or stands where appropriate. The Dealer will always try to form the strongest possible hand, and this is the same as traditional Blackjack with one exception.
Dealers in Blackjack Switch do not bust on 22. Instead, if the Dealer busts on 22 exactly, all wagers at the table except for the Side Bet are "pushed".
A push simply returns the wager back to the Player, without losing or winning any money.
Comparing Hands and Payouts
Players compare their hands to the Dealer's single hand, as the Dealer does not deal themselves two hands. The hands which are closer to 21 than the Dealer's hand pay out, while the wagers for losing hands are surrendered to the House.
Ending
Once all payments have been made to Players or to the House, the cards are collected and discarded, and a new round of Play begins.
Rules
The Blackjack Switch rules can be summarized as follows:
The Dealer only has one hand, while all Players have at least two hands.
Players must switch before they choose to stand, hit, double, or split any of their hands.
The Top card, the 2nd card dealt in a hand, is always the card that is switched. The other cards will never be switched.
If the Dealer busts on 22, they do not pay out. Instead, all wagers are pushed.
Blackjack Switch Side Bet
All the wagers made on Antes and Double-downs are paid on a 1:1 basis, but the Side Bet actually utilizes a pay table.
The Side Bet pays out immediately after the Deal, with Players who successfully achieve a payable hand immediately being paid before Players take their turns.
Players use their 4 cards dealt in order to form the best 4-card Poker hand that they can. These hands and their respective payouts are listed below high-to-low:
| Hand | Payout, based on Side Wager |
| --- | --- |
| Four of a Kind | 40x |
| Two Pair | 8x |
| Three of a Kind | 5x |
| One Pair | 1x |
This is one of the best Table-game Side-bets to have ever existed. This wager has a minuscule house edge of only 2.5%. Furthermore, there's an immense 40% chance of winning some kind of payout. Play the Side Wager every game.
Example Play
Imagine the following are your 4 cards dealt at the start of the game, with your Ante's both at $20, and your Side Bet at $20:
4♦ J♣ / 9♣ 7♥
You are unable to receive any payout for the Side Bet this time, but these are not bad hands. Switching here is a good strategy because it turns a 14/16 into an 11/19.
11 is a very strong starting hand in Blackjack, as the most common card value in a Blackjack shoe is 10. This means you are more likely to get a 21 than any other starting hand.
As such, if you are a risk-minded Player, Double-Down on your new 11 hand, while standing on the 19. 19 is a very strong Blackjack hand, only beaten by 20s and naturals, and pushed by 22s.
Suppose your Double-Down on the 11 deals:
10♦
You now have a natural 21, and your other hand is a 19.
Now, suppose the Dealer's hand is revealed to be:
K♦ 6♦
According to the betting procedure, the Dealer is forced to hit on 16, resulting in:
7♦
A 22! This is good for you, even though it pushes your 19. A 21 will beat a 22, meaning you receive a payout on your double-down, while pushing your 19 and returning the money to you.
Strategy and Tips
Consider Switching Often
The example scenario above perfectly demonstrates the value of being able to Switch.
What would have been a hand that was middling, and might have succeeded, became two very strong hands that were powerful from the get-go, without relying on the deck to Hit favorably.
Strongly consider your option to Switch every game.
Only Double-Down When You Have an 11
Double-downs are highly risky, and doubling down on an 11 is the only way to optimally engage with that higher risk in order to receive a higher reward.
The odds of winning a double down on an 11 are about 4 times higher than any other, because there are 4x as many 10 cards in a shoe.
FAQs
How many decks are used in a game of Blackjack Switch?
Blackjack Switch uses anywhere from 6-8 decks, as this is what most shoes are designed to hold. Some casinos may use even more decks if they are able to.
What is the House Edge of Blackjack Switch?
The overall House Edge for Blackjack Switch is about 0.5% when the House is using 6 decks.
However, if there are Eight Decks in use, rather than six, there is actually a Player's edge of about 0.02%. This means that a game of Blackjack Switch with eight decks is almost completely an even and fair game. The perfect choice for long-term gamblers.
What is the difference between Blackjack and Blackjack Switch?
Blackjack Switch offers the titular Switch, as well as having Players utilize two separate Blackjack hands simultaneously in the same game. Traditional Blackjack is only a single hand, with no option to change out any of the cards.
Also read