Introduction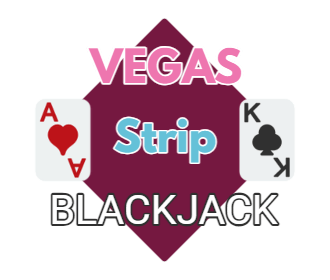 Las Vegas, Nevada, in the United States, is one of the most famous gambling cities in the world.
For many years, the famous Las Vegas Strip was virtually the only choice for gamblers on the West Coast. Despite the proliferation of other casinos in the United States, Las Vegas still remains one of the pre-eminent popular culture images when one thinks of the game Blackjack.
Las Vegas and Blackjack are interconnected, so what might it be like to actually play 21 on the actual Las Vegas Strip?
How to Play Vegas Strip Blackjack?
The Las Vegas Strip established Blackjack as the worldwide game it is today. Many rulesets are still based on their Las Vegas rules simply because the most amount of people in the US will be playing at a casino that uses Vegas rules.
As such, the Strip offers what one might call the "default" set of rules for Blackjack.
Pre-Game
Keep in mind that some rules may vary depending on the venue, such as the number of decks used. Between four and eight copies of the standard Anglo-American 52-card deck will be combined into a Shoe. Players make their Antes and are dealt their cards.
Betting Positions
Players assume the positions that are universal in all Blackjack games, as well as the Insurance option if Dealer shows Ace. However, most Vegas casinos don't have Surrender.
Showdown
Players enter the Showdown, compare their hand against the Dealer's, and then payouts are provided.
1:1 payouts on Ante and Double/Split wagers, while Blackjack is almost universally a 3:2 payout in Las Vegas. Most Vegas casinos will have low-stakes 6:5 Blackjack close to the entrance. Walk right past it.
Insurance
Further, virtually every Las Vegas casino offers Insurance. If the Dealer has an Ace for their top-card, you may pay into Insurance and receive 2:1 if Dealer has Blackjack. No place in Las Vegas offers 3:1 Insurance, so avoid it.
Many Vegas casinos offer additional Side Bets, a practice that became more popular with the rise of Geoff Hall at ShuffleMaster.
Rules and Main Differences
The games played in Las Vegas are sometimes different from casinos outside of that bubble, as different places have different clientele with different expectations.
Las Vegas however appeals to both the Tourist and the hardline Professional Gambler. As such there are some differences between Vegas and other Blackjack games, as well as between the casinos within Vegas itself.
Surrender Option
Players may or may not have a surrender option, depending on the number of decks used or other Player advantages. The normal options are available: Hit, Stand, Double, and Split.
Splitting Aces
Most Vegas casinos allow Split Aces, and even re-splitting Aces. However, Double Down on Split hands is most often not allowed. Still, ask the Dealer if it is allowed when you sit down. Some places will allow it.
One should also remember that 21 on Split Aces is not Blackjack, but instead a "Soft 21". This means they will lose to Dealer Blackjack, but will win or push all other hands.
Some Vegas casinos may not allow hits after Splitting Aces, but Players should still always Split their Aces.
Payouts and Side Bets
As previously stated, avoid tables that offer Blackjack at a 6:5 payout. Blackjack should be one of the more even games on the casino floor, but a 6:5 payout increases House Edge significantly.
Many casinos have set up low-stakes 6:5 tables to act as a tourist trap. Avoid these tables, and look for the 3:2 tables deeper inside the venue.
The only exception to this rule: If the casino offers 4-deck Blackjack and you know how to count cards. Play at any 4-deck table for as long as you can, before they kick you out.
Common Side Wagers
There are a few common side wagers offered by Strip casinos:
Perfect Pairs is one of the most popular side bets offered by Las Vegas. Most places offer Perfect Pairs. If a Player's cards are matched by rank, color, or suit, they win special payouts.
If the cards are a pair, matched by rank, then Players receive a 5x payout. Pairs matched by Color (Red or Black) and receive a 10x payout.
If the cards are matched by Rank, and Suit, such as a pair of ♦, then the hand pays 30x. All payouts are based on the wager made on the side, not the Ante.
There are also casinos that offer the Bonus Blackjack payout.
If Players receive a Blackjack in which both cards are the same suit, they win an additional 5x the value of their side bet.
If Players receive Blackjack with unmatched Jack and Ace, they receive 25x their side wager. A suit-matched Jack and Ace Blackjack will pay 50x the wager.
Finding Blackjack on the Las Vegas Strip
In Sin City, of course! Though some casinos outside of Las Vegas might offer a game called "Vegas Strip Blackjack" this would just be a game that attempts to emulate the Blackjack as played in Las Vegas.
Here are some of the most famous Las Vegas casinos that offer blackjack. This will help you know where to go and what to expect:
Cromwell
Only offers 3:2 Blackjack in their high-limit area. Betting minimums in the high-limit area are steep, but there is potential for significant advantage play in this high-limit area. The Cromwell offers a two-deck game where Dealer will hit on soft 17.
This is the Card Counter's dream come true. Advantage Play at the Cromwell can be quite profitable.
Bellagio
The Standard in the American Lexicon for "Casino." The Bellagio also offers a two-deck game, like the Cromwell, although the minimum price to play is 500 dollars, five times the requirement at the Cromwell.
One interesting aspect about the Bellagio is its famous Blackjack Screens, which allow dozens of Players to play Blackjack at the same time at the same digital "table".
Planet Hollywood
The butt of countless jokes on American TV, yet still standing after all these years. Planet Hollywood even offers fair odds on some of their Blackjack tables. There are 3:2 tables that allow surrender and Double before or after Split. They even have a paltry minimum of $50, which may seem high, but compared to the other tables in Las Vegas, is quite good.
Planet Hollywood is going to offer you the best bang for your buck, if you're not a card counter, and you aren't looking to risk thousands of dollars.
Mirage
Mirage, like the other casinos mentioned above, has Tourist Trap tables at the front of the venue, in an attempt to squeeze money out of less-than-knowledgeable players. However, if one is willing to make their way into Mirage's high-limit Salon, there is a potential prize to be had.
Mirage offers, like the Cromwell and Bellagio, a two-deck game with a $100 minimum, in which Dealer always hits on 17. This puts the Mirage in line with the Cromwell, for having the highest potential of payout.
Caesar's Palace
This place does not offer any advantages to the Player whatsoever. Caesar's Palace falters even in its high-limit area, with a $200 minimum on its Double-Deck Blackjack tables. The Cromwell and Mirage are far better to play at for Double-Deck, as there is less risk.
The Bellagio even has its place for ultra-high-stakes gamblers. Caesar's Palace is just a worse version of the Cromwell and the Bellagio.
Linq
Avoid this place. Linq has No 3:2 tables.
You May Also Like