Introduction
Zappit Blackjack is one of the over forty Blackjack variations developed by Geoff Hall and sold to casino magnate Shuffle Games.
Zappit, like most of the games invented by Hall, is a Table-Comparing game that is a variation of the traditional Blackjack.
How to Play Zappit Blackjack?
Zappit Blackjack is played using six copies of the standard Anglo-American 52-card deck. These six decks are combined into a single Dealing Shoe, which will remain unshuffled until it is depleted.
The game plays like any other Blackjack game, where Players must make an Ante wager, are dealt their cards, and then have various positions that they can take during their turn in order to further increase their odds of success.
Once the Ante has been made by each Player, cards are dealt two at a time to each Player face-up, and one face-up and face-down to the Dealer. Players then take their turns clockwise from the Dealer.
There are a few rules in Zappit that differentiate it from the traditional game.
Push 22
A common mechanic in many of Hall's games is the Push 22. Many of Hall's games offer some kind of mechanic that pushes the overall Edge back into favor of the Player, over the House.
As such, Hall devised the Push 22 as a way to bring that Edge back into favor with the house. Playing optimally, a Player can achieve a minimized House Edge of about 1%.
Blazing 7s
Zappit also offers a Progressive Bonus, known as the Blazing 7s Bonus. This Bonus pays out based on a Progressive pay table, explained below in the "Payouts" section.
In order to participate in the Progressive Bonus, Players must place an Ante and participate in the Blackjack game itself, though the outcomes of the game and the bonus are unrelated.
Zap
There is a further, unique position available in Zappit that is not found in many other variants. If a Player has 15, 16, 17, or 18, then they are able to "Zap" their hand.
When Zapping, a Player simply discards their hand back to the Dealer, and is re-dealt a new hand of two cards.
Players cannot Hit, Split, or Double before they Zap.
Players cannot Split or Double after they Zap.
Zapping does not incur an additional cost.
Further Gameplay
Aside from these unique rule changes, Zappit is played like any other game of Blackjack, with Players able to Hit, Stand, Double, or Split, as well as the new Zap rule.
Players compare their hand to the Dealer's hand during the Showdown, the winner receives the appropriate payout.
At the end of the game, cards are discarded and new ones are drawn and dealt from the Shoe.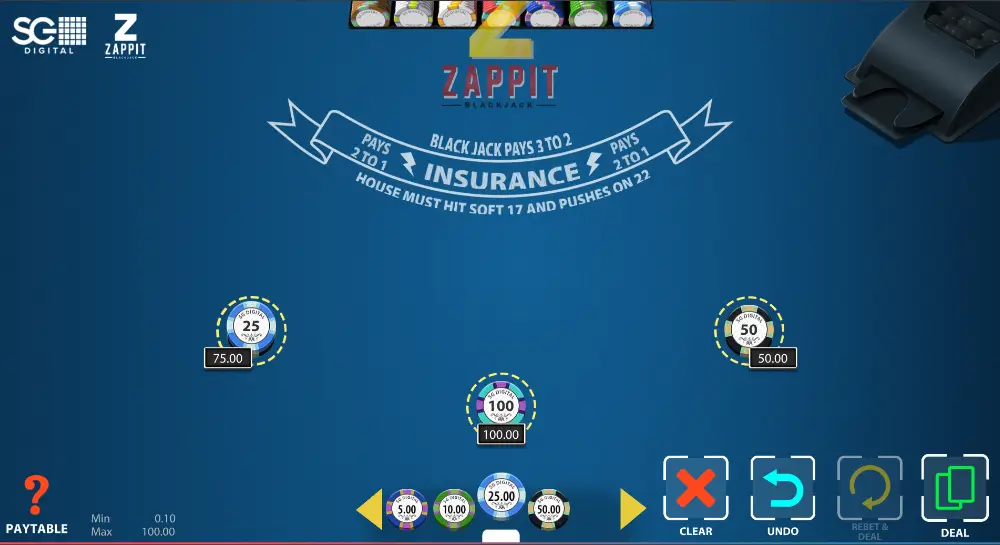 Zappit Rules
In short, the game rules are as follows:
Blackjacks pay 3:2, but Blackjacks after a Zap are only treated as a 21 total and will lose to a Dealer's natural.
Players may only Zap if the total for their hand equals 15, 16, 17, or 18.
Aces may only be Split once, and Players may split up to three times. Players may also Double after Splitting. Players may not, however, Zap after they have Split, or Split after they have Zapped their hand.
Just like in the Blackjack Switch Game, A Dealer's bust on 22 will Push the hand, rather than an automatic loss for the Dealer. All other busts act normally.
Payouts
The Zappit offers a 3:2 payout on Blackjack, and a 1:1 Payout on all normal Ante wagers.
The Blazing 7 Progressive is the only feature of Zappit Blackjack that alters the payouts of the game.
The Blazing 7s pays out a percentage, based on cards a Player is dealt into their initial hand, and then their third card.
Blazing 7s' Bonus is completely unrelated to the Ante, and the regular game.
A Player can lose to the Dealer, and still receive their Blazing 7s payout.
The payout table, as per the Washington Gambling Commission's official regulations on Zappit Blackjack, is below:
| Hand | Payout |
| --- | --- |
| Three 7s, Suited | 100% of Progressive Jackpot |
| Three 7s, Colored | 10% of Progressive Jackpot |
| Three 7s, Unsuited | 200x Progressive wager |
| Two-7s in the Initial Hand | 25x Progressive wager |
| One 7 in the Initial Hand | 2x Progressive wager |
Blazing 7s Payout Table
Remember that the odds of pulling three 7s, all suited together, is 0.000004% in a game of Blackjack with 6 decks.
There are 6 copies of each Suited 7, and one card is removed from the deck per draw, so (6/312) x (5/311) x (4/310).
Example Scenario
Suppose the following are the cards in your initial deal:
9♦ 9♥
These cards total 16, giving the Player two options.
Either, the Player could Zap their hand OR
They could Split per the rules of traditional Blackjack.
In order to know the proper move to make here, one must know the Dealer's top-card, as well as the cards in their own hand, to be Split. With these specific cards in your hand, if the Dealer has a top-card of 2-4, Split the hands.
Two 9s are likely to become two paired hands of 18, or around 18. If the Dealer is showing a 4, they are likely to have 14, which will need to be hit. The Dealer must hit and receive a 4, 5, or 6 in order to win the game. A 7 will push, and an 8 will be a bust for the Dealer.
However, if the Dealer's top-card shows a 5-Ace, then you should go for the Zap rather than the Split. Splitting hands requires an additional Ante, and if the Dealer has a 5-Ace showing for their top card, the chances of beating your likely 18s are very high.
Splitting in such case is only a waste of money for you, doubling your wager in certain failure.
At least with a Zap, there is a chance that a high-value hand is dealt out, or even a Zapped 21.
Strategy and Tips
When to Zap
The Dealer Must Stand on Soft 17, as per most Blackjack games. While this is normally an important aspect of the game one should always be mindful of, it is particularly important in Zappit due to the inherent rules of Zapping the hand.
Players should consider carefully if they wish to Zap a hand totaling 18. 18 is a moderately strong hand in Blackjack, and Zapping could turn a possibly winning hand into a losing one.
Generally, Zap on totals of 15-17.
Keep in Mind the Favorable House Edge
In order to tilt the Edge back into the favor of the House, the Dealer Pushes on 22, instead of paying out all non-busted and non-folded Players.
While this is a painful price to pay, the overall house edge of Zappit is about 1.2-1.5%. This makes Zappit Blackjack a great game to play, even with Geoff Hall's stereotypical mechanics.
You might also like: