Introduction
Cuarenta, which means "forty" in Spanish, is a very popular fishing-type card game in Ecuador. The simple gameplay mixed with an energetic atmosphere makes it easy to learn but exciting to master.
The exact rules may depend on the location. In Quito, the game is likely played a bit differently than in Guayaquil for example.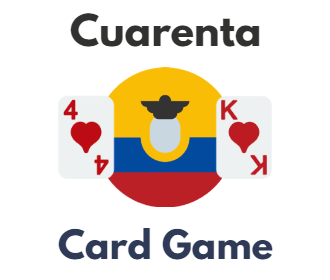 What is Needed
2-4 players
A standard deck
Remove all 8s, 9s, and 10s from the deck before starting (these can be used to keep score)
Objective
The objective of the Cuarenta card game is to be the first player or team to reach 40 points.
Dealing and Setting Up
Decide the dealer (often by flipping cards until someone gets a diamond, who becomes the dealer).
The Dealer shuffles and deals 5 cards to each player.
Set aside the remaining deck face down.
Gameplay
Players check for special hands:
Ronda – 3 of a kind (announce for 4 points)
Doble Ronda – 4 of a kind (automatic win)
The player to the dealer's left starts and players take turns playing 1 card face up.
On your turn, capture face-up cards in these ways:
Matching – Play a card that matches one on the table
Addition – Play a card equal to the sum of 2+ cards on the table
Sequence – If you capture by matching or addition, also capture any sequential cards (Ace low to King high)
Earning points:
Caída – Matching card just played (2 points)
Limpia – Clearing all table cards (2 points)
After all of the cards are played, deal another 5 cards each. Continue until all cards have been played
Scoring in Cuarenta
| Card Count | Points | Explanation |
| --- | --- | --- |
| 20+ cards | 6 points | Automatically get 6 points for having at least 20 cards. |
| Additional cards | +1 point per card (rounded up) | If both players have the same number of cards but neither has 20+, the non-dealer gets 2 points. |
| < 20 cards | 0 points | If you have less than 20 captured cards, you get 0 points. |
| Both players < 20 cards | Non-dealer gets 2 points | If both players have less than 20 cards, the non-dealing player/team gets 2 points. |
| Both players = cards < 20 | Non-dealer gets 2 points | If both players have the same number of cards but neither has 20+, non-dealer gets 2 points. |
The card count at the end of each round is a big factor in scoring. Automatically get 6 points for collecting 20+ cards. Then get additional points for extra cards captured above 20.
If neither player gets 20 cards, points are awarded to the player with more cards or the non-dealer if equal.
Ending
Play multiple rounds with the dealer rotating each round. The game ends when a player/team reaches 40 points
Cuarenta Rules Summary
40-card deck (no 8, 9, 10)
5 card hands, multiple deals
Capture cards by matching, addition, sequence
Earn points through Caidas, Limpias, and card count
The first player to 40 points wins
Strategy Tips
Watch Out for Sequences
When trying to capture cards, pay close attention to potential sequence bonuses.
For example, if you capture a 5, check to see if there is also a 6, 7, or face cards that would continue the sequence. Capturing a sequence can net you many more cards.
Likewise, don't leave an easy sequence for your opponent to steal. If you capture a 7 but forget to take the Jack, your opponent can take the Jack, Queen, and King. Missing a sequence like this can cost you the game.
To maximize your sequence captures, memorize the card order (Ace to King) and scan the table quickly before capturing to spot sequences. A few extra cards from sequences can determine the winner.
Save Key Cards for Caidas
While it can be tempting to play your high cards early, it's often wise to hold onto key cards to use for Caidas later on.
For example, if you have a King or an Ace, you may want to save it to capture the last card your opponent plays to earn those 2 extra Caida points.
Be patient and try to catch your opponent right at the end of their turn.
Etiquette
Cuarenta is played with a lot of energy and flair. Players are encouraged to celebrate good moves and enjoy the competitive spirit. However, there are some etiquette guidelines to keep in mind:
Avoid excessive trash-talking or taunting opponents. Some friendly banter makes the game more fun, but don't overdo it.
Don't be a sore loser. Throwing cards or having a poor attitude after a loss is very much frowned upon.
Making gestures or faces to secretly communicate with your teammate is considered cheating.
Abide by house rules. If playing at someone's home, follow their rules and customs even if different than what you're used to.
Also read