Intro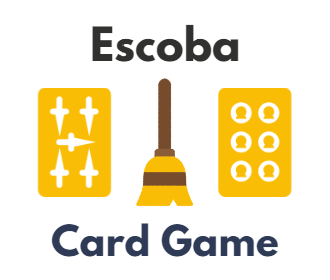 Escoba is a shedding and fishing game, very closely related to the Italian game known as Scopa.
Escoba and Scopa are very similar, one of the key differences being the decks. Escoba, as a Latin game popular in Spain and all of Her former colonies, is played using the Spanish deck pattern, rather than the Italian deck pattern.
The word Escoba means "broom" in Spanish, players use the titular broom to "sweep" the board and take points for it.
How to Play Escoba?
In order to play Escoba, one must first own, purchase, or create a 40-card Spanish deck. Anybody can create a Spanish deck with a standard Anglo-American 52-card deck, simply by removing the 10s, 9s, and 8s from their deck of all suits. With those 12 total cards missing, an Anglo-American deck resembles a Spanish deck.
Dealer Selection and Partnerships
Once the Spanish deck has been created, Players should choose a dealer by whatever means they determine.
Once this has been done, Players should decide if they will play in partnerships. Escoba, as a game for 2-4 Players, can be played in partnerships with Players adding their scores together at the end of each round.
Dealing
Whether playing cutthroat or partnership, the Dealer will then deal out three face-down cards to each Player, in order to serve as their hand.
As Players collect their cards and look at their hand, the Dealer will place four face-up cards into the center of the play area after which the remaining deck will be set down.
These face-up cards, or "community" cards, must have their values added up with the cards in the Players' hands as Players take turns.
Taking Turns
Even in a partnership game, all Players have their own turns, and their partner cannot play cards during their own turn.
Turn order goes counterclockwise from the Dealer, with the first Player sitting to the right of the Dealer going first. Traditionally, the Dealer's partner cannot be this first Player or "Eldest hand."
Card Values
Players are attempting to add the face-values of their cards to a sum of 15. All numbered cards have their listed value, while Jacks are worth 8, Queens 9, and Kings 10.
For example, if you have a King in your hand, and play it onto a community 5 during your turn, then you capture and keep both the King and 5.
Points and Capturing
Players will be scored based on the cards they have captured, with "Game" points awarded to Players for meeting certain conditions that will be explained in the "Scoring" section.
Escoba is normally played in Matchplay, with multiple rounds of Escoba making up one full game. These Game points therefore are the real objective of the game, and as such Players should try to capture as many cards as they are able in order to win as many game points as possible.
Players are only allowed to play one card per turn, and must play their one card regardless.
If that one card is unable to capture from the board, then Players must set their card onto an existing card in the play area. This set will then add up as though it were one card.
For example, setting a 3 onto a 4 will create a set of "7".  This card can then be set upon again, or captured with an 8. Players cannot set a card on a set that would exceed 15.
If there are less than 4 cards in the community board, Players may set their card on its own or play it onto an existing card.
Gameplay continues, with Players attempting to capture the necessary cards to win. Even if the play area becomes completely empty, the cards from the deck will not be dealt into it. Instead, the Dealer will deal Players a new set of three cards when their hand has completely emptied.
If the Play area is empty, that means no captures can be made and Players must set a card.
This continues, with cards from the deck dealt as Players run out of cards, until the deck is finally empty.
Ending
Once the deck is empty, the last Player to be able to capture from the board takes all remaining cards in the board.
For example:
Player 1 sets a card
Player 2 captures, and then no other Players are able to capture.
Player 2 then captures all of the remaining cards in the play area.
Be aware for the scoring section, this final clearing of the board does not count for the bonus point awarded by clearing the board.
Rules
The Escoba rules are listed below:
Unlike in Scopa, Players are only able to play one card during their turn. Players cannot play multiple cards from their hand at once.
If Playing in partnerships, gather together both Partner's captured cards and tally the score as though they were one uniform pile of cards. In partnership games, the score to win is naturally doubled.
Suit is completely irrelevant in Escoba, in terms of capturing. Suit is important for tallying score, however.
Players attempt to add cards or a set of cards together in order to equal 15. Players cannot play a card that would cause a set to exceed 15.
Players may only play one card from their hand per turn, but can add together cards that are already on the table. If there is an 9 and 2 in the play area, playing a 4 would capture all three cards at once. If a Player plays a card that can capture, they are forced to do so.
Scoring
The Escoba card game is scored using a system of game points. Like in many Matchplay games, Players accumulate these game points over a series of rounds, with multiple rounds making up one whole game.
The first Player to achieve a total of 15 game points is the winner.
Naturally, in partnership Escoba, Partnerships must achieve a score total of 30.
The following is a small table explaining the game-point scenarios in Escoba:
| Scenario | Points Awarded |
| --- | --- |
| Most Cards | 1 |
| Most Diamonds/Coins | 1 |
| Most 7s | 1 (or 2 if all 4 7s are captured) |
| 7♦ or Coin | 1 |
| Sweep | 1 per sweep |
Most Cards
The Player or partnership that manages to capture the highest number of cards. 1 Point. Ties award no points.
Most Diamonds/Coins
If using a genuine Spanish deck, the Player or partnership which captures the most cards in the Coin suit wins. Diamonds are the Anglo-American equivalent. 1 Point.
Most 7s
Players who capture at least one more 7-card than any other player are awarded 1 Point. If a Player manages to capture all four 7s, then they will get 2 Points.
7♦ or Coin
The Player/s which captures the 7♦/Coin is also awarded 1 additional Point.
Players are then given an additional Point for each sweep that they manage during the course of the game.
When clearing the board completely during their turn, Players should turn one of their captured cards face-up to denote a sweep. Remember that the final clearing of the board does not count as a sweep.
Example Scenario
Imagine the following is your hand in a game of Escoba:
6♦ 5♠ 10♣
And the following is the board:
5♦ 2♦ 2♠ A♠
While you could play the 10 and capture 3 of the 4 card on the board, the optimal move would be to play the 5. This chains the 5 to the other 5, 2, 2, and Ace, for a total of 15. This will capture the entire board, and award you with a Sweep point.
Escoba Strategy
Sweeps are very powerful, as they award a bonus point and prevent the next Player from making any sort of capture. However, do not constantly set cards trying to build the perfect sweep every time. If you can make a capture, you almost always should do it unless you are already sure not to win the most cards capture.
7s are a priority. Capturing the 7s should always be the priority goal during a game until they are removed completely from the deck. If a Player manages to capture all four 7 cards, then they will be awarded 3 points. 2 for capturing all four, and then an additional point for having the 7♦ captured as well.
FAQs
How many people can play Escoba?
Escoba can be played by 2, 3, or 4 Players. If Playing in 4s, it can be a partnership game. Otherwise, it is the cutthroat (individual) variation.
How many cards is each Player dealt?
Each Player is dealt 3 cards to their own personal hand, and then 4 cards are dealt into the play area face-up. After the initial deal, cards will be dealt as a Player's hand is exhausted of cards completely.
Can Escoba be played online?
There are several websites offering digital versions of Escoba, playable either against AI or other human players. Playingcards.io is a great website to play a simple, free version with your friends. Simply create a room, share the room code with your friends, have them log in, and enjoy the game digitally.
Also see