Introduction
Cuttle is a unique 2-player card game that likely originated in the 1970s. It is considered one of the earliest examples of a "combat card game", predating popular trading card games like Magic: The Gathering.
Players use a standard 52-card deck to build point scores, attack their opponent, and leverage special abilities to reach a winning threshold first.
What is Needed
To play the Cuttle Card Game, you will need:
A standard 52-card deck of playing cards
2 players
A flat surface to play on
A computer or mobile device if played online
Objective
The objective of Cuttle is to be the first player to accumulate 21 or more points from playing number cards. Kings can modify the points needed to win.
Deal and Setting Up
One player has to start as the dealer, the other player will be the dealer's opponent. Feel free to agree on your own method of deciding who the dealer will be.
Make sure to Shuffle the deck.
Deal 5 cards to the player and 6 cards to the dealer.
The remaining cards become a shared Draw Pile and are placed face-down.
Discarded cards form a shared Scrap Pile. These cards are placed face-up and are out of play.
Later in the game, there will also be another place where cards can go. We will call it "Limbo" and will explain more about this below.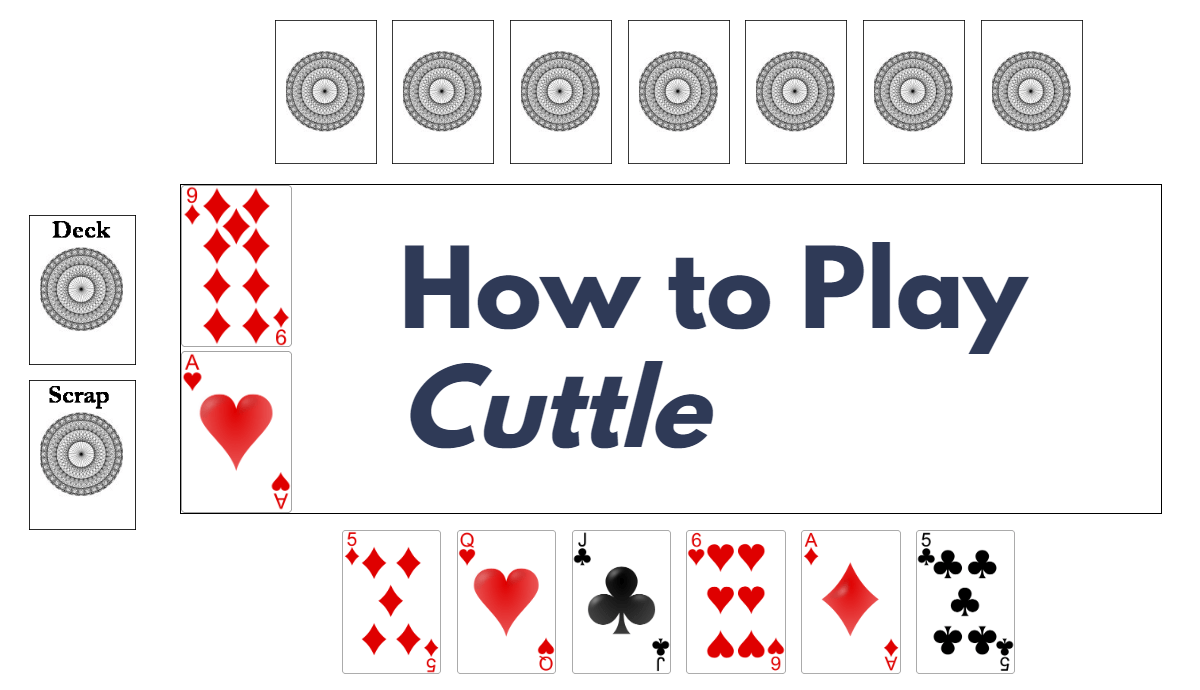 Gameplay Phase
The non-dealer takes the first turn.
On your turn, you have multiple options:
Play a card from your hand to score points
Play a card to activate an effect
"Scuttling"
Draw a card from the draw pile
Each player plays cards face-up in front of them as their "layout".
Play for Points
To play for points, lay a numbered card (A – 10) face-up in front of you. It is now an "in-play" point card worth its displayed number.
Cards score points based on their actual number. Aces are worth 1 point.
Activate Effects
There are two types of effect-cards, those that only have a "one-off" effect and those that have a permanent effect.
One-Offs
Numbers cards, except for 8s and 10s.
Instead of using your numbered cards to score points, as described above, you can also use them to apply unique effects. However, if you choose to play them like this they won't award you any points.
When a one-off card is played, it goes into Limbo until resolved. To resolve it, the opponent must not cancel it and its effect must occur.
Once resolved, the one-off card moves to the scrap pile.
Tip: 2s can be used to cancel your opponent's one-off effect. It can be seen as a counter-attack.
Permanent
Jacks, Queens, Kings, and 8s.
The effect of these "Royal" cards is permanent and lasts for the whole game. They also award 0 points.
Scuttling
On your turn, you can also use a higher card to "Scuttle" (discard) an opponent's lower in-play point card. this causes both your and the opponent's cards to go to the scrap pile.
When determining a card's value in Scuttling, consider both its numerical rank and suit.
Numerically higher cards beat lower ones regardless of suit.
Among cards of equal rank, Spades are the most powerful, followed by Hearts, Diamonds, and finally Clubs.
For example, an 8♦ would scuttle an 8♣ based on suit order, but neither would beat a 10♣ due to its higher numerical value. Suit is only used to break ties between cards of the same rank!
Ending
Play continues alternating turns until someone achieves 21+ points from their in-play cards. Or less with Kings in play.
If the draw pile runs out, players can pass their turns. After 3 consecutive passes without drawing, the game ends in a tie.
Card Effects and Scoring
Each card in Cuttle has unique abilities that can be leveraged for points or strategic advantage. Here is an overview of how each card can be used:
Numbered Cards
Play these for points equal to the number value or use them to activate special effects.
| Card | Effect | Points |
| --- | --- | --- |
| Ace | Both players discard all point cards in play | 1 |
| Twos | Move one face card (J, Q, K) from the table to the scrap pile | 2 |
| Threes | Pick any card from the scrap pile, you are allowed to see them | 3 |
| Fours | Opponent discards 2 cards from their hand | 4 |
| Fives | Draw 2 cards from the draw pile | 5 |
| Sixes | Discard all face cards (J, Q, K) in play | 6 |
| Sevens | Draw one card and play immediately in any way you prefer | 7 |
| Eights | Forces the opponent to reveal their hand during play | 8 |
| Nines | Returns a face card on the table back to its owner's hand | 9 |
| Tens | No effect | 10 |
Royal Cards
Jacks
Play on an opponent's point card to take control of it. If multiple Jacks are played on a card, it switches control each time.
Note that you can also play a Jack on your own card, which you should never do. However, sometimes you are forced to due to the effect of playing a 7.
Queens
Protects your other cards from being targeted by Jacks, 2s, and 9s. This includes one-offs in Limbo.
The Queen itself is easy to attack and it doesn't save you from scuttling.
Kings
Kings literally are the King of this game. These cards lower the threshold in terms of points needed to win the game.
Having 1 King reduces the points needed to 14. Having 2 reduces it to 10, 3 to 7 points, and 4 Kings means you only need 5 points to win.
Mastering these card abilities above is key to success in Cuttle.
Cuttle Rules Summary
A summary of the key rules for Cuttle can be found below:
The objective is to be the first player to accumulate 21 or more points (or less if Kings are in play)
The deck has 52 standard playing cards and 2 players are needed.
On your turn, you can play a card for points, activate an effect, scuttle, or draw.
Numbered cards (A-10) played in your layout score points equal to their number value.
You can also activate numbered cards' special effects instead of scoring points. Effects vary by card.
Royal cards (J, Q, K) have permanent effects and score 0 points.
You can "scuttle" an opponent's lower-ranked in-play card using a higher card from your hand.
If the draw pile runs out, play continues until 3 consecutive passes. Then it's a tie.
Strategy Tips
Manage Hand Size
Carefully consider if you need to draw a card each turn. Drawing cards reduces the draw pile, so avoid over-drawing if you already have a strong hand.
It's generally better to play cards from your hand for points or effects rather than solely drawing each turn. Finding the right balance based on the stage of the game is key here.
Use Aces at Critical Moments
Aces allow you to discard all in-play point cards. This can be devastating late in the game when your opponent has 17+ points already. However, playing them too early wastes the opportunity.
Hold your Aces until they give you the maximum benefit. For example, if your opponent has 20 points, playing the Ace resets them to 0 so you have time to rebuild your own points.
Protect Points with Queens
Once you have several high-value point cards like 10s and 9s in play, make protecting them with a Queen your priority. This prevents your opponent from using Jacks or other effects to discard your precious points.
The Queen is useless early game, so don't play it until you have critical point cards that are worth saving. A timely Queen can be the difference between a win and a loss in Cuttle!
Variations
Cutthroat Cuttle: a faster free-for-all version played with 3 players instead of 2. Only 14 points are needed to win, or 9 with a King. Having 3 Kings immediately wins.
Team Cuttle: Played 2 vs 2 with partners sitting across from each other. The first player on either team to reach 21 points wins the game for their team. Players cannot share cards or points but can use effects like Jacks to transfer points to their partner.
Useful Resources
Play Online at Cuttle.Cards. Be aware that this game has multiple rule changes compared to our guide, they have the rules listed on their site)