Intro
GOPS (Game of Pure Strategy) is a classic 2-player card game involving bidding and strategy.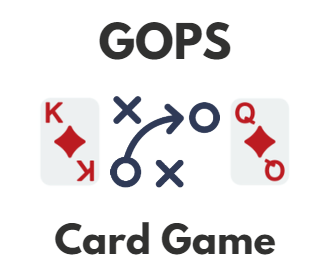 It was invented in the 1930s by Merrill Flood and has been used as an example game in game theory. It is also known as "Goofspiel".
What is Needed
Standard 52-card deck of playing cards
2 players
Objective
The goal of the Game of Pure Strategy is to win the most points by capturing cards from a central pile through bidding.
Card Rankings
| Card | Points |
| --- | --- |
| Ace | 1 |
| 2 – 10 | Face value |
| Jack | 11 |
| Queen | 12 |
| King | 13 |
Deal and Setup
Remove all Spades and shuffle them face down as the central pile. Each player gets either the Clubs or Hearts suit (discard unused suit for 2 players).
Gameplay
The central Spade card is turned face up to start a bidding round. Each player secretly selects a bid card from their hand and places it face down on the table. Bids are revealed simultaneously. The player with the higher-valued bid card wins the central Spade card.
The winning bidder takes the captured central card and places it face up near them. Both players' bid cards are discarded. If there is a tie bid, the central card may be discarded along with the bid cards depending on the tiebreaker rules used.
The next card from the central Spade pile is turned face up and a new bidding round begins. Players continue bidding to capture cards, using each card from their hand only once.
Ending
After 13 bidding rounds, the gameplay ends when the central Spade pile is empty. The player who captured the most points from winning bids is declared the winner!
Scoring
Players total up points from their captured cards. The player with the highest point score wins!
GOPS Rules
You can only use each card once to bid
If bids tie, additional rules apply: 1) Both cards are discarded, next card stays. 2) Tied players split points.
High unique bid wins (3+ players)
Aces are low, Kings are high
Strategy Tips
Conserve your high cards
Since you lose the card you bid in GOPS, you'll want to hold on to your higher-value cards (J, Q, K) to use for bidding on the more valuable prize cards later on. Don't waste a King on an early low-value prize card.
Bid the smallest amount needed to win
If possible, you want to beat your opponent's bid by just 1 point. Bid the lowest card that you think will still win. This conserves your bidding power and causes your opponent to lose more points. However, if you must bid lower than your opponent, bid very low to minimize your loss.
For example, say a 10 is the face-up prize card. You have a Q and J left but your opponent has already used their 10. You could bid your Q to guarantee you win, but bidding the J still beats their likely lower bid while saving your Q for a future high-value prize card.
Bidding this way efficiently maximizes your point potential across all 13 bidding rounds.
Variations
Blind Goofspiel – the central card is face down
Defeat the Dealer – the dealer sees the central card first.
92 Makes Game – play to 92 total points to win overall.
More than Two Players
The GOPS card game can be played with 3 or more players by adding additional full decks of cards.
For 3 players, use a full 52-card deck
For 4-7 players, use 2 decks
Each player receives a full 13-card suit to use for bidding.
With more players, tie bids become more frequent. There are a few options for handling ties with multiple players:
Tied cards are all discarded, and the highest remaining bid wins.
Each tying player gets an equal share of the points.
No one wins the tied card, it remains for the next bid.
With 3 players, if 2 tie the 3rd player wins even with a lower bid.
The gameplay proceeds similarly to the 2-player game, with each player bidding once per round until all prize cards have been claimed. In the end, the player with the highest point total across all won cards is the winner.