Introduction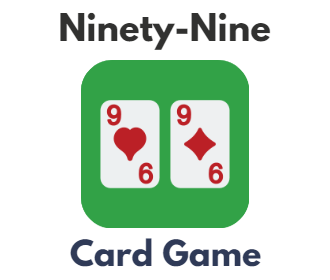 Looking for a fun and educational card game to play with friends and family? Look no further than the 99 Card Game. This simple addition-type game is perfect for all ages and helps develop math skills.
Avoid going over 99 and be the last player standing to win.
How to Play Ninety-Nine?
The deck needed to play Ninety-Nine is a standard Anglo-American 52-card deck. The game also requires three 'tokens' or units of account per player. This can be coins, chips, pieces of paper, or whatever you have at hand. It can be played by two players or more.
Number of Players
The game can be played with two or more people. However, at least three players are advised for better gameplay.
Goal
The objective is to avoid playing a card that causes the total to go over 99. Each player begins the game with three tokens, and the player who loses all their tokens first loses the game.
The goal is to outlive the other players by strategizing and carefully selecting which cards to play.
Dealing Phase
To begin, players each place their three tokens in front of them.
The dealer is determined by the player with the highest value card after everyone draws from the deck.
Each player is dealt three cards, one at a time, and the remaining deck is placed in the middle.
Once the cards are dealt and tokens are placed, the game can begin.
Playing Phase
Step 1. The player to the left of the dealer starts.
Step 2. They play one of their three cards and announce its point value.
Step 3. The player draws a new card from the deck
Step 4. This process repeats until one player goes over 99.
Step 5. The player who tallies a total of more than 99 forfeits the round and must surrender one of their three tokens to the pot.
Step 6. The deck is re-shuffled.
Ending and Winning
Whoever is left without any tokens is eliminated from the game. The ultimate victor is the one who remains with a token in hand.
99 Card Game Rules and Values
The values and rules of the cards are as follows:
| Card | Value/Rule |
| --- | --- |
| Aces (A) | 1 or 11 points |
| Kings (K) | 0 |
| Queens (Q) | 10 |
| Jacks (J) | 10 |
| Tens | -10 or +10 points |
| Nines | 99 |
| Eights | 8 |
| Sevens | 7 |
| Sixes | 6 |
| Fives | 5 |
| Fours | 0 + reversing playing order |
| Threes | 3 + lost turn for next player |
| Twos | 2 |
Card Values Cheat Sheet for Ninety-Nine
Example Scenario
Assume you are playing a game of Ninety-Nine with two players. You are left of the dealer, so you start:
You play a Queen (Q) so you now have 10 points.
Your opponent plays a 4-Card, making them have another turn.
Your opponent plays a King (K), 0 points.
You play an Ace (A), picking 11 points. You have a total of 21 points now.
Your opponent plays a 9-Card, bringing their total to 99 points.
You play a 7-Card, bringing your total to 28 points.
Your opponent plays a 2-Card. Oops! They just crossed 99 points.
Your opponent has lost this hand and lost one of their tokens.
Strategy and Tips
When it comes to basic strategy, the goal is to build a hand that can last long enough after you have reached 99 points. To achieve this, careful thought and strategy must be employed. Knowing which cards to keep and which to play is key to success.
Hold on to your cards with a low or negative point value for later. These include Fours, Kings, and Tens (as Tens can be minus 10 points).
In general, saving Nines till last is also a good option. To prevent reaching the maximum number of points too soon.
Card numbers 5 until 8 have no use in the end game. Just play them as soon as you can.
Variations
There are a bunch of regional and international variations of the Ninety-Nine card game. Almost all of these have one thing in common, which is different card values/rules.
Some regional variations are:
Some international variations are:
There also exist several commercial versions of the game. These include:
Also read