Introduction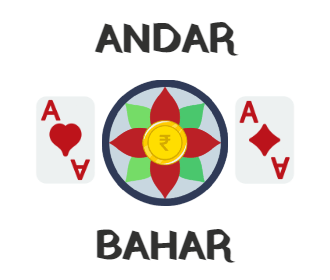 Andar Bahar is a chance-based casino card game that is extremely popular and originated in India. The game is played with one Dealer, and a number of other Players.
Theoretically, it is possible to play Andar Bahar with thousands of people at once, through a digital medium. However, in real life there is a reasonable limit of space, and as such most casinos which offer Andar Bahar max their tables out at 5 or 6 Players per table.
How to Play Andar Bahar?
Andar Bahar is completely chance-based, and there are no real strategies for actually winning. There are tips, listed below, that can help a Player make bets that over time will average out to a net gain but actual victory is completely dependent on the random chance of the cards.
Setup and Table Layout
An Andar Bahar table looks very much like a Poker or Blackjack table. Resembling a half circle or crescent moon, with the Dealer on one side and all other Players equally spaced on the other side.
In front of each seat are 4 small boxes, labeled 1st Bet and 2nd Bet, labeled A and B. It looks something like this:
2nd Bet A 1st Bet
2nd Bet B 1st Bet
A and B stands for Andar, and Bahar. Furthermore, in front of the Dealer are 3 boxes, labeled "Andar Set" "Bahar Set" and "Joker".
Start and Joker Card
The game will begin with the Dealer presenting a newly shuffled deck of cards to the table, at which point the Dealer will draw a single card from the top of the deck and place it face-up in the "Joker" box.
This card becomes the Joker, the winning card of the game.
The next card of the same rank to appear in the deck will be the winning card.
In order to win the game of Andar Bahar, a Player must correctly bet that the Joker card will be placed on the appropriate box.
Betting
Once the Dealer is revealed, Players may make their 1st Bet, as labeled by the boxes in front of them. Players may bet on either Andar or Bahar. Players may bet on both, like in the game of Roulette, but a Player will lose more than they win, as an Andar Bahar payout is only 25% of the initial bet.
Like Blackjack, many Andar Bahar tables in professional casinos will have a minimum and maximum possible bet.
First Round of Dealing
Once all Players have placed their first bets, the Dealer will then declare that no more bets may be made, and then will place cards alternating between the Andar and Bahar boxes.
The Dealer will place one card in the Bahar first, and then one card in the Andar:
If the Joker appears in these first two cards, Players with a successful bet will receive 25% profit from their bet. Meaning, if one bets 4 Dollars, they will receive 5 Dollars for a win.
If no Players were able to win in the first two cards, the 2nd Bet box may be used.
Players may make a second bet, and then the process from before repeats.
Second Round of Dealing
After all 2nd Bets are made, the Dealer calls no bets and begins to deal alternating cards, one at a time, into the Andar and Bahar boxes.
As before, the Dealer begins by dealing one card to the Bahar, then to the Andar, and continues until a card of the same rank as the Joker appears.
For example, the Joker is 8♦, then an 8♠ wins the game.
Payouts Explained
Winning Players will have their 2nd Bet pay out 25%, while their 1st Bet is 1:1.
| Outcome | Payout | Winning Probability |
| --- | --- | --- |
| Andar Win | 0.9 to 1 | 51.50% |
| Bahar Win | 1 to 1 | 48.50% |
For example:
Player 1 best 10 Dollars on their first bet, and then 4 Dollars on their second bet.
Player 1 wins, and then is paid out 15 dollars. 10 Dollars for the first bet, and 5 for the second.
When the winning card matching the Joker is revealed, Players who bet on the correct box (Andar or Bahar) will receive their payouts.
The Dealer will then reshuffle the deck, and the game continues from the beginning all over again.
Rules for Andar Bahar
A summary of the Andar Bahar rules can be found below:
The first bet pays out 25% if the Joker shows up in the first two cards, or if a Player does not make a second bet. The first bet pays out 1:1 if the 2nd bet is made and a Player wins.
Players who lose receive no money and have their bets completely cleaned.
Players may not make additional bets after the Dealer has declared bets are off.
Do not delay the game by taking too much time to think. Andar Bahar is a game of pure chance, and as such it is an unofficial rule that spending too much time to make a choice can frustrate both the Dealer and other players.
Scoring
Like most gambling casino games, Andar Bahar is scored by the number of chips a Player wins or loses, representing the monetary value they brought to the casino, and the monetary value the Player walked away with.
Essentially, these games are scored using your money, and whether you made or lost money determines the "Score" or how well you played in a game of Andar Bahar.
Betting Strategy Tips
The Andar Bahar card game is a game of pure chance, and as such there is no sure-fire way to win the game itself, but there are ways to make the betting more likely to be in your favor.
Super Bahar, like many optional side bets provided by casinos, should be avoided. Most side bets favor the casino over the Player many times more than other favored casino games, because of the much higher payout these side bets can provide. As it is impossible to know when Super Bahar will hit, it is best to stay away from it.
A Player should always take their second bet. Even if you do not win every game, statistically speaking it is better to take the second bet. A Player would have to win 4 first bets in a row, in order to get the same value from a single win on a second bet.
Example Scenario
The following is an example scenario that can play out in a game of Andar Bahar:
The Dealer presents the Joker, and it is a 10♦.
Player 1 makes their first bet on Andar, for 5.
Player 2 makes their first bet on Andar, for 10.
Player 3 makes their first bet on Bahar, for 15.
Player 4 makes their first bet on Andar, for 20.
The Dealer draws two cards, one for Bahar and one for Andar in that order: 8♦ and 2♣.
Player 1 makes their second bet on Andar, for another 5.
Player 2 makes their second bet on Andar, for 5.
Player 3 makes their second bet on Bahar, for another 15.
Player 4 makes their second bet on Andar, for another 20.
The Dealer draws alternating cards until the Joker, a 10♥, finally appears in Bahar.
Player 3 wins $18.75 in profit, 15 for their initial bet, and then 3.75 for their second bet.
All other Players make no money, losing their bets.
Frequently Asked Questions
How many cards are used in Andar Bahar?
Andar Bahar uses the standard, Anglo-American 52-card Deck.
What is a side bet in Andar Bahar?
A side bet can be made in Andar Bahar at some tables. Side bets are merely additional bets outside of the normal game rules provided by some casinos.
Some tables provide Super Bahar Bets. This bet pays out on significantly higher margins to the Player, but is much less likely to happen. Super Bahar pays out 11x the bet if the first card in the Bahar Box is the Joker.
Is Andar Bahar a skill game?
Not at all. Andar Bahar is almost entirely a game of chance, rather than skill. While it is possible to bet in such a way to advantage yourself, it has no game mechanics which involve skill.
What is the house edge on Andar Bahar?
The house edge on Andar Bahar is a mere 2.15%, making it slightly worse for the Player than Blackjack, but on par with a game like Baccarat.
Are there any variations on the game?
For playing at home Katti can be considered as a variant. While there may be local variations of Andar Bahar, the game when played in casinos is usually kept to a uniform set of rules.
This makes players comfortable with a wider variety of casinos, as they offer the same rulesets for their favorite games.
Where can you play Andar Bahar online?
Generally, online gambling is a risky venture. Unless you are playing on a verified gambling website, it can be an unaffordable risk to provide a less-than-reputable location with your banking details. Pokerstars, a popular and legal gambling site, does offer Andar Bahar online for free.
Also read