Introduction
Card Bingo or Bango is a fun and simple card game similar to traditional bingo but played with a standard deck of playing cards. It can be played with 2 or more players. The objective is to be the first player to flip over all of your dealt cards by matching them to cards revealed from a separate deck.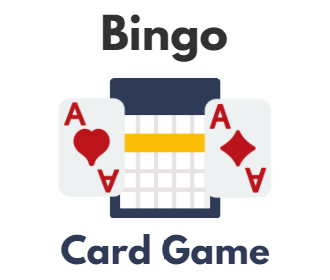 What is Needed
2-10 players
2 standard 52-card Standard Anglo-American decks
Chips or coins if played as a gambling game
Goal
Be the first player to flip over all your dealt cards by matching them to revealed cards of the same rank.
Dealing Phase
Agree on an ante if playing with a pot.
From the first deck, deal each player 5 cards face up (or 6 cards if 8 or fewer players).
Set aside the remaining cards from the first deck.
Shuffle the second deck and place it face down in the center to draw from.
Gameplay
The caller turns over the top card from the center deck and calls out the rank.
If a player has a card of the same rank in their hand, they flip it face down.
The caller continues revealing cards until a player has flipped all their cards face down.
Card Bingo Rules
Keep in mind the following essential Bingo Card Game rules when playing:
Suits are ignored – only match rank.
The first player to flip all their cards face down wins.
Verbally call out "Bingo!" when you win.
The winning hand may be checked against the center deck.
Ending and Winning
The first player to flip over all their cards and call "Bingo!" wins.
If no one wins after the entire center deck is revealed, players reveal any remaining cards and winning can be determined by the lowest/highest point value.
You could for example use to following values:
| Card | Point Value |
| --- | --- |
| Aces | 1 or 11 |
| Kings | 10 |
| Queens | 10 |
| Jacks | 10 |
| 10 – 2 | Face Value |
Here is an example scenario:
Player 1's hand: 6, 8, 10, King, Ace
Common cards revealed so far: 6, 8, 10
Since Player 1 has matched and discarded the 6, 8, and 10 from their hand, they would have the King and Ace remaining, worth 21 points (10 for the King, 11 for the Ace).
If Player 1 is able to match and discard the King and Ace before any other player discards all their cards, Player 1 would win the round, collecting the pot
Variations
There are many available variations for this game. We listed most of them below:
Thirteen Card Bingo – Add more decks and cards per player for more players.
Rank Only – Call ranks only without suits.
Pay per Leftover – Charge players per leftover card or offer high/low payouts.
Betting Round – Add betting rounds.
Blackjack Value – Use blackjack card values.
High-Low – Split the pot between the highest and lowest hands if no one wins.
Jackpot – Add a jackpot that carries over if no one wins.
Sixty-Six – Deal 6 cards to each player, 6 common cards, with betting after each pair of common cards is revealed.
In summary, Card Bingo is a fast and easy card game where players race to flip their cards by matching ranks to a center pile of revealed cards. The first to flip all their cards wins!
Also read