Introduction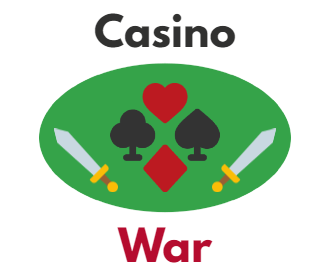 Casino War is an American game, utilizing its own proprietary ruleset distributed by Light and Wonder Incorporated, a company based in Las Vegas, Nevada that develops equipment and game concepts for casinos and other game parlors.
It can be played at home, though as the game is simply a gambling variant of the classic card game War, the latter would be more appropriate for home play. The only way to truly experience Casino War as it was meant to be played is by gambling.
How to Play Casino War?
Casino War utilizes six standard Anglo-American 52-card decks. These decks are all shuffled together to create one large shoe, or a deck composed of multiple decks. The total number of cards in a Casino War shoe is 312, greatly increasing the odds of Players tying.
Casino War is a game played against the Dealer, rather than other Players at the table. This is common in many casino games, as generally, Players face the House (A colloquial name for the casino when it acts as an opponent) rather than each other in casinos.
Gameplay
Each Player takes their turn, with one "turn" representing a small game of War.
The Dealer will deal one card to the Player, and then one to themselves.
The card's rank (Ace, K, Q, J, 10-2 from high to low) determines victory. For example, an 8♠ would win against a 4♦.
Tie
The exciting aspect of Casino War comes when there is a tie, hence the use of multiple decks to increase the probability of a tie. When both the Player and Dealer have cards of the same rank (e.g. 8♠ and 8♦) then they have tied.
The onus then falls upon the Player to make a decision. The Player may either Surrender, or Double Down. These instructions will explain those two positions.
Surrendering
When surrendering, the Player can essentially fold the hand and end their turn after a tie. When surrendering, a Player is able to keep half of their wager. A Player surrenders if they believe that they will not win, or for another reason does not want to double their bet.
Doubling Down
Players may also double down, doubling their initial wager and hoping that their next card will beat the Dealer's card. When a Player doubles down, the Dealer then discards the top three cards from the deck, and deals out one more card to the Player and then themselves. If the Player wins, they are paid out based on their doubled bet. If the Player loses, they lose their whole wager.
Payout and Tie Bet
The Payout of a game of War is 1:1 unless a Tie Bet is made. The Tie Bet is a kind of side bet offered by some casinos that offer Casino War.
Before the first two cards are dealt out, and after a Player has made their regular wager for the Game, it is possible to make an additional bet that the first two cards dealt will be a tie.
If a Player manages to successfully predict a tie, then they will be paid their Tie Bet wager 10:1, or 10x the wager. Gameplay then continues normally, with the Player choosing to surrender or double down.
Casino War Rules
In short, the rules of the game are as follows:
Cards are always dealt face-up, to keep the flow of the game fast.
Players must either surrender their bet or double it in the case of a tie.
A side bet can be made with a 10x payout, and this side bet reduces the House Edge.
Players should make their initial bet as well, even if they are going to play a side bet.
Scoring
Casino War, on a game-to-game basis, is scored based on the ranks of the cards. Suit is completely irrelevant here. Instead, all that matters is the actual rank of the cards. This is just like the game of War from which it takes its name.
However, from a meta-gaming perspective, Casino War is also scored by the amount of money a Player has won or lost by the time they leave the table. A Player who walks away with more money than they approached the table with is considered a winner, and Players who walk away with less money are considered losers.
Basic Strategy & Tips
Although Casino War is mostly a game of chance, there is some advantage-play that a Player can utilize to help maximize the statistical probability of victory.
Firstly, a Player should never surrender in a tie situation. Statistically speaking, the house has an edge when Players surrender, because the house is always paid half of your bet. Always double down for the highest chance of profit.
The Side Bet reduces the House Edge because ties are fairly common in this game, and pays out ten times the usual 1:1 payout.
Example Scenario
Imagine the following is a possible turn in a game of Casino War:
Player wagers $10
Player also takes the Tie Bet for $5
The Player is dealt a 5♦
Dealer is dealt a 5♣
The Player wins $50 for the Tie Bet.
Then, the Player doubles down, and wagers another $10.
The Dealer discards three cards, then deals.
Player is dealt a 4♦
Dealer is dealt a 6♠
Player loses their $20, but overall made $30 in profit.
Even though the Player lost their initial bet, the side bet was still able to payout more than enough to pay for it. This is why the side bet reduces the House Edge in this game.
FAQs
How many cards are used in Casino War?
Casino War uses, usually, 6 standard 52-card decks for a total of 312 cards.
What are the odds for Casino War?
Although there are 312 total cards, because the Casino War deck is made up of 6 normal decks, the actual probability of winning is about 46%.
What is the House Edge for Casino War?
The House Edge in a game of Casino War is usually above 2%, because of the option to surrender. Many non-professional Players will sometimes take the option to surrender, because they would rather lose half of their money than the possibility of losing it all.
Where can I play online for free?
Wizard of Odds offers a free version of Casino War, though the game is played using tokens. It is possible to play using real money, though this is not recommended. If you want to play for money, nothing beats the live-action experience!
Also read