Introduction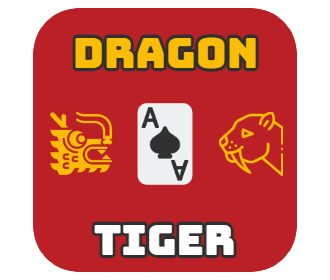 Dragon Tiger is a gambling table game, related to other table games such as Baccarat and Casino War. It is not offered in many land-based casinos but is instead largely played online.
The game's simplistic nature makes its natural House Edge relatively low. As such, places that offer Dragon Tiger normally include a variety of different optional side bets in order to bring the Edge back in line with the House.
How to Play Dragon Tiger?
Dragon Tiger is played using multiple copies of the standard Anglo-American 52-card deck. The number of decks may vary, depending on the casino. Cards are ranked with Aces low, such that the order is Ace-King.
Objective
The base game of Dragon Tiger is very basic. Simply wager which hand will be higher, Dragon or Tiger. The myriad of bonuses available, however, complicates the game somewhat.
Players
A large number of Players could potentially participate in the same game simultaneously. Similar to online Baccarat, the nature of the game allows a technically infinite number of people to place wagers.
As land-based games of Dragon Tiger are rare, assume that you will be participating with a large number of people.
Gameplay
The decks are combined and shuffled into one large shoe. Before cards are dealt, players take their position by placing a wager on "Dragon" or "Tiger."
Betting
Two cards are dealt, one to the Dragon, and one to the Tiger. The Dragon and Tiger are simply two imaginary "Players" who receive the card from the Dealer.
The side dealt the higher ranking card will "win".
Players that bet on the winner, either Dragon or Tiger, will receive a 1:1 payout.
For example, you decide to wager $10 on Tiger. The Dealer deals out the cards, a 9♦ to Dragon, and a K♣ to Tiger. You would win $20, as Tiger has the higher-ranking hand.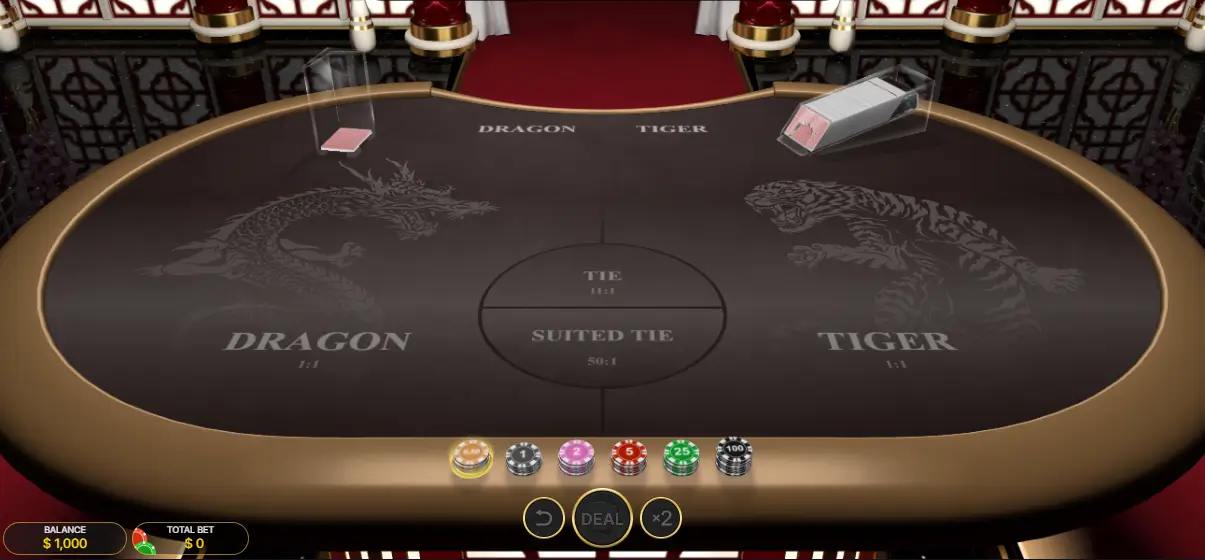 Tie Bet
The majority of Guessing Games offer a bet for a tie, and Dragon Tiger is no exception. In the event of a tie, all Players will lose half of their wager except for Players who bet on Tie.
Players who successfully predict a tie will be rewarded with an 8:1 payout.
Suit
Suit does not matter in Dragon Tiger for the purposes of comparing a card's rank. However, some of the bonuses available do consider Suit. These side bonuses will be further explained in the relevant section below.
Side Bets and Payouts
| Bet | Payout | House Edge |
| --- | --- | --- |
| Dragon/Tiger | 1:1 | 3.8% |
| Tie | 1:1 | 13.6% |
| Suited Tie | 50:1 | 13.98% |
| Big/Small | 1:1 | 7.69% |
| Odd/Even | 1:1 | 7.69% |
| Red/Black | 1:1 | 7.69% |
| One Red, One Black | 1:1 | 3.73% |
| Two Red, Two Black | 3:1 | 3.73% |
The game is essentially a coin flip with cards. One would think this makes the House Edge completely even, but this is not true. Dragon Tiger sits with a House Edge of about 3.8% due to the possibility of a tie.
Although 3.8% is a moderately good Edge for the Player, it's less than desirable for the casino. In order to tip the Edge further in their favor, casinos offer a number of bonuses with higher payouts, but far worse Edge.
Below is a list of the various Bonuses and Side Bets one might see at a Dragon Tiger Table:
Suited Tie
Firstly, there is the Suited Tie Bonus. A fairly basic Bonus, it only pays out in one situation. If the Dragon and Tiger are the same rank, and the same suit, then a Suited Tie has occurred.
Any Players that placed a wager on the Suited Tie Bonus will be paid 50x their bet.
In all other situations, the Suited Tie wager is taken by the House.
Suited Tie has a House Edge of about 14%. Although this is a high House Edge that should largely be avoided, the payout of 50x is rather desirable.
It is largely a waste of money, but considering you are only statistically going to lose 10-13% of the money put into this wager, the potential payout is worth playing a few times.
Big/Small, Odd/Even, Red/Black
These bets are grouped together into a single section, because of their large similarity with one another. This group of bets are based on Players correctly guessing certain attributes about the card that will be dealt.
Players can bet on multiple of these wagers at once, as though they are forming a parley.
A Parley is simply a wager that requires multiple conditions to be achieved in order to pay out.
It is, in a way, a more accurate prediction of the cards dealt to the Dragon and Tiger. However, players do not need to achieve all of the side bets. They will be paid out on an individual basis, according to the conditions of each individual wager.
Big/Small
Big/Small is a guess on the rank of the Dragon or Tiger. Players first choose Dragon, or Tiger, and then Big or Small.
If Betting on Big, Players are wagering that their chosen card will be greater than 7.
Small bets the opposite, that it will be smaller than 7.
Big/Small will lose if Players guess incorrectly, or if their chosen card is exactly a 7.
Big/Small pays 1:1 on success, and takes the whole wager upon failure.
Odd/Even and Red/Black
Odd/Even and Red/Black work very similarly to Big/Small.
Players are betting on whether the card is Odd, or Even and whether it is going to be colored Red (♥♦) or Black (♣♠).
Odd/Even and Red/Black payout 1:1 as well.
Just like the Big/Small, if the Red/Black card is a 7, the bet will automatically lose.
In the case of the Odd/Even bonus, an Ace will automatically lose.
All of these wagers have about the same probability of occurrence and therefore have roughly the same House Edge of about 7.7%
Suit Bonus
The Suit Bonus is a special bonus that pays out if Players are able to correctly guess the suit of either the Dragon, or Tiger card.
Players win 3:1 on their wager, but if the card dispensed by the Dealer is a 7, the wager is automatically lost even if the Player correctly guessed the suit.
The Suit has a House Edge of about 7.7%
There are two remaining side bonuses available to play at a Dragon Tiger table. The One Red, One Black and the Two Red, Two Black bonuses.
One Red, One Black
The One Red, One Black bonus is rather straightforward and simple. Players are betting that one of the cards dealt will be Red, and the other will be Black.
The House Edge on the One Red, One Black bonus is actually quite good. It is 3.7%, which is highly comparable to the base game.
The bonus only offers a 1x payout upon success, but its Edge is so low that Players should frequently participate in this side wager.
Two Red, Two Black
The Two Red, Two Black bet involves Players choosing their favored color, either Red or Black, and declaring that both of the cards dealt to the Dragon and Tiger will be of that color.
Players that guess correctly will be rewarded with a 3:1 payout.
For both of these wagers, ties are still a concern. If a Player bets on One Red, One Black for example, and the following cards are dealt:
7♦ 7♠
The Player will still lose. If the Dragon and Tiger tie, then the One Red, One Black and Two Red, Two Black bets are both halved and taken by the house. The remaining half is pushed back to the Player.
Dragon Tiger Rules
A general summary of the game rules can be found below:
7s and Aces negate the Attribute Bets. Ties negate the One/Two Red, One/Two Black bets.
Players wager whether the Tiger, or Dragon will be dealt the higher hand.
As many Players can participate as can reasonably wager.
Side bets and wagers must be completed before cards are dealt, and must subscribe to the casino's posted minimums and maximums.
Example Scenario
Suppose that you are watching a game of Dragon Tiger, and you have made the following side bets after betting on Tiger:
Even/Odd: Odd.
Big/Small: Big
One Black, One Red
Now suppose the following cards are dealt to the Dragon and Tiger:
You successfully receive a payout for the Big, and One Black, One Red bonuses. This is in addition to winning the base game, as 10 outranks 8. However, you do lose the Even/Odd wager.
This results in an overall profit of $25, assuming each wager was $5.
Strategy Tips
Tip 1
Although Dragon Tiger may seem extremely simple, as though there is no strategy and it is simply all luck, it is actually possible for Players to bet strategically.
For example, participating in the low Edge side bets. The One/Two Black/Red wager is very desirable, at a House Edge of a mere 4% or so.
Furthermore, by participating in multiple Attribute bets, as demonstrated in the example play scenario, you can hedge your bets and make each individual wager safer.
Tip 2
Pay attention to the cards that have already been played. Similar to card counting in Blackjack, it is possible to roughly predict the next likely card to be drawn if you are aware of the deck's composition.
Sit at the table until the deck is shuffled. Once there is a fresh shuffle, keep track of every card dealt by the Dealer.
Live Dragon Tiger
As the game is rarely played in physical casinos, it is most often going to be seen in the form of Live Dragon Tiger.
Live games are a relatively new genre of casino games. Although live games have been around for many years, the worldwide lockdowns created a new and growing market for this style of gaming.
Live games are played digitally but have a real Dealer livestreaming their Deal. The Livestreaming Dealer will show the deck to the audience, while Players participate as they would in a normal game of Online Dragon Tiger.
Live casino games are considered superior to "Video" gambling games, such as Video Poker, as there is less opportunity for the casino to be unscrupulous. Players are watching an uninterrupted stream of the Dealer handling the deck, and there is no unseen algorithm that Players must trust.
You may also like