Intro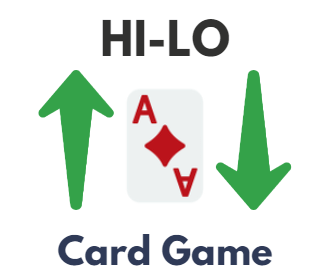 Hi-Lo is an extremely basic guessing card game. Guessing games are a popular mainstay in casinos, due to their relatively even odds. These games often are played for extremely high stakes, as there is close to a 50/50 chance of winning and losing.
The game is most popular online, where it sees the majority of its play. The Hi-Lo casino game specifically is a proprietary game developed by Playtech originally.
How to Play Hi-Lo?
Hi-Lo is played using multiple copies of the standard Anglo-American 52-card deck. Different casinos will implement different rules. Sometimes there are six copies, sometimes there are eight, and sometimes all of the 10s will be removed from the decks, to make 48-card decks.
These rules should be clearly stated on posted signage around the table. If playing digitally, there is likely a Rules webpage, or a banner demonstrating such rules.
Game Overview
Hi-Lo is an extremely simple game, in which Players are presented with a card, called the Snap.
The Dealer will draw a card from the deck.
Players will make their wagers before the card is revealed, hoping the dealt card will be Higher, Lower, or Tie with the Snap. The Tie Bet is sometimes called the Snap Bet.
The game is played continuously until the deck is depleted. As such, the winning card of the last round is always the Snap. If the Deck must be reshuffled, a fresh card will be dealt from the deck to act as the Snap.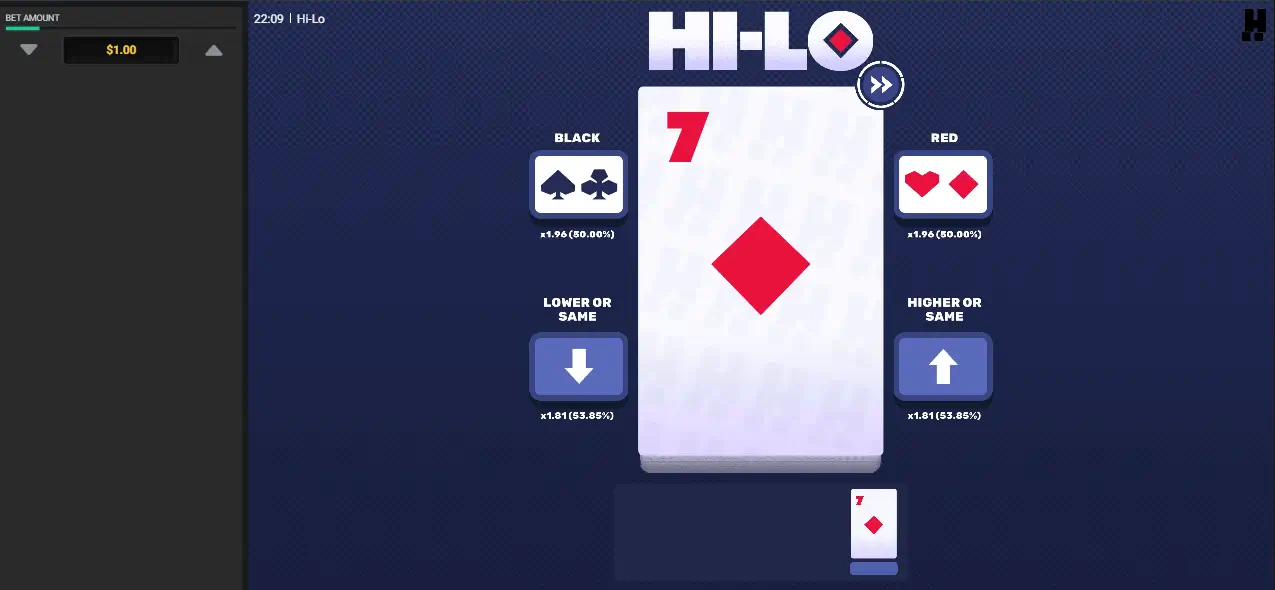 Betting
At the start of the game, each Player must make their wager.
Players have three possible betting positions from which to play.
The player's positions are relative to the Snap and the card dealt by the Dealer. Players are guessing whether that dealt card is higher, lower, or will tie with the Snap.
Once each Player has made their wager, conforming with the casino's minimum and maximum betting limits, the Dealer will reveal the comparison card, and payout or take the Player's money according to the outcome.
Continuation
The Comparison card becomes the new Snap. The Dealer will mill the top three cards of the deck, and then wait for Players to make new bets before a new comparison occurs.
Payouts and Odds
Hi-Lo is a very simple game to play, but its payouts are anything but. Indeed, as a digital game, it has the advantage of computerized banking. The potential payout for each bet is constantly fluctuating according to the number of cards remaining in the deck.
As such, players can only be absolutely sure of what they stand to win in the moment, with the casino making clear what they will pay out beforehand. In some cases, the exact odds will be displayed.
Players at many Hi-Lo tables are further given the option to Double or Collect. Players are usually limited to a maximum of $1000 for their initial bet, but Players are able to "let it ride" by Doubling. Instead of accepting their Payout, players able to convert it into an instant wager.
This allows players to exceed the betting limit but surrenders their entire earnings for that previous round. This is a very risky option, but two lucky games in a row could mean a lot of money.
House Edge and RTP
Like every popular Guessing Game, Hi-Lo has a very small House Edge. It hovers around 2.5%, due to the Tie Bet.
Players are likely going to receive a higher payout for the Tie Bet if successful, but because of its infrequency, players who gamble on it are more likely to lose. This slightly tilts the Edge in favor of the House.
Some games offer Side Bets, but these should be avoided at all costs. High-Low is desirable as a game because of its relatively even House Edge. Wagering on Side Bets will only negatively impact this favorable Edge. Hi-Lo sits at a return of about 98%, making it a very even game for a casino.
High Low Card Game Rules
In short, the essential rules of the game are as follows:
The game is played with a standard 52-card deck.
Players must make their wagers before cards can be dealt.
Players cannot make an initial wager greater than the posted maximum.
The dealer deals one face-up card as the starter card.
Players can let their payouts ride, if they wish, and play an increasingly higher stakes game of Hi-Lo.
Three cards are always discarded before the Comparison Card is revealed.
An Ace is always high in value.
Strategy Tips
Simple Probabilities
Although there is not terribly much strategy involved when playing Hi-Lo, there are some common sense tactics Players can engage in order to benefit themselves.
If the Snap is 7 or Lower, then betting "Hi" naturally has a higher chance of a payout. If the Snap is 8 or Higher, then betting "Lo" will be the best bet.
Avoiding Side bets
Avoid the Side Bets at all costs. The whole benefit of Hi-Lo is its even Edge. The Edge will only be pushed in the direction of the House if you gamble on the Side-Bets.
Martingale
The Martingale strategy can be applied to Hi-Lo in the following way:
Start by placing the table minimum bet on either "higher" or "lower"
If you win, bet the same amount again
When you lose, double the size of your previous bet
Continue doubling your bet after each loss
When you finally win, this will recover your previous losses and earn a small profit
After a win, revert back to the minimum bet amount
The goal is to guarantee a profit after a win by recouping any losses with the doubled bet amounts. However, long-losing streaks can quickly deplete your bankroll.
Keep in mind that this strategy works best with even money bets and unlimited table limits, so it may have limitations in Hi-Lo depending on the specific rules and variants.
Ultimately, no strategy can overcome the house edge, so caution is still advised!
Variations
Hi-Lo Switch
Hi-Lo Switch is, essentially, playing three games of High-Low at once. Players will be dealt three cards, and make three separate bets on each card. High, Low, or Snap/Tie. The Dealer will then dispense three cards corresponding to each card dealt to the Player.
These cards will act as the comparison. Players must win each hand on an individual basis and will receive payouts on said individual basis.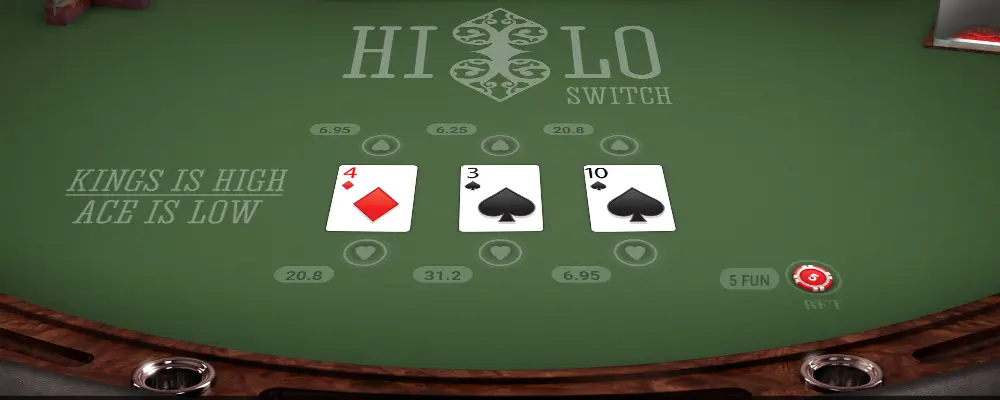 Live Hi-Lo
Playtech's most popular digital version of Hi-Lo. The game is essentially a live stream (hence "Live") of a Dealer dispensing cards as one would in a normal game. This is a combination of casino and digital play.
Players bet as though the game is digital, except physical cards are being dealt from a deck. These Live games are considered superior to traditional online gambling because the chances of fraud are lessened.
Hi-Lo Premium
Hi-Lo Premium is played using an extremely small deck. Only a single suit is chosen, with the 10 Card removed from play. Players must guess whether the next card will be higher, lower, or the same as the base Snap card.
Players are also able to bet on several extra positions that have a superior payout. Players can bet the next card will be an Ace, for example, or any card between 2 and 6.
Bitcoin Hi-Lo
Hi-Lo is a very popular game at crypto casinos. Many will have their own in-house version of the game, which will be "provably fair". Examples are Stake and BC.GAME. The only difference is that these games will allow you to bet with different cryptocurrencies instead of regular money.
FAQs
What are the advantages of High Low?
Some key advantages of the Hi-Lo card game are:
Simple rules and gameplay make it ideal for beginners
Fast-paced action provides quick excitement
Ability to control your risk level with higher or lower bets
Can you play Hi-Lo for Free?
Yes, you can play free demo versions of Hi-Lo at many online casinos without needing to deposit any money. This allows you to learn the rules and practice strategies risk-free before playing for real money
Can you play Hi-Lo at Online Casinos?
Yes, you can absolutely play real money Hi-Lo card games at online casinos. Most good online gambling sites will offer some version of the game.
These games are either developed in-house or by popular software providers like Playtech and BGaming. Just be sure to sign up at a reputable site.
What is a Tie Bet?
A Tie Bet in Hi-Lo refers to betting that the next card dealt will have the same value as the current card showing.
For example, if the card showing is a 7, a Tie Bet wins if the next card dealt is also a 7. Tie bets generally have higher payouts since they are less likely to occur.
Can you count cards in Hi-Lo?
No, card counting is not an effective strategy in Hi-Lo. Since online versions use shuffled decks and limited card shoes, you cannot gain an advantage by tracking the cards that have been dealt.
Additionally, the changing odds each round make card counting impractical. While you can use some basic strategy, High-Low ultimately relies more on luck than blackjack or other countable games.