Introduction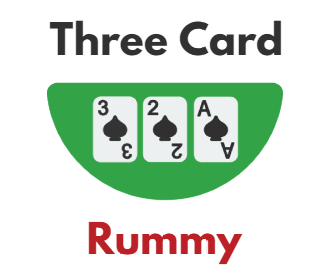 Three Card Rummy is a casino table-comparing game based on, Poker and Rummy. Like most Table games, there can be a maximum of 8 Players.
There exists a non-table game version of 3-Card Rummy, which plays very differently from this game. This article is concerned with the version played in Las Vegas Casinos.
How to Play Three Card Rummy?
Vegas Three Card Rummy is played using the standard Anglo-American 52-card deck. Though some Rummy variations involve Jokers, this game does not.
Card Rankings
Cards are ranked with Aces low so that the order from highest to lowest is K, Q, J, 10-Ace.
Placing Bets
Ante
The game begins with each Player placing an Ante into the appropriate betting box. This Ante should be between the table's posted minimum and maximum betting requirements.
Bonus Wager
Players are given the option to place an additional Bonus Wager. Bonus wagers usually have different minimums and maximums than the standard Ante.
The Bonus pays out when the Player achieves a certain score total, or when they have a special set of suited cards. The specific payouts will be explained below in the relevant section.
Dealing Cards
Once each Player has made their Ante and Bonus wagers, the Dealer will deal three cards to each Player, including themselves. These cards are dealt face-down.
Forming Hands
Players are attempting to form the lowest-scoring hand. Aces are worth one point, 2-10 are worth their printed value, and the Face Cards are all worth 10 points.
In order to form lower hand totals, Players are able to meld some cards together. A meld is always worth 0 points.
Players can form three kinds of melds:
Pairs – two cards of the same rank
Three-Kinds – three cards of the same rank
Runs – cards ascending or descending in immediate order (e.g. 2♦, 3♦, 4♦). Runs need to be formed up of all three cards, and at least two of those cards must be the same suit.
All other cards that remain un-melded are called "deadwood." Deadwood pays its full face value in points to the hand total.
If a hand could be formed in two different ways, the lowest total is always taken.
Raising or Folding
Once each Player has reviewed their cards, and formed the lowest hand total that they possibly can, players must then decide whether they will fold, or raise.
Raise
In order to make it to the Showdown, players are forced to place a wager into their Raise betting box. It should be situated next to the Ante box. The Raise must be equal to the Ante.
Fold
Players could also fold, forfeiting the wager already in their Ante box. Players will be unable to win any further money from their Ante wager, even if they would have beaten the Dealer in the Showdown.
However, folding Players do not need to pay into the Raise, and a folding Player may still receive a payout from their Bonus wager. A Player that folds should reveal their cards, and receive the appropriate bonus payout immediately.
The Showdown
Once each Player has raised, or folded, the Showdown begins. The Dealer and each Player at the table reveal their cards.
Players will compare their hands to the Dealer's. Lower totals win, higher totals lose, ties push.
The Dealer must also have 20 points or less in order to qualify. If the Dealer's hand total goes over 20 points, there is an automatic push on all Ante and Raise wagers. The Bonus will still payout.
Ending the Hand
After the Showdown, appropriate payouts are made, cards are shuffled, and new Antes are placed for a new game.
Payouts and Bonuses
There are two payout tables in Three Card Rummy. The Ante always pays 1:1, but the Raise can sometimes pay 2:1 or 4:1 if the Player achieves specific point totals.
If a Player wins the hand with a point total of 1-5, then they win 2:1 their Raise wager only. The Ante still pays 1:1.
If a Player wins a hand with a point total of 0, then they win 4:1 their wager. The Raise will still push in the event of a tie, even if a Player's point total was 5-0.
The Bonus pay table on the other hand will always pay out, even if a Player folded or did not have a lower total than the Dealer. The Bonus pays out based on the total number of points for the hand, melds included.
The following is a table to help keep track of the Bonus payouts:
| Total Value of Hand | Payout |
| --- | --- |
| Run of Suited Ace, 2, 3 (Special 0 Points) | 100x |
| Normal 0 Point Total | 25x |
| 1, 2, 3, 4, 5, 6 Points | 2x |
| 7, 8, 9, 10 Points | 1x |
| 11, or 12 Points | 4x |
3-Card Rummy Rules
The rules of Vegas 3 Card Rummy are summarized below:
The Dealer must qualify. This is important to remember. If the Dealer's hand equals 21 Points or more, then the whole game pushes except for Bonuses. The Bonus always pays out.
Players are each dealt three cards, and attempt to form melds for the lowest total possible. Unmelded cards are called Deadwood, and add their full value to the total.
Players must either Raise or Fold before the Showdown begins.
Players will receive special payouts for 5-0 points on their Raise wager.
Example Scenario
Suppose that you have the following hand:
9♦ 8♣ 7♠
While this may seem like a very strong hand, a full three-card run, it is actually a losing hand. This is because runs must have at least two cards suited, or of the same suit. A
ll three cards in this run are different suits, and as such the total of this hand is 24. These cards become Deadwood when un-melded.
Remember that runs need to have at least two components suited, or all cards are Deadwood. Raising on this hand is a guaranteed loss. Simply fold instead.
Strategy and Tips
Do not be afraid to fold in Three Card Rummy
Gamblers always need to be wary of the Sunken Cost. A point total over 20 can only push. The Dealer must qualify at 20 points, meaning a total higher than 20 can never win. At best, it can push.
Doubling your wager for the chance to get it back is pure risk, with no reward. The money in the Ante box is already gone. Just let it go.
Avoid the Bonus
This is true in 99% of casino games, and while there are occasional exceptions to this rule, such as the official bonuses required by California State Law, Three Card Rummy is not one of them. Avoid the Bonus like the plague.
You may also like