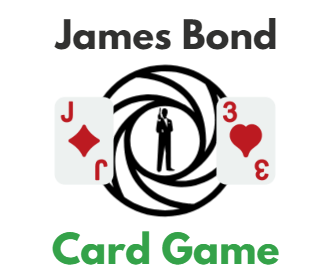 Introduction
Get ready to put your speed and matching skills to the test with the James Bond card game. This easy-to-play game is perfect for two to four players and involves racing to assemble piles of four-of-a-kind cards.
It has become a widespread children's game, popular in the United States and even reaching players in Europe. So gather your friends and get ready to shout "James Bond" when you win!
How to Play James Bond?
James Bond requires one standard 52-card deck. It is very suitable for children, with the duration of a game being about 10 minutes maximum.
Dealing
To deal, shuffle the deck and place four cards face up in the middle.
Deal the remaining cards into face-down piles of four cards and distribute them to each player. In a 2-player game, each player receives six piles; in a 3-player game, they receive four.
Players then create face-down piles of four cards each in front of them.
Goal
The goal is to get all four cards in each of your piles to match. But there's a twist. You can swap cards with the middle pile to give yourself the upper hand.
Be the first to reach four-of-a-kind in all your piles and you'll emerge victorious. Suits are irrelevant.
Playing
As mentioned above, this is a fast-paced game that requires players to collect four matching cards in each of their six piles.
To start the game, there will be a countdown after which the dealer gives the starting signal. Players then start playing as swiftly as they can at the same time. Remember that there are no turns in this game.
Players take one pile and have a peek at the four cards, and if they like, they can swap out a card from the pile they are holding for one of the middle cards.
When done, the pile they had needs to be placed back face down in the middle before they can pick up and see a different pile.
You can not swap more than one card simultaneously. If there are multiple cards in the middle that you would like to have, you will need to swap one before the other.
Ending
The first player to amass four matching cards in each of their six piles can proudly proclaim 'James Bond' and turn their card piles face up to show that they have won.
Rules
A short summary of the James Bond card game rules can be found below:
There are no turns. Everyone makes moves simultaneously.
Players are only allowed to take one pile at a time.
You can only hold four cards at a time.
The playing of cards only happens in the center of the table.
You have to mention 007's name before showing your completed set of four cards.
Example Play
Let's assume the pile you are looking at is 2-2-9-J and that the middle cards are 2-7-5-Q.
The 2-card from the middle is interesting for you to take as it brings you one step closer to completing your four-of-a-kind.
The question remains if you should either swap your 9 or J for the 2. Here a bit of strategy and memory comes into play. You can try to remember what cards your opponent has taken before.
In the case that they have taken a Jack before, it will be smart for you to keep your Jack so your opponent won't be able to build up their four-of-a-kind.
4 Player Variation
There also exists a 4 player variation of the game which can be played in teams.
The four-player variation of the James Bond card game involves two players on each team with six piles of cards. The rules remain the same, but swapping cards to the center and between each other becomes more common.
Playing in teams adds a fun and frantic twist to the game, putting teamwork skills to the test.
Similar Games