Introduction
2-7 Triple Draw, also known as Lowball Triple Draw, is a Comparison-type game in the poker family. As the name suggests it is in the "Draw" subgenre of poker, as opposed to the Hold'em or Stud variations.
Like in Five-Card Draw, players are given the opportunity to replace the cards in their hands. The game is called "Triple" Draw because unlike in other Drawing poker games, this game allows for three different draw periods at the start of each betting round.
How to Play 2-7 Triple Draw Poker?
2-7 Triple Draw Poker is played using a standard Anglo-American deck of 52 cards. The deck should be completely shuffled, and then a Dealer is chosen randomly. Once the Dealer is chosen, and the deck is shuffled, each player must pay in their Ante.
Ante and Deal
An Ante is simply a predetermined, equal bet that all players must pay in full if they wish to be dealt cards and participate in the game. The Ante is usually a small denomination, usually one or two times the smallest possible bet.
Once each player has paid in their Ante, the Dealer will deal counter-clockwise around the table, starting with the player to their immediate left, dealing one card to one player at a time, including themselves. The Dealer will do this until every player has 5 face-down cards in front of them.
At this point, the first betting phase may begin.
First betting phase
Each player will take turns, starting with the first player to be dealt cards, and ending with the Dealer. During their turn, a player is free to make one of the four possible betting positions in poker, explained below:
Fold
The Fold is the "forfeit" of poker. When folding, a player surrenders their cards to the center of the table, face-down. No other players should look at a folding player's cards until the game has ended.
Players that have folded are not required to keep paying into the pot, but they also surrender all rights to any money they have already put into the pot, even if their hand would have won the game.
Check
The Check is essentially a passive move. It is the absence of a bet. When there is no outstanding bet at the table, or it is the first turn of the betting phase, a player is allowed to "check".
The player is therefore passing their turn, in order to "check" what other players will do. If all players at the table check, the betting phase is skipped.
Call/Bet
Players may also Call/Bet. When Calling, a player is matching the highest outstanding bet at the table.
For example, if Player 1 bets 5, Player 2 calls and also bets 5. Players must at least Call the current highest table bet in order to continue in the game after the betting phase ends.
A "Bet" Is simply the first non-check bet made in the betting phase.
Raise
Players may also Raise during a betting phase. A Raise is an increase on the previously highest bet, as opposed to a call. When raising, your bet becomes the new highest outstanding bet, and as such all other Players at the table must at least match your bet or fold, taking additional turns as needed.
Players may only raise as much as the Pot, meaning if the total pot is $25, a player cannot raise any more than $25.
All-in
There is a special raise, known as the "All-in." When a player goes all in, their wager is matched against other players, placed in a "side-pot."
Players that did not go All-in will place an equal amount of chips into the Side-pot, and then do not have to wager any further for the side pot.
If an All-in Player wins, they cannot win more than the value of their side pot. Players may only go All-in if it is less than the total value of the main pot.
Drawing phase
After this first betting phase, all remaining players (All players that have not folded) then enter the drawing phase. When in the Drawing phase, players will take turns passing cards from their hand to the Dealer face-down, and being dealt new cards from the deck face-down.
Players are free to draw all or none of the cards in their hands.
Players, however, cannot draw twice per draw phase.
Players may not discard, be dealt replacement cards, and then discard again in that same draw phase.
Discarded cards should not be shuffled into the deck until it is completely empty. Once the original deck is empty, the Dealer can collect the discards and shuffle them into a new deck.
Once each player has gotten their requisite number of cards, the next betting phase of the game begins.
Next phases
At the end of that betting phase, all remaining players will begin a new drawing phase. After this drawing phase begins one more betting phase, followed by one more drawing phase. After that final drawing phase, there shall be one final betting phase, before the Showdown begins with all remaining players.
Showdown
If all but one player folds before the Showdown begins, that remaining player will win the entirety of the pot. If there is a "tie" between the hands during a Showdown, the pot will be split.
Be aware that Triple Draw is a "Lowball" variation of poker. This means that the best hands in the game are not the traditional poker hands, and the "lowest value" traditional hands become the highest value hands in Triple-Draw. The hierarchy of these hands will be explained below in the "hand rankings" section.
2-7 Triple Draw Rules
A summary of the essential rules can be found below:
The name 2-7 refers to the best possible hand in this game, a collection of the lowest possible, non-melded cards. As aces are always high, this means 7-5-4-3-2. The cards cannot form a flush, or else it is not a 2-7.
There are three drawing phases and three betting phases. Hence, Triple Draw.
Players are able to draw 0-5 cards per drawing phase, and may only draw once per draw phase.
All players must pay an Ante at the start of the game.
The winner of the game gains the whole pot of wagers unless there is a tie. Then they shall split it evenly.
Aces are always high.
Hand Rankings (Lowball)
Deuce to Seven Triple Draw is called 2-7 because that is the best possible hand, also known as the nuts. 2-7 refers to the specific lowball rules that this version of Triple Draw adheres to, resulting in different hand rankings than even other lowball games.
The table below is ranked from highest game value to lowest, even though traditionally these would be some of the weakest hands. Straights and Flushes do count in this method, which is different from most other lowball games.
| Hand | Example |
| --- | --- |
| 2-7 | 7♣ 5♥ 4♠ 3♣ 2♥ |
| Non-Meld | 10♦ 6♣ 4♣ 3♥ 2♦ |
| Pair | 2♥ 2♦ |
| Two Pair | 3♥ 3♦ 4♦ 4♠ |
| Three-of-a-Kind | 3♥ 3♦ 3♣ |
| Straight | 3♥ 4♣ 5♣ 6♣ 7♠ |
| Flush | 5♣ 6♣ 8♣ 10♣ Q♣ |
| Full House | 2♥ 2♦ 2♣ 3♥ 3♠ |
| Four-of-a-Kind | 4♦ 4♣ 4♠ 4♥ |
| Royal/Straight Flush | 10♥ J♥ Q♥ K♥ A♥ |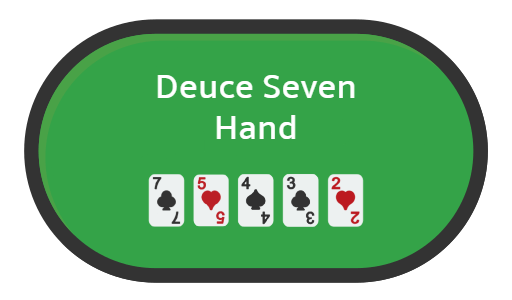 Example Scenario
As you are given three chances to draw, consider the following is the first hand dealt to you:
4♣ 10♦ 6♥ 6♦ 7♠
While this is a fairly decent hand, remember that high cards and all melds are penalized. A player with a pair will always lose to a player that has no pair at all. As such, assume that the pair of 6s and 10♦ were discarded, in which case the following are your new cards:
4♣ 7♠ 8♥ 2♠ 5♠
This is very good, as a player almost has all of the components needed for the 2-7. You can be sure your 2-7 won't be a Flush, because the 4 is a ♣ and therefore won't complete the Flush. However, this also means that you can only safely discard one card. So, discarding the 8♥ will give:
4♣ 7♠ 5♥ 2♠ 5♠
An unlucky draw! As such, the player is forced to discard one of their 5s and hope for a 3:
4♥ A♥ 7♠ 5♠ 2♠
Another unlucky draw. While the Ace is better than another pair, this is the weakest possible non-meld hand as it contains the highest card in the game. This hand will only beat pairs and worse.
Strategy & Tips
The closer you come to a desired hand, the less likely it becomes that the card you need will actually be dealt to you. Although it is best to go for a better meld if possible, if you already have a fairly strong hand by the time of the second or third draw phase, consider standing with that moderate hand instead of accidentally forming a weak hand in the pursuit of the best hand.
Players that radically change their regular betting behavior are doing one of two things: they are either bluffing, or they are baiting.
Bluffing
When bluffing, players do not actually have a strong hand but are trying to convince players that they do. Baiting, therefore, is a "fake bluff." It is the threat players are worried about when they "call a player's bluff."
Baiting
If a player is baiting, they are trying to get you to spend more money, believing that your hand will beat theirs, when in actuality they had the strongest hand or a very strong hand, thereby causing you to lose. Understanding when a player is bluffing or baiting is a part of becoming a good poker player.
Frequently Asked Questions
Is 2-7 Triple Draw a limit game?
Yes, Deuce to Seven Triple Draw is a limit-style game. This means that it is not possible to raise the pot beyond the pot's current state. A player can at most double the pot with a single bet.
What is the best hand in 2-7 Triple Draw?
The best hand in this game, as the name suggests, is the 2-7 hand, also known as the 7-5. A 2-7 is formed by having a 7-5-4-3-2 in the hand, without those cards forming a flush. This is because Aces are always high, and straights do count. Hence, 7-5-4-3-2 are the lowest-ranking non-melded cards possible according to these rules.
What is the difference between 2-7 Triple Draw and Texas Hold'em?
There are several differences, although the most key involves the drawing phases of Triple Draw, which do not exist in Texas Hold'em rules, as well as the card hierarchy.
2-7 Triple Draw is a lowball game, while Hold'em is a highball game. The hierarchy of 2-7 is essentially the inverse of Hold'em's more traditional poker hierarchy.
Also see