---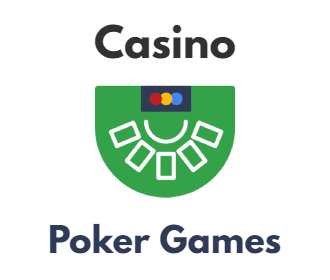 What are Casino Poker Games?
When it comes to regular poker games and casino poker, the primary difference is that in casino poker table games, you're playing against the house or dealer rather than other people. This is opposed to the direct competition that occurs between players in standard poker games. As a result, the atmosphere and stakes are generally different in a casino poker setting.
These typical games of chance are not in your favor due to the house edge. However, in some cases, by doing your research and forming strategies, you can increase your chances of winning.
The house edge is a term used to describe the built-in advantage that the casino has over the player in a game of chance. This edge is often expressed as a percentage and is calculated by subtracting the payout percentage from 100%.
Make sure you understand the rules and nuances of the game before you start. Furthermore, never forget to have fun while playing. It's always important to enjoy the game and appreciate the challenge of trying to beat the house.
What are the Most Popular Casino Poker Games?
In order to get you started in this vast category of card games, we listed the most well-known casino-type poker games in no particular order below.
Pai Gow Poker is played with a 54-card Joker variant of the standard deck. To get started, one of the Jokers must be removed, leaving you with a 53-card deck. The aim of the game is to make two separate hands with the highest value possible – one hand with two cards and one with five cards.
The game of Pai Gow was first created by Sam Torosian when he noticed his Filipino customers playing Chinese domino games like Mahjong. He saw the potential of the game and decided to develop his own version using cards.
Caribbean Stud Poker is played with a traditional deck of 52 cards. Just like Texas Hold'em, it as game where either the Player or the Dealer is guaranteed to have the superior hand – unless, of course, the two hands tie.
However, instead of competing with other players at the same table, Caribbean Stud is a one-on-one game of chance between the Player and the Dealer. It's a thrilling experience, and each individual is competing for a win. The house edge is around 5%.
Mississippi Stud Poker is a popular game found at many casinos. Although the cost to join can be a bit high, at least 4x the original Ante, the potential rewards are great. The house edge is 4.91%.
This game is played using a standard Anglo-American deck of 52 cards. Depending on the number of players, some casinos might use multiple decks, but generally, you'll find 2-8 players at the table.
This game was designed to be a fast-paced version of traditional Poker, so it would fit in with other rapid gambling card games like Blackjack.
Everyone first places their ante wagers, and then three cards are distributed to each player and the dealer. Players can choose to either surrender or stay in the game by putting down a 'play' wager equivalent to their ante. Lastly, all the hands are compared and the strongest one wins. The house edge is 3.37%.
Playing Let It Ride Poker requires knowledge of the meld hierarchy in the Stud Poker family. Depending on the meld formed, players can expect to receive a corresponding payout. The dealer takes care of the shuffling, payouts, and running of the game.
Let It Ride offers odds that aren't very attractive to pro gamblers. The House Edge, or the casino's chance of winning more than the Player, is approximately 3.5%.
Video Poker
Video Poker combines the five-card draw poker game with the modern convenience of a digital slot machine.
Players are dealt a five-card hand and given the opportunity to discard any cards they don't wish to keep, receiving new cards in exchange. The goal is to form the strongest poker hand. There exist multiple variants of this game, such as Jacks or Better, Deuces Wild, and Tens or Better. With so many options, Video Poker is sure to provide hours of entertainment.
Honorable mentions
Selected by Best House Edge
| Game | House Edge (Low-High) |
| --- | --- |
| Video Poker (Jacks or Better) | 0.46% |
| Pai Gow Poker | 1.42% |
| Ultimate Texas Hold'em | 2.19% |
| Heads Up Hold'em | 2.36% |
| Double Down Stud | 2.67% |
| Three Card Poker | 3.37% |
| Let it Ride | 3.51% |
Casino Poker Games with the lowest house edge
Frequently Asked Questions
Do casinos offer poker games?
Yes, casinos often offer poker games such as Texas Hold'em, Omaha, and Stud as well as a selection of casino table games. These games can be found in both online and traditional casino settings.
What is the most popular casino poker game?
The most popular one by far is Video Poker. Followed by 3-Card Poker and Mississippi Stud.
Which casino poker game has the best odds?
The Jacks or Better Full Pay variant of Video Poker has the best odds coming in at 0.46%. Note that the standard deviation is 4.42.