Intro
2 Card Poker is a casino table game developed by AGS and based on the traditional game of poker. Like other poker-based table games, this game is played against a house dealer and borrows the hierarchy of poker hand rankings.
How to Play 2 Card Poker?
2 Card Poker is played using a single copy of the Standard 52-card Anglo-American deck. As with the vast majority of casino table games, each player must pay an Ante before cards are dealt.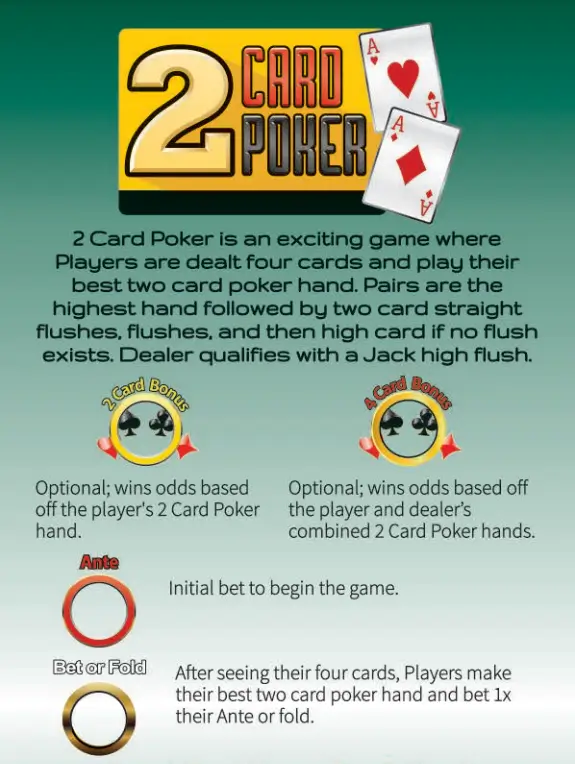 The Deal
Once Players have placed the requisite wager into the Ante box, the Dealer shall dispense four face-down cards to each Player, including themselves.
The Player's Hand
Once the cards have been dealt, players use their four cards to try and form the best two-card poker hand they possibly can.
The Player's Choice
The Pair is the highest-ranking meld, followed by two-card Straight Flushes, two-card Flushes, and the High Card.
There are no Straights in 2 Card Poker. Any Straight is simply considered a High-Card.
Once Players have determined the strongest possible hand they can form, they are given a choice between two options. Players may either Bet or Fold.
Bet
Betting Players make a wager equal to the Ante, and continue into the Showdown.
Betting Players will compare their strongest two-card hand against the Dealer's chosen hand.
Fold
Folding Players simply surrender their Ante wager, and return their cards back to the Dealer.
Folding Players also forfeit their right to any winnings they may have won had they continued into the Showdown.
The Showdown
Once each Player has decided, the remaining Betting Players will turn over their two-card hands, and compare them to the Dealer's.
Winning Players win even money on their Ante and Bet.
Losing Players lose both of their wagers.
Dealer Qualifying
The Dealer must have at least a Jack-High in order to qualify. If the Dealer does not form a meld of Jack-High or better, then the Player's Bet wager shall push.
If the Dealer does not qualify, the Ante wager will still pay out normally.
Hand Rankings
As mentioned above, the hands in 2 Card Poker are ranked in an unconventional way. The following hands are ranked in order of Greatest value to Least:
| Hands | Best | Example Hand |
| --- | --- | --- |
| Pairs | Aces | 4♦ 4♣ |
| Straight Flushes | A-K Suited | 6♣ 7♣ |
| Flushes | A-Q Suited | 4♦ 9♦ |
| High Card | Ace | J♦ 10♥ |
Keep in mind that Straights do not exist in this game, and are instead treated as High Card hands.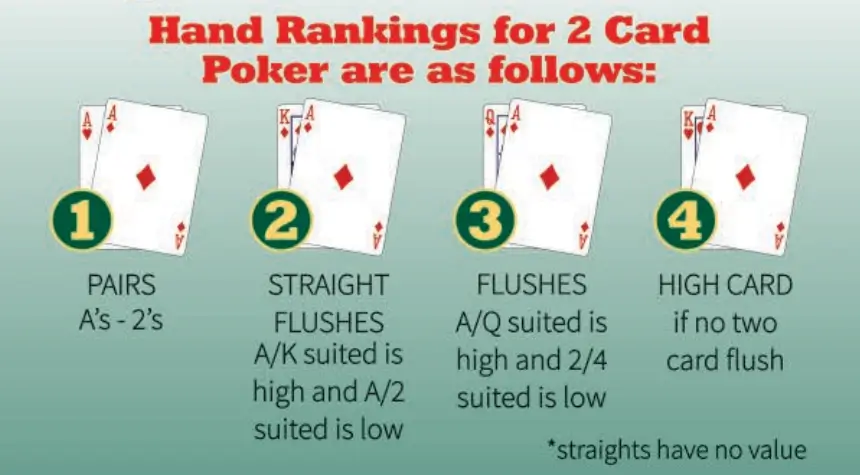 Payouts and Bonuses
There are two optional bonuses available for Players if they so wish: The 2-card Bonus, and the 4-card Bonus.
2-Card Bonus
The 2-card Bonus is paid out based on the Player's chosen two-card poker hand. Special payouts are offered for particular hands, as shown in the table below:
Players will also receive a 1-to-1 Payout if they achieve a pair of 9s, 8s, or 7s. Anything less will result in a loss of the 2-card Bonus.
| Meld | Payout |
| --- | --- |
| Red (♥ or ♦) Pair of Aces | 20x |
| Black(♣ or ♠) Pair of Aces | 15x |
| Mixed Pair of Aces | 10x |
| Pair of Kings | 5x |
| Pair of Queens | 4x |
| Pair of Jacks | 3x |
| Pair of 10s | 2x |
4-Card Bonus
The 4-card Bonus is paid out based on the Player's chosen two-card Poker hand, as well as the Dealer's chosen hand combined.
| Meld | Payouts |
| --- | --- |
| Four-Card Royal Flush | 200x |
| Four-Kind | 50x |
| Straight-Flush | 30x |
| Three-Kind | 5x |
| Flush | 3x |
| Two-Pair | 1x |
All lesser melds will result in a loss of the 4-card Bonus wager.
2 Card Poker Rules
A short summary of the game's rules can be found below:
Players make an Ante wager before the game begins.
Players are dealt four cards, and use the two best cards to form the best possible two-card Poker hand that they can.
Players are given the opportunity to make wagers on two optional bonuses, the 2-card Bonus and the 4-card Bonus.
Players compare their hands against the Dealer's in the Showdown, with the superior hand taking the payout.
Playing Example
Suppose that you have the following four cards in your hand:
10♠ 4♠ 2♥ J♦
Although a Jack-10 High is a very strong high-card hand, Flushes are ranked more highly than High-Cards according to the meld hierarchy of 2 Card Poker.
By Playing the 10♠ 4♠, there is a moderately better chance for you to win the Showdown, than if you had chosen the High-Card instead.
Further, 10 is a good kicker for a Flush, meaning you will beat the Dealer's Flush if they have a low kicker.
You may also like