Intro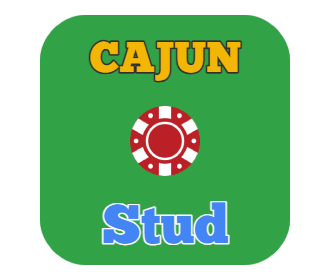 Cajun Stud is a Table-Poker game owned by casino game developer Galaxy Games. It is a fun poker game based on Stud variations of Poker.
Cajun Stud Poker stands out from the crowd due to its simple gameplay, and large number of optional bonus wagers.
How to Play Cajun Stud Poker?
Cajun Stud is played using the Standard Anglo-American 52-card deck pattern. Up to 8 Players can sit at a Cajun Stud table, and each Player must take a specific seat in order to align with the appropriate betting boxes. These betting boxes are play zones, where Players will place their wagers when appropriate throughout the course of the game.
Game Setup
There are 3 Raise boxes, an Ante Box, as well as three bonus boxes. The Board Bonus, Pocket Bonus, and Lo Ball; these are bonuses that pay out in special tables that are detailed below in the "Payouts and Odds" section.
Each Player must make a wager into the Ante Box in order to start the game. Most table games have signage near the table that declares relevant minimums and maximums for the game. The Ante Wager cannot fall below the minimum, or rise above the maximum.
After each Player pays in their Ante, any bonuses they wish to apply must be wagered prior to the Deal.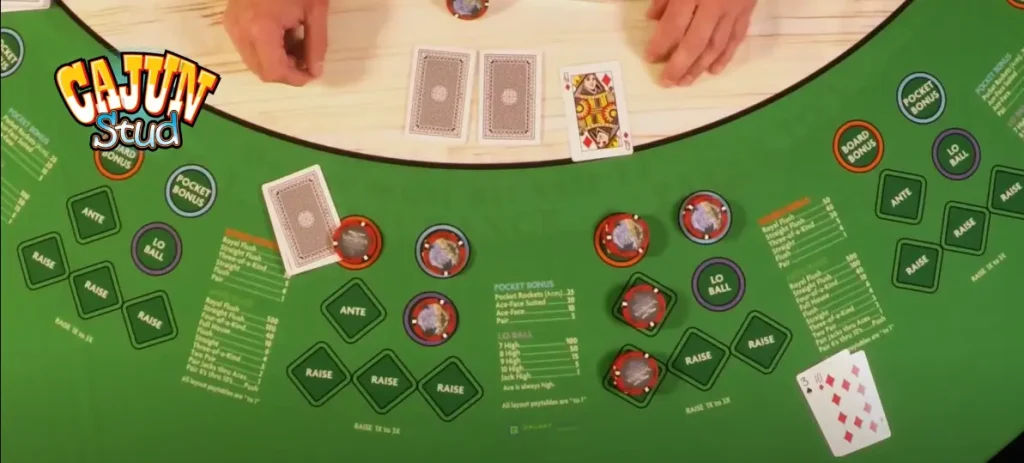 Card Distribution
Once each Player has made their Ante and bonuses of their choice, the Dealer will give each Player two face-down cards, as well as two cards to themselves. Once this has been done, three community cards will be dealt face-down in the center of the table.
Betting
Players will then each be given a turn to make a raise wager, or fold.
Players must raise if they wish to continue playing the game and receive payout, otherwise they must fold and surrender all of their wagers to the House, and forfeit their right to any payouts.
The Raise must be 1x, 2x, or 3x the value of the wager exactly, and must correspond to its proper zone (1st Raise, 2nd Raise, 3rd Raise).
First Community Card
After Players have made their first raise, or folded, the first face-down community card will be flipped up and revealed.
Players then have the opportunity to either raise, or fold as they did for the first Raise. The same betting rules apply, and wagers on this raise must be 1x, 2x, or 3x the value of the Ante exactly.
After each Player has folded or raised again, the second community card will be revealed.
After this, Players are given a third opportunity to raise or fold, following the same rules as the previous two raises. After this final raise, the third community card will be revealed and the Showdown begins.
Showdown
Players use their two personal hole cards, and the three community cards, to form the best possible five-card Poker hand. They compare this hand against the Dealer, with the higher-ranking meld being considered the winner.
Players are paid out for their bonuses and Ante and Raise wagers based on a series of pay tables.
Players that fail to beat the Dealer automatically lose their normal wagers, though their bonuses may still pay out even if they lost the Showdown.
End of Game
After money has changed all of the appropriate hands, cards are collected and a new game begins with each Player placing their Ante into the appropriate box.
Rules
Each Player is dealt two cards, then three face-down community cards are dealt to the center of the table.
Players must make their raises when appropriate, or they must fold their hand and forfeit any wagers that they have made.
When raising, Player must wager exactly 1x, 2x, or 3x the value of their initial Ante.
Payouts and Bonus Bets
For the course of a normal game without any bonuses, Players must consult the following pay table to determine how much money they will receive from their Ante and Raise wagers if they successfully defeat the Dealer in the Showdown.
| Meld | Payout |
| --- | --- |
| Royal Flush | 500x |
| Straight Flush | 100x |
| Four-Kind | 40x |
| Full House | 10x |
| Flush | 6x |
| Straight | 4x |
| Three-Kind | 3x |
| Two-Pair | 2x |
| High Pair | 1x |
| Low Pair | Push |
A High Pair would be a pair made of face-cards or Aces, so a pair of Jacks, Queens, etc.
Low Pairs are pairs with cards ranked from 10-6.
Any pair lower than a Low Pair results in a loss of wagers, even if you managed to have better cards than the Dealer.
In addition to the regular paytable for the Ante and Raise wagers, there are the bonuses.
Pocket Bonus
The Pocket Bonus pays out for having specific cards in the hole at the start of the game. If these cards are dealt to you in your initial two personal cards, you will receive the payout for the Pocket Bonus even if you lose to the Dealer.
| Meld | Payout |
| --- | --- |
| Pair of Aces | 25x |
| Ace Royale (Ace and a Face-Card) with Matching Suit | 20x |
| Ace Royale without Matching Suit | 10x |
| Pair of Non-Aces | 5x |
Without a pair of Non-Aces or better, the Pocket Bonus does not pay out.
Board Bonus
Next, there is the Board Bonus. The Board Bonus is based upon the community cards, and is a wager that the Player believes there will be a three-card Poker meld already formed in the community cards without the use of the Player's two hole cards.
| Meld | Payout |
| --- | --- |
| Royal Flush (J, Q, K or Q ,K, Ace of all the same suit) | 50x |
| Straight Flush | 40x |
| Three-Kind | 30x |
| Three-Card Straight | 6x |
| Flush | 3x |
| Pair | 1x |
Players will receive payout corresponding to the meld formed in the community cards. If none are formed, then the wager for the Board Bonus is consumed by the house.
Lo-Ball Bonus
Finally, there is the Lo-Ball Bonus. The Lo Ball Bonus is similar to Hi-Lo or Lo-Ball Poker games.
In Lo-Ball games, the aim is to put together the worst possible Poker hand, rather than the best. As such, Players who wager on the Lo-Ball bonus are able to still win a sizeable payout even if they have bad cards.
However, Players must complete all three raises and make it to the Showdown in order to receive a payout for their bonuses. They do not, however, have to beat the Dealer.
| Meld | Payout |
| --- | --- |
| Junk, with 7 as High Card | 100x |
| Junk, with 8 as High Card | 50x |
| 9 High Card | 15x |
| 10 High Card | 5x |
| Jack High Card | 1x |
If a Player's highest ranking card in the hand is anything higher than a Jack, then the Player is completely unable to receive payouts from the Lo-Ball Bonus.
This bonus is also paid out based on the final five-card hand used in the Showdown, meaning if there is a Queen, King, or Ace in the community cards, the Lo-Ball Bonus can never pay out on that hand.
House Edge and Odds
The overall house edge for Cajun Stud is about 5%, though it could be slightly reduced if a Player refuses to pay into the Pocket or Board Bonuses.
The Pocket Bonus has a house edge of about 7%, which is atrocious even for a table game. Further, the odds of a Pocket bonus paying out at all are only about 10%.
In the 10% of cases where you are able to make money from the Pocket bonus, 50% of those times will only pay out 5x your original wager.
This means you would need to win the Pocket Bonus far more times than are statistically likely in order to turn a profit.
Although the Board Bonus has slightly better odds, it is still unlikely to hit for you. Best to stay away from Bonuses at table games, most of the time.
Example Hand
Imagine the following are your hole cards in a game of Cajun Stud Poker:
Q♣ 5♥
This is not a particularly strong hand, though a Queen is always a good card to have in your pocket. 1x raise this and continue to play.
The first community card:
J♠
Queen and Jack could possibly a meld in other hands, but here with the 5♥ you can already be certain that there will be no flush or royal straight here.
Although the better option is likely to fold once this Jack is revealed, perhaps you could bet 1x and continue to the next phase. In which case:
4♥
The next community card did you no favors. In the extremely unlikely event that the next card even is a Queen, that is still only a pair and not a very strong hand.
The best thing to do here is to just fold and move on to the next hand rather than wasting money on a hand that will lose.
Strategy Tips
Be Mindful of When to Triple Raise
As Cajun Stud is a more incremental game when compared to something like Ultimate Hold'em, it is important to remember that always triple raising is not the best option.
You should only Triple raise on the first raise if you have a pair of Kings or Aces in the hand, or some other very strong two-card combination.
You should only Triple raise on the next two rounds if you already have a strong hand, like a three-kind, and are very likely to win.
Never Be Afraid of Folding
This is good advice in every Table-Poker game. Sometimes it might seem like you've already sunk too much money in, and you have to try and wager more money to potentially win back what you've already lost.
If you think you're going to lose the hand, just consider the money already wagered lost, and allow yourself to fold and save some money for the next hand.
Cajun Vs. Mississippi Stud
Cajun Stud and Mississippi Poker rules are actually very similar. They follow the same betting procedures, with the Ante being required and the subsequent raising wagers being based on that Ante, having to be 1x, 2x, or 3x that initial Ante's value.
Furthermore, Cajun and Mississippi are games that force the Player to continue to raise if they wish to remain at the table, which is somewhat unusual among Table-Poker games, relating them in that way. However, Cajun Stud offers many more bonus wagers than Mississippi Stud.
Mississippi could be seen as the "Vanilla" of the two games, with the only bonus wager on offer being the Three-Card wager, which is the same as the Board Wager in Cajun Poker.
Also read