Introduction
Double Draw Poker is a casino table game based on the popular family of Poker games. However, Double Draw itself is not really a comparing game, and as such is not a "true" game of Poker.
It is instead a simple meld-making game, where Players receive a payout based on their formed meld. This payout is made according to a table, with associated payouts for each Meld.
The game involves a "Drawing" game mechanic, which allows players to exchange some of the cards in their hand. Players are allowed to draw two separate times.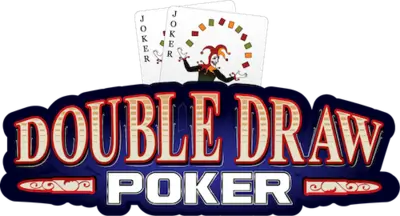 How to Play Double Draw Poker?
Double Draw Poker is played using the 54-Card Joker Variant of the standard Anglo-American Deck. This deck comes with two Jokers, a Red and Black Joker.
Jokers
The Jokers will act as components for Straights and Flushes.
In order to fit into a Flush, Straight Flush, or Royal Flush, the Joker must be the correct color. At all times, when not the component of a Straight or Flush, the Joker will count as an Ace.
So, a Player with 5, 6, 7, Joker, 9 has a Straight. A Player with Ace, Ace, Joker, Joker, has a Four-Kind of Aces.
Placing Bets
Like any Table game, Players must place a wager into the "Ante" box in front of their seating position. This wager must conform to the casino's posted rules regarding minimums and maximums.
Players are also compelled to make an additional wager, equal to the Ante, on the "Bonus" box as well.
After all Players have made their Ante and Bonus wagers, the Deal begins.
The Deal
Each player will be dealt five cards. The Dealer will deal themselves no cards.
Players do not compete against each other or the Dealer and instead compare their hands to a payout table.
Gameplay
Players attempt to form the strongest Five-Card Poker hand, according to the Joker-Variant Poker Hierarchy. This ranking is further explained below in the relevant section.
Beneath the Ante and Bonus boxes are two additional wagers. The 1st and 2nd "Draw" Boxes.
After the initial five cards have been dealt, Players will take turns choosing between two options: Fold or Draw.
First Draw Stage
Players that decide to Draw will place a wager, equal to their Ante, into the "1st Draw" box.
After this wager has been made, players are given the option to exchange none, one, two, or three of their cards for new cards drawn from the deck.
Players that wish to continue to the next stage of the game are required to place a Draw wager, but they are not required to discard any of their cards.
Players that do not wish to Draw must therefore Fold. Folding players forfeit their Ante and Bonus wagers and surrender all rights to any winnings they may have received.
However, they are not required to make any more wagers. There is no way to continue into the next stage of the game without paying the Draw wager.
Second Draw Stage
After each Player has made their decision for the first Draw Stage, the second Draw Stage immediately begins.
The same rules in the 1st Draw Phase follow into the 2nd Draw Phase, except Players may only discard a maximum of one card.
The 2nd Draw wager is also compulsory if Players wish to compare their hand to the Payout table. The 2nd Draw wager is also equal to the Ante.
Comparing Hands
Once each Player has made their decision for the 2nd Draw Phase, they may then reveal their hands and compare them to the Payout table.
The Player's "Bonus" wager is used to determine the value of their payout. The Ante, 1st Draw, and 2nd Draw will all pay out 1:1 so long as the Player has at least a pair.
Hand Rankings and Payouts
The Hand Rankings of Double Draw Poker are directly related to the value of their payout. The higher the hand's rank, the more pay one can expect.
The following table will demonstrate the hands of Double Draw Poker in order, from highest to lowest, with their associated Payouts.
Remember, this payout is based on the Bonus Wager. Players that have at least a pair win 1:1 on their Ante and Draw wagers.
| Meld/Hands | Payouts According to Bonus Wager |
| --- | --- |
| Five-of-a-Kind (Four-Kind + Joker) | 500x |
| Natural Royal Flush (No Jokers) | 100x |
| Wild Royal Flush (One Joker) | 50x |
| Straight Flush | 50x |
| Four-of-a-Kind | 20x |
| Full House | 5x |
| Flush | 3x |
| Straight | 2x |
| Three-of-a-Kind | 1x |
| Two-Pair | Push |
Anything less than two-pair will result in a loss of the Bonus wager.
Some casinos will Push on the Three-Kind, instead of a 1x payout.
House Edge
Double Draw Poker's house edge is about 6.72%. Keep in mind that this is an average and that in the short-term outcomes might be different.
Double Draw Poker Rules
Below you can find the mandatory rules of the game.
Players must make four wagers in order to compare their hand against the payout table. The Ante, the Bonus, the 1st and 2nd Draws. Players may fold during their turn if they so wish.
Players are given two opportunities to discard and redraw cards from their hand. Up to three in the first draw, and only a single card in the second.
Players are not obligated to discard any number of cards, but they must still place the Draw wager.
In order to form a Royal Flush, Straight Flush, or Flush with a wild card, it must be the correct color (Red or Black).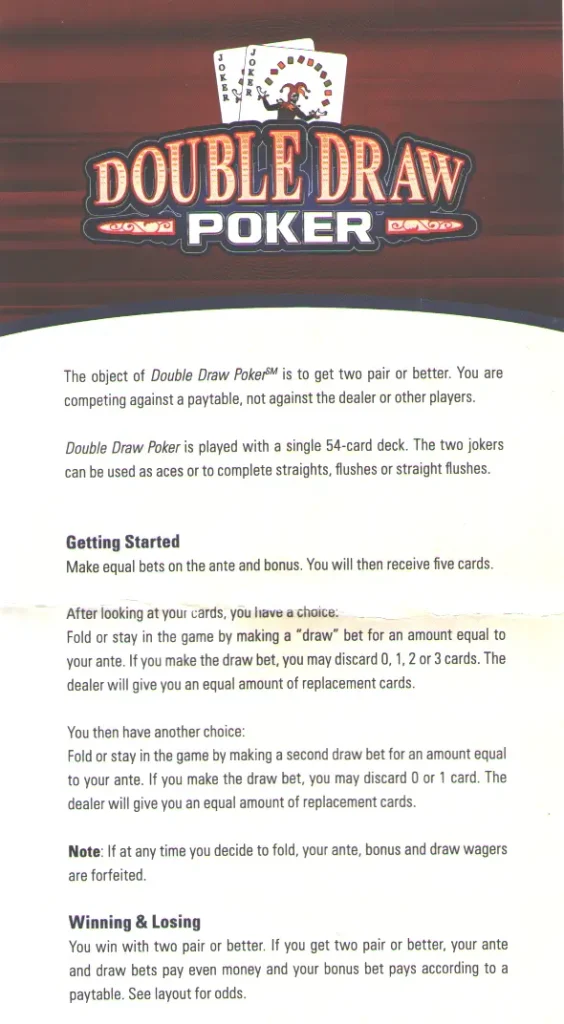 Source: https://playags.com/portfolio/double-draw-poker/
Playing Example
Imagine that you are dealt the following hand at the start of the game:
2♦ 7♠ 5♣ 8♣ J♣
Generally, Players should not attempt to "Chase" a five-card meld. In essence, just because you have more than half of the necessary cards does not mean you are more likely to get the cards you need.
In the case of a Flush, the more necessary cards you collect, the less likely you are to receive the remaining necessary components.
However, due to the Double Draw nature of the game, there is relatively little risk in discarding the two unrelated cards. There is a chance you may receive the necessary ♣ cards to achieve a Flush.
After making a draw wager, and discarding the 2♦ and 7♠, suppose you are dealt the following cards:
3♥ 4♥
This may seem disheartening, but this is not the end. Although you failed to achieve the necessary Flush component, you now have the ability to achieve a straight.
More often than not, it would be better to fold. The odds of receiving the necessary 6 are very low. Furthermore, there is no pair in your hand.
A pair at least guarantees a profit, with a Player winning on their Ante and Draw wagers. Without that guarantee, it would be very risky to participate in the second draw, rather than folding. Chasing a Straight or Flush is usually ill-advised.
Strategy and Tips
Keeping Pairs
If you have a pair in your hand at any point, do not discard them. Keep them, because they guarantee you will win a small profit, even if your bonus wager does not pay out or pushes.
This is because so long as a Player has a pair, they will profit 1.5x the total money wagered.
When to Fold
Players are only allowed to discard a single card during the second Draw Stage. This means that if your meld cannot possibly be completed, fold immediately.
Players should fold unless they are only one card away from a very high-ranking meld, such as a Natural or Wild Royal Flush. In those cases, the reward outweighs the risk of a single wager.
Also see