Introduction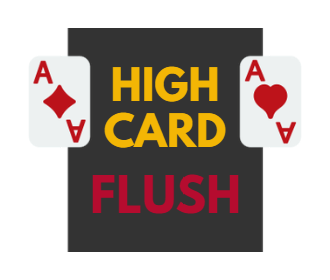 High Card Flush is a proprietary Table-Comparing game developed by prominent TTG developer Galaxy Gaming, usually played in casinos.
It is different from traditional Poker, in that Players are not facing off against each other for a total pot of winnings. Instead, Players make bets throughout the game and face-off against the Dealer and the Dealer only.
High Card Flush is one of a variety of popular casino poker games, played against the House rather than other Players.
How to Play High Card Flush Poker?
High Card Flush Poker is played using at least two standard Anglo-American 52-card decks, though casinos may opt to use more decks if they see fit. These decks are then combined into one large deck, called the "Stock" or "Shoe".
Players and Table Layout
High Card Flush can be played with up to 8 Players, including the Dealer, which is why there must be at least two decks at the table.
In front of each seated Player will be designated zones on the table where Players will place their chips when appropriate. These zones are the:
Ante
Flush Bonus
Straight Flush Bonus
Ante and Wagering
Players are required to place a wager into the Ante zone before they can be dealt their cards. Players must wager at least the Table's minimum, which will be posted on the signage above or on the table.
For example, if the minimum is $25, then you must wager a $25 Ante. Players may wager more than the minimum, if they wish, up to the Table's posted maximum.
Bonus Bets
The other two zones are optional, granting a Player special bonus payouts if they achieve the conditions required.
Generally, Players must adhere to the table minimum when wagering on these bonus bets. The payouts for these bonuses will be explained below in the Payouts and Odds section.
Dealing the Cards
Once every Player has wagered at least an Ante, and chosen whether or not to play their bonuses, the Dealer will begin the deal. Each Player will be dealt 7 cards face-down. Only the Player may look at their own cards.
Winning Conditions
Players are attempting to play the greatest possible Flush they can from this collection of 7 cards. Hence the name, High Card Flush. Players attempt to form the longest Flush with the highest ranking value.
Flush length takes priority over rank value.
For example, if a Player has a Flush of five cards, and the Dealer has a Flush of four cards, the Player will automatically win.
If Flush length is equal, then the Player with the highest ranking card in their flush will be considered the winner.
For example, the Player and Dealer both have a flush of four cards, but the Player has a King in their Flush and therefore wins. The high-ranking card must be a part of the Flush or else it is considered junk and has no value.
Decision to Raise or Fold
Once a Player has formed their strongest possible flush from their hand of seven cards, they have a choice to make. They take turns clockwise from the Dealer, and may either raise their original bet, or fold.
When folding, Players surrender their Ante and any additional bonus bets made, but they do not have to pay in any more money and simply end their participation in this particular hand.
Raising Limits
Players that wish to raise are limited by the strength of the Flush in their hand.
Flushes of 2-4 cards can only be raised 1x the original Ante.
Flushes of 5 cards in length may raise 2x the original ante.
Rare as they are, flushes of 6 and 7 cards in length are able to raise 3x the original Ante.
Card Revelation
Once all Players have aligned their cards, and made the appropriate wagers or folds, all Players including the Dealer will reveal their cards.
Dealer Qualification
In order to play, the Dealer must "qualify". In order to qualify, the Dealer must have a hand that is at least a Flush of 3 cards, with one of those cards ranked 9 or higher.
This is where the house edge comes into play, as the Dealer is simply allowed a "free fold"  by forcing a push if they do not qualify.
In the case of a disqualified Dealer, a Players Ante, as well as their raise, is simply returned to them with no winnings distributed. Bonuses will still pay out in the event of a push.
Comparing and Ending
If the Dealer does qualify, they will compare their flush against each Player, one at a time, with payouts given where appropriate.
Players must have a stronger flush than the Dealer in order to receive payout for their Ante and Raise.
Once each Player has won or lost the appropriate amount of money, the cards are collected, Players place down their new Antes, and a new hand begins.
High Card Flush Rules
The rules of the game can be found below:
If the Dealer does not qualify, the Ante and Raise are returned to the Player in a push. The Dealer must have at least a flush of three cards, with one of those cards being ranked 9 or higher.
Each Player, including the Dealer, is dealt 7 cards at the start of the game.
Players must make an Ante wager in order to play, and must wager at least the table minimum, though they can wager more if they wish.
Player's raise is based on the Flush that they have in the hand. A Player cannot raise 3x their Ante with a Flush of only 3 cards.
If two flushes are the same length, then the highest-ranking card in the flush determines the winner. If both Players have the same ranking high card, then a push occurs.
Payouts and Odds
Progressive Jackpot
Galaxy Games offers a special Progressive Jackpot payout for its Flush and Straight Flush Bonuses.
In a Progressive Jackpot, as all the Players at the casino wager on the Bonuses, part of their wager is placed into the progressive jackpot. This jackpot grows, until players successfully achieve the necessary conditions to trigger it and receive payment.
A 7-card Straight Flush, for example, would give 100% of the progressive jackpot at the time of winning.
Regular Payout Tables
However, not every casino which offers Highcard flush uses this Progressive Jackpot. In such cases, a more simplified table is provided:
When not playing a progressivejJackpot, the following is the most common payout table for the simple Flush Bonus:
| Number of Cards in Flush | Payout (Based on Flush Bonus wager) |
| --- | --- |
| 7 | 300x |
| 6 | 100x |
| 5 | 10x |
| 4 | 1x |
Players that do not achieve a Flush of at least 4 cards lose their Flush Bonus wager, and receive no payout.
Below is the Straight Flush bonus, when a Progressive Jackpot is not in place:
| Number of Cards in Straight Flush | Payout (Based on Straight Flush Bonus Wager) |
| --- | --- |
| 7 | 8000x |
| 6 | 1000x |
| 5 | 100x |
| 4 | 60x |
| 3 | 7x |
The Straight flush bonus is very unlikely to pay out, but if it does it will hit a huge jackpot. Keep in mind, however, that 93% of the time you will get a Straight Flush of only 2 cards, which offers no payout.
A 3-Card Flush will only occur about 6% of the time, while a 4-Card Flush is only about half a percent.
The other payouts share that remaining half a percent chance, meaning it is extremely unlikely to win the Straight Flush maximum payout.
The House Edge on High Card Flush's Straight Flush Bonus is a whopping 13% in favor of the house, making this one of the worse bonuses a Player could participate in.
Example Hand
Imagine the following is your 7-Card High Card Flush hand:
A♥ K♦ 4♦ K♥ 5♥ 8♦ 5♦
Although you have two flushes, a 3-Card Heart Flush and a 4-Card Diamond Flush, it is better to go with the Diamond Flush.
Not only will it be more likely to beat the Dealer, but it still has a King in it, meaning it is not only a 4-Card Flush, but it has the 2nd highest ranking card (Aces are high in High Card Flush).
Furthermore, this will payout on a Flush Bonus, if one was played. It will only double the money wagered, but a victory is still a victory.
Strategy Tips
Avoid the Straight Flush Bonus. It is very unlikely to pay out, and is designed as a psychological trick to make Players believe they could get lucky and win a massive payout. A 7-Card Straight Flush has less than 0.0000001% chance of winning.
The normal Flush Bonus, on the other hand, is not quite so impossible. A Flush of 4 cards is generally going to be the minimum needed to win anyway, and as such participating in the Flush bonus might cost you more money, but it will also make those hands where you do win able to win that much more money for you. It should not be played every single hand, but has far better odds than the Straight Flush Bonus. 
Frequently Asked Questions
How many decks are used in High Card Flush?
There are to be no less than 2 decks used in a game of High Card Flush, though casinos may opt to use even more decks to reduce the likelihood of card counting.
Can you win at High Card Flush Poker?
Absolutely, if your flush is greater than length, or if it is equal in length than greater in rank, then you will beat the Dealer and win the hand. Furthermore, you could win the Flush or Straight Flush Bonuses, which offer even further winnings.
What is the House Edge in High Card Flush?
Although House Edge is based on EV, Estimated Value, as the randomness of cards can allow anything to happen, statistically the house has an advantage of about 2.7%, meaning they will win approximately 2.7% more times than the Player will, in a sample of a thousand games or so.
What does the Dealer need to qualify?
In order to qualify in High Card Flush Poker, the Dealer must have a Flush of at least 3 cards, one of which must be ranked 9 or higher. If the Dealer has a 4-Card Flush, the rank of those cards is irrelevant for qualification.
If the Dealer does not qualify, your Ante and Raises are pushed. If a Player achieves a Bonus condition, they are paid out, even in the event of a push.