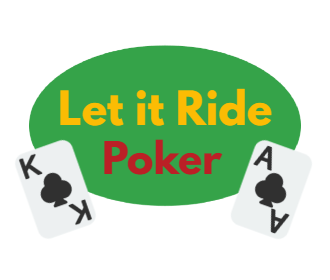 Introduction
Let It Ride Poker is a meld-making table game, based on the hierarchy of melds from the Stud Poker family of comparing card games.
However, as a table game, Let It Ride is not actually a comparing game. There is no comparison between players, or against the dealer. Instead, players will receive a set payout based on the meld that they form, with a table provided in the below section for players to reference.
How to Play Let It Ride Poker?
The Let It Ride card game is played using the standard Anglo-American 52-card deck. As Let It Ride is most commonly found in casinos, a professional dealer will handle all of the shuffling, handling of the payouts, and the flow of the game.
Placing Bets (Antes)
The game begins with the players sitting at the table and paying up their "Ante." Antes in Poker are wagers that are obligated before a Player is able to participate in the game. However, unlike other Poker games, this Ante is the total wager for the entire hand.
Players in Let It Ride make a large wager at the start of the game. In front of each player will be three betting slots, small zones demarcated from the rest of the table. These zones are labeled ($), (1), and (2). Players must put an equal amount of chips into each zone, such that they are the same value.
The total amount of chips represents the whole wager, divided by three equally and with each fraction placed into the betting zones.
As the game progresses, players will be given the option to withdraw the bets in the (1) and (2) zones. The third bet, in the ($) zone, must be paid regardless.
Once each player has paid in their total wager, the deal will begin.
The Deal
The Dealer will deal out three cards, in a single packet, to each player that paid in their Ante. These cards will be dealt face-down, and cannot be exposed to other players or the Dealer at any time.
Once each Player has three face-down cards, the Dealer will deal themselves two face-down cards. These will be the community cards, or cards that all players at the table can use to form the best 5-card poker hand that they can.
Withdrawal Phase
Once they have had a chance to read their cards, players are given the opportunity to withdraw their (1) Bet, and only the bet in their (1) zone.
Players will take turns, moving clockwise from the Dealer, withdrawing their bets or leaving them on their zone.
The Dealer will then reveal one of their community cards, in effect allowing players to see the 4th card in their 5-card meld. Once this card has been revealed, the process of withdrawing the (2) Bet begins.
If a Player does not withdraw either of their withdrawable bets, they are known to "let it ride", the namesake of the game.
Final Reveal and Showdown
After the final withdrawal phase, The Dealer will reveal the final community card as all other players also reveal their three personal cards. Players must form the best possible 5-card meld from their 3 personal cards, and the Dealer's 2 community cards.
Unlike other Poker game rules, players do not compare their hand against another hand. Instead, players are paid out based on a pre-determined odds table that pays out a particular multiplier based on the Player's remaining wager.
Keep in mind, that most casinos do not consider High Card or low-quality pairs for payout. This means that a player must have at least a pair of 10s or better in order to win any amount of money. Otherwise, their hand is forfeited and they lose all of their remaining wager.
Let it Ride Rules
Then essential rules can be summarized as follows:
Players are given two chances to withdraw their large initial bets. However, the final third of their bet is always surrendered to the House.
Players do not face each other and are instead paid out based on a table of payouts.
The Dealer's cards are community cards, forming the last two cards of all Player's hands. These cards are revealed one at a time.
Players are not permitted to show their cards to other players, or to ask for help from other players. While in some table games, such things are permitted, as Let It Ride is mostly a game of luck anyway, this is not permitted. Players are expected to know when to withdraw their bets, and when to maintain them.
Hand Rankings and Payout Table
The payouts for Let It Ride are based on the traditional poker hands that many are familiar with. These payouts are tied to the hierarchy of poker, and as such both will be explained in the table below in order of highest to lowest:
| Hand | Example | Payout |
| --- | --- | --- |
| Royal Flush | ♦(10, J, Q, K, A) | 1000x |
| Straight Flush | ♦(6, 7, 8, 9, 10) | 200x |
| Four of a Kind | 4♦ 4♣ 4♠ 4♥ | 50x |
| Full House | 10♦ 10♣ 10♠ 3♠ 3♣ | 11x |
| Flush | ♠(5, 7, 6, 10, K) | 8x |
| Straight | 5♦ 6♥ 7♣ 8♦ 9♥ | 5x |
| Three of a Kind | 3♥ 3♦ 3♣ | 3x |
| Two Pair | 2♥ 2♦ 3♣ 3♠ | 2x |
| Pair (10 or better) | 10♦ 10♣ | 1x |
Side Bets (Bonus Wager)
Side bets, if applicable, are additional bets that are placed on the outcome of a game of Let it Ride. These 'bonus' bets are separate from the main bet and they can be used to achieve a higher payout. Side bets pay out depending on the rank of the player's hands and the amount of the side bet placed.
You can find the payouts for the 3 Card Side Bet below:
| Meld | Bonus Payout |
| --- | --- |
| Mini Royal | 50x |
| Straight Flush | 40x |
| Three of a Kind | 30x |
| Straight | 6x |
| Flush | 3x |
| Pair | 1x |
Example Play
Imagine the following scenario in a game of Let It Ride Poker:
You are dealt the following cards: 5♦, K♣, K♠
This is a very strong initial hand in Let It Ride, as there is a guaranteed payout to be had here. As such, during both withdrawal stages, the Player may "Let It Ride" without fear of consequence. The Player will have their wager returned to them, 1:1.
For this reason, the Withdrawal portions of the game are irrelevant. Now assume the Dealer reveals the following cards:
5♥, K♦
This means a Full House for the Player, with a payout of 11:1. Essentially, this means a Player will win 11 times their initial bet, as no withdrawal took place.
Frequently Asked Questions
Does Let It Ride have good odds?
No, Let It Ride has odds that most professional gamblers would consider terrible. The House Edge, or the percentage of games the casino is going to win more than the Player, is about 3.5%. This means that over the course of 200 games, the casino will win 7 more than the Player. While this does not seem like a large difference, it means that on the aggregate, a Player will lose more money than they will win playing this game.
What are the 3-Card odds in Let It Ride?
The odds of winning some kind of payout on the Three Card Bonus is 25%. The best payout, the "Prial" or the Three-of-Kind, has about a 0.24% chance of a payout.
What does "Let It Ride" signify?
When a Player "lets it ride", it means that they are not going to withdraw either of the bets made at the beginning of the game. They are instead choosing to leave all of their bets on their table, letting that bed "ride" to victory with full confidence.
How do you deal in "Let It Ride" Poker?
The Deal in Let It Ride is quite different from other poker games.
Each Player will be dealt three cards, face-down.
These three cards will be each Player's personal cards.
The Dealer will then deal themselves two cards face-down.
These cards will remain face-down until each Player has decided to keep or surrender one of their bets.
The Dealer will turn over one of their cards, and each Player will be given the chance to withdraw a bet.
This process repeats again, and when the Dealer's second card is revealed players will then reveal their own personal cards.
Is Let It Ride similar to Mississippi Stud?
Mississippi Stud Poker is almost the inverse of Let It Ride Stud Poker. In Mississippi Stud, players are able to increase their Ante during each betting period, rather than withdrawing it. In Let It Ride, players make a large initial bet, and then reduce it as they lose confidence. In Mississippi Stud, players all make the same initial bet, but then multiply it as they gain confidence.
Also see