Introduction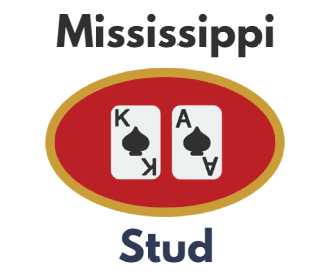 Mississippi Stud is a variation of Poker that resembles a combination of Texas Hold'em, Pai Gow Poker, and Five-Card Stud all in one.
This is a popular game found at many casinos, and although the pay-in-to-play can be quite high, a minimum of 4x the original Ante, the possibility to win big is certainly there.
How to Play Mississippi Stud Poker?
Mississippi Stud Poker is played using the Standard Anglo-American 52-card deck. Some casinos may opt to use more than one deck, if a large number of Players are permitted at the table at any given time, but generally, Mississippi Stud is played with about 2-8 Players.
Mississippi is not played like other casino games. Players do not face off against each other, nor do they go against the house.
Instead, Players merely compare their own cards against that of a payout table, with the meld they achieve correlating to the amount of money that they receive, based on their wagering.
Paying the Ante
Before a Player can be dealt their cards, they must pay an Ante into the pot. Although in some games Antes must be equal, they do not in Mississippi Poker, as each Player is an individual and not connected to the table. Instead, the Ante in Mississippi Stud can be thought of as a simple initial bet.
However, the Ante must still meet at least the betting minimum at the Table, for which a sign will be posted explaining the table minimum.
In some casinos, two different games of Mississippi might have different minimums, even though they are next to each other. Make sure to be aware of the betting minimum before you sit at the table, or you'll be corrected by the Dealer.
Furthermore, it is very important to decide your initial Ante carefully. The Ante will determine the size of your betting for the remainder of the game.
The Deal
Once the Ante is paid by each Player, the Dealer will then deal out two face-down cards to each Player at the table. These are the "Hole" cards, familiar with Stud Poker Players. These are essentially the two hidden cards, while the remaining 3 cards in a Players hand will be made up of three face-up community cards, or the "Streets."
Betting on the Third Street
Once each Player has been dealt 2 hole cards, then the Dealer will deal out three face-down community cards. Once this happens, Players will take turns, going in clockwise order from the Dealer, betting or folding their cards.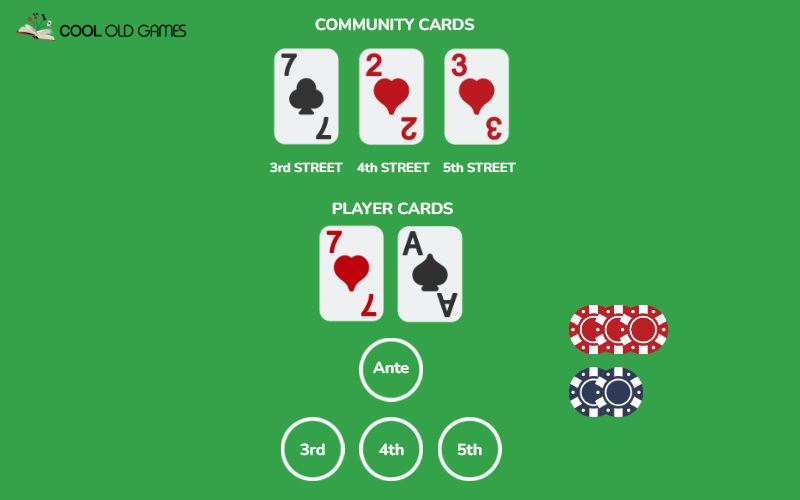 When Folding, they cannot win anything from the payout table, and surrender all of the money they have paid into the pot including the Ante. However, Players may fold at any time during their turn, and will not be forced to continue making wagers.
If a Player does not wish to fold, and instead wants to participate in the game, then they will have to make a payment to see the "3rd Street", or the first of the community cards (named 3rd, 4th, and 5th Street.)
This payment will need to be made before each card can be turned over, meaning Players will need to make this payment multiple times in a game. The wager for the 3rd, 4th, or 5th Streets is a fixed rate, directly related to the Ante made by a Player at the start of the game.
A wager can be either 1x, 2x, or 3x the initial Ante. For Example, if the initial ante was $10, then the 3rd Street payment could be 10, 20, or 30 dollars, and the 4th and 5th Streets will follow the same rules.
Players take turns making their wagers, then the 3rd Street is revealed.
Fourth Street
Players compare their 2 hole cards to the 3rd Street and then make their wagers once more. Players are locked to the betting positions determined by their Ante, so again, make your Ante wisely.
Last Betting Round
After the 4th Street is revealed, Players get one more final betting phase, before the 5th Street is overturned.
Players, seeing all five of their total cards, their 2 hole cards and the 3 street cards, try to form the best 5-card Poker hand that they can.
Players must have a pair of face cards (J Q K Ace) or better, in order to qualify for money. Players receive their payouts from the Dealer, the cards are shuffled, and Players pay in a new Ante for a new game.
Mississippi Stud Rules
A brief summary of the essential rules can be found below:
The Ante determines your betting for the rest of the game. Further, you must bet at least to the minimum required by the table.
Mississippi Stud Poker, like many casino games, is designed for a high pace of play and for a quick turnaround time. Generally, a Player should bring enough money to play a few games without getting up from the table after every round.
Players are the only ones able to see their own two hole cards. However, it isn't really necessary to hide the hole cards from other Players or even the Dealer. You are playing against the payouts table, not a particular person.
If Players wish to keep playing, they must pay at least 1x their wager during each Street, or they may fold at any time during their turn.
Payouts Table
Mississippi Stud is paid-out depending on the meld that a Player is able to form from the 5-card Poker hand composed of their hole cards and the streets. The better the meld, the more money a Player wins. However, there is no "High-Card" in Mississippi. Instead, Players must have a pair of Jacks, or better, in order to qualify for winning money.
The payout is relative to the total amount of money wagered. So, a Player who paid an Ante of 10, and then bet 20 for each subsequent round, would receive a payout based on a wager of $70.
| Meld | Example | Payout |
| --- | --- | --- |
| Royal Flush | 10♦ J♦ Q♦ K♦ A♦ | 500x |
| Straight Flush | 7♦ 8♦ 9♦ 10♦ J♦ | 100x |
| Four-Kind | 4♦ 4♣ 4♠ 4♥ | 20x |
| Full House | 2♥ 2♦ 3♠ 3♣ 3♦ | 10x |
| Flush | 4♦ 8♦ 9♦ 10♦ Q♦ | 6x |
| Straight | 3♥ 4♦ 5♠ 6♣ 7♣ | 4x |
| Three-Kind | 3♥ 3♦ 3♣ | 3x |
| Two-Pair | 2♥ 2♦ 5♦ 5♠ | 2x |
| Pair of J or Better | (J♦ J♣)(Q♦ Q♥)… | 1x |
If a Player does not get a pair of Jacks or better, but does still have a pair that is made up of 6s, 7s, 8s, 9s, or 10s, then Players will simply push, or tie. This means they do not win any money, but don't lose any either.
Example Hand
Imagine that the following is a scenario in a game of Mississippi Stud:
You paid an Ante of $30.
Your hole cards are 7♥ and A♠
You wager $60, and see the 3rd Street:
7♣
With a high pair already on the board, the Player is guaranteed to receive at least a push, so you should bet the maximum for the 4th and 5th Street.
Betting $90 for the 4th Street reveals:
3♥
Betting $90 for the 5th Street reveals:
2♥
Although it is unfortunate that you were unable to make any money, it is still important to always bet the maximum when a push is guaranteed. This is because the chance of losing money is 0%, so there is no risk whatsoever in betting the maximum in this situation where the 3rd Street revealed a push.
Frequently Asked Questions
Is Mississippi Stud easy to learn?
Yes. Mississippi Stud is one of the easiest versions of Poker for a Player to learn, as Players do not need to concern themselves with a strategy of bluffing or the psychological aspects of Poker. Players only need to understand the hierarchy of Poker hands, and the payouts table associated with them, both of which are listed above.
How do you win in Mississippi Stud Poker?
In order to receive a payout, Players need to have at least a pair of face cards or higher. This means a pair of Jacks, Queens, Kings, or Aces, or a meld better than a simple pair.
Players win more depending on the quality of their meld, with higher melds like Straight Flushes and Four-Kinds paying out more than pairs or Three-Kinds.
What are the odds of hitting a Royal Flush?
The odds of hitting a Royal Flush in Mississippi Stud are the same as in other five-card Poker games. However, this number as with all five-card Poker games, depends on the number of Players sitting at the table.
Assuming you are the first Player being dealt out, the odds are 0.000154%. Being dealt later in the rotation can either improve or decrease the odds, depending on luck.
Does Mississippi Stud have better odds than 3-Card Poker?
No. Although Players are dealt two more cards from a deck of the same size, it actually is slightly more difficult to get the high-paying melds in Mississippi Stud as the odds of drawing five desirable cards are less likely than drawing a mere three desirable cards in the 3-Card Poker Game.
What is the minimum bet in this game?
The minimum bet at a Mississippi Stud table is something that will be determined by the casino. This bet can fluctuate, though many places usually play with a starting Ante of $10.
What is a Push in Mississippi Stud?
A Push in Mississippi Stud Poker is the same as a push in any other card game. That is, a Players cards were not so bad that they lost their money, but not so good that they actually made any money either.
It is essentially a tie, where no money is lost or gained. To push in Mississippi Stud, a Player needs to have a pair of 6s or better, but worse than a pair of Jokers.
Also see