Introduction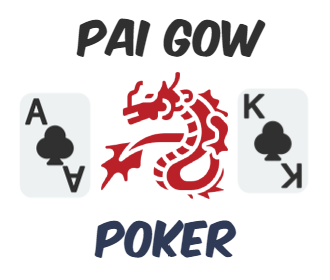 Pai Gow Poker, also known as Pai Gao is a comparing card game in the poker family invented by Sam Torosian. The objective of Pai Gow is to form two different groupings of cards with the highest value. A group of 2, and a group of 5.
Torosian conceived of the game when he saw his Filipino customers enjoying games using traditional Chinese dominos, such as Mahjong. Although (or perhaps because) Torosian failed to patent and trademark the proprietary rules for his game, Pai Gow Poker has grown to be an exceedingly popular game found in many casinos across the world.
How to Play Pai Gow Poker?
Pai Gow Poker is played using the 54-card Joker variant of the standard Anglo-American deck. Players should remove one of the Jokers from the deck in order to create a 53-card deck.
Objective
As the name suggests, Pai Gow Poker is a member of the poker family of card games. As such, it is a comparing game. The objective of a comparing game is to produce a superior hand to that of your opponent(s). A player's opponent will always be the Dealer, a representative of the casino, known as the "House".
The objective of Pai Gow Poker is, in particular, to produce two hands that are superior to the Dealer's two hands.
Players will form one hand of five cards, and one hand of two cards. If the player's five-card hand is better than the Dealer's five-card hand, and the same can be said for their two-card hand, then the player wins their wager.
If both of a player's hands are inferior to the Dealer's hands, then the player will lose their wager. However, if a player has one hand that is superior, but not both, then a "push" will occur. A "Push" can simply be seen as "breaking even", or in even simpler terms, having one's wager returned with no gain or loss.
Betting
The game cannot begin until all players at the table have placed their wagers and side bets. Tables will usually have predetermined minimums and maximums to determine how much a player is required to bet for their normal wager. Side bets will be explained below, and many casinos will offer minimums and maximums for those side bets as well.
Deal and Play
The game begins with the deal after all players have paid up for their wagers, the Dealer shuffling the deck of 53 cards and dealing 7 cards to each player, face-down. The Dealer will then deal 7 cards to themselves, and players will then try to form the best possible poker hands that they can.
The hierarchy of 5-card poker hands will be explained below in the "Setting Hands and Rank" section.
As for the 2-card hand, there are only two possible melds. Either a player will have a pair, which is the best possible meld, or they will have to rely on their high card. The high card is simply the highest-ranking card (Ace, K, Q, J, 10-2).
Showdown
Once each player has set their hand appropriately, the Showdown begins. players will flip their cards over, with the Dealer comparing each hand against their own one by one.
Players who win both hands will receive their payout, as well as any applicable side bets made at the start of the game.
Players that win only one hand will push, having their wager returned to them, but forfeiting any side bets which required victory.
Players that lose both hands will forfeit all wagers, unless one of their side-bets is successful.
The cards are then shuffled, and the game begins once again.
Rules of Pai Gow Poker
A brief summary of the regular rules can be found below:
When presenting their hand, players should place the Small Hand first, then the Big hand underneath it.
Players should never allow their Small hand to outrank their Big hand. This is known as fouling, and in lenient casinos results in a push, but in more stringent venues results in a forfeiture of the whole wager.
Many casinos treat Pai Gow Poker as a more casual, friendly game, whose results are based more on luck than they are on skill. As such, many Dealers/Bankers are more than happy to help a player set their hands. Just ask your Dealer if they are willing to help set your hand for the Showdown.
All wagers and side bets must be made before the cards have been dealt.
If a player cannot form a meld in either hand, they have what is known as "Pai Gow", the "non-hand."
Setting Hands and Rank
Hands in Pai Gow Poker are not organized in the traditional poker hierarchy that most are familiar with.
Straights, for example, are below three-of-a-kind melds in Pai Gow Poker. As such, there has been a table provided below describing the order of possible melds, as well as their payouts.
However, setting up a hand in Pai Gow is not as simple as choosing the best possible melds for both hands at all times.
One should consider, for example, that making one hand stronger potentially makes another hand worse. While this is the natural conclusion of a 0-sum game, as both hands must draw from the same pool of 7 cards, sometimes the simplest game mechanics are the most crucial to understand.
By making the two-card hand weak in order to strengthen the five-card hand, for example, players weaken their chances of a push. This is beneficial to players that wish for a high-risk, high-reward gameplay experience, but for players that wish to maximize their odds of winning a profit, also known as advantage play, players should consider that the increased chance of winning both hands also opens up a Player to an increased chance of losing both hands.
If the Small hand has a high-ranking pair, it is very unlikely for the Dealer to have a better pair. This will make the Small hand a winner in the Showdown, and automatically qualify the player for a push, rather than opening them up to a loss.
Players will not win much money from setting up their cards in this way, but they also will not lose much money either. Long-term Pai Gow players understand this, and so often try to push rather than win outright. This is the origin of the game's laid-back attitude.
Payout Table
As in the traditional version of Pai Gow utilizing dominos, and as is a common trait among many East Asian and Pacific Islander games, Pai Gow Poker offers an increased payout if the player manages to win against the Dealer.
The table below organizes the payouts associated with particular hands.
| Hand/Meld | Payout Multiplier |
| --- | --- |
| 7 Card Straight Flush | 8000 |
| Royal Flush and Royal Match | 2000 |
| 7 Card Straight Flush using the Joker | 1000 |
| 5 Aces | 400 |
| Royal Flush | 150 |
| Straight Flush | 50 |
| Four-of-a-Kind | 25 |
| Full House | 5 |
| Flush | 4 |
| Three-of-a-Kind | 3 |
| Straight | 2 |
The above table demonstrates not only the Payouts available for the various melds, but the hierarchy of meld value as well. The higher-ranking premium melds pay out more highly because they are abler to win the showdown against the Dealer.
Side Bets
Many places also offer a few side bets that players can make in addition to their regular wager at the start of the round.
Fortune Bet
The Fortune Bet pays out if a player's 5-card hand contains at least a three-of-a-kind or better. The payout on the Fortune bet is the same regardless of the player's hand. This is the most popular special side bet offered at Pai Gow Poker tables.
The Emperor's Challenge
The Emperor's Challenge is a side bet offered by most casinos that offer the Fortune bet. The Emperor's Challenge is a wager that can be won by a player when they form "Pai Gow", the non-hand.
Envy Bet
Many venues also offer the Envy bet. Envy is a side bet made by the player declaring that another player will win with one of the following melds, payout increasing the higher value of the meld:
| Hand/Meld | Payout Multiplier |
| --- | --- |
| 7-card Straight Flush | $5000 |
| Royal Flush w/ Royal Match | $1000 |
| 7-card Straight Flush using a Joker | $500 |
| 5 Aces | $250 |
| Royal Flush | $50 |
| Straight Flush | $20 |
| Four of a Kind | $5 |
Progressive Jackpot Pai Gow
Some casinos also offer what is known as the Progressive Jackpot Pai Gow. In Progressive Jackpot, there is an additional side-pot formed from the player's wagers and side-bets. Once a player manages to hit a natural 7-card Straight Flush without the use of the Joker, that player will win the full value of the Jackpot.
Example Scenario
Imagine you are a player at a Pai Gow table, with no Envy Bonus, but a Fortune side-bet.
The following are your cards:
A♠ A♣ K♥ K♠ 8♦ 4♦ 3♥
Consider that there are essentially two optimal hands a player can make depending on the desired outcome, with each hand optimal for a different desired outcome.
If a player wishes to take the higher risk, and is more apt to feel that their luck is better than the Dealer, then they might form the following set of hands:
This hand gives a player a double pair in their Big hand, but makes their small hand very weak, with their highest card being a measly 4.
Furthermore, a double pair is a very weak meld for the Big hand. A player that chooses this set is essentially betting on the very small odds that the Dealer has exactly a 2 and 3 in the Small hand, and one pair or less in their Big hand.
Due to that aforementioned very weak Small hand, this set is the only chance a player has to win both hands but is still more likely to push than it is to win even if the Dealer's big hand is a pair or less.
For this reason, players who desire a push would have an advantage in this situation using the following set:
This set is far superior to the above due to the Power in its small hand. The Aces should be placed in the Small hand as this set's intent is to Push, and a pair of Aces cannot be beaten by the Dealer in the small hand.
Even if the Dealer has a Joker or the other two natural Aces in their Small hand, a push will still occur. Using the pair of Kings would actually be a blunder, as it would be possible for the Dealer to have a pair of Aces, which would beat the kings and cause the player to lose outright.
Furthermore, the player's Big hand is very unlikely to win with just a pair of Aces. By using the Kings in the Big hand, the Aces are freed up to be used in the Small hand, thereby guaranteeing the desired push.
Frequently Asked Questions
What is the best hand in Pai Gow Poker?
The best hand in Pai Gow Poker is the 7-card straight flush. This is a special hand that occurs when a player can form a straight flush from the 7 cards of the Big and Small hands combined.
For example, Ace/Joker in the Small hand, then 2, 3, 4, 5, 6 in the Big hand, all of the same suit (♥♦♣♠)
What does the Joker do in Pai Gow Poker?
The Joker can be used as a wild card of sorts in Pai Gow Poker. It is a limited wild card however and must be played in specific ways in specific situations.
The Joker can either substitute one card in a 5-card straight, substitute one card in a 5-card flush, or otherwise, the Joker will be used as an Ace. Similarly, in a two-card hand, the Joker will always be treated as though it is an Ace.
Is an Ace high or low in Pai Gow?
Aces in Pai Gow are high when treated as an individual card, and can be high or low if they are used in a straight. Jokers are also always treated as Ace as well, unless they can be used to substitute one card in a flush or straight.
Does Three of a Kind beat a Straight?
Yes, three-of-a-kind does beat a straight in Pai Gow Poker. Although the game uses traditional poker melds, the card ranking hierarchy is not directly transplanted from other poker games. In Pai Gow, straights are actually the 4th worst meld, only outperforming a double pair, a single pair, and a high card.
What is the house edge in Pai Gow Poker?
The house edge for Pai Gow Poker ranges from 2.8% to 1.42%. This is actually quite low compared to other popular casino card games such as Blackjack
Pai Gow Poker is seen as a slower, more laid-back style of gaming due to its high number of pushes. A game with a large house edge would never gain such a reputation.
What is a foul hand in Pai Gow?
A foul hand in Pai Gow Poker occurs when a player has a 2-card hand with a higher value than their 5-card hand. If, for example, the two-card hand is a pair, but the 5-card hand only has a Queen-high, the two-card hand has a superior meld. This results in a foul hand, and a loss of a player's wager automatically.
Also see