Introduction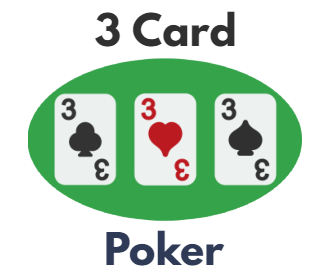 Three Card Poker is a comparing game in the Poker family. This casino-friendly variation of poker was invented by entrepreneur Derek Webb. The game was intended to be a higher-speed version of the game to bring it in line with other quick gambling card games such as Blackjack.
Unlike traditional poker, 3 Card Poker is played Player-Dealer, rather than all of the players at the table facing off against each other. Unlike the usual games in the Poker Genre, Players win different payouts based on the rarity of their hand, rather than winning the whole pot.
How to Play Three Card Poker?
Three Card Poker, or sometimes called Triple Card Poker, is played utilizing a single standard Anglo-American 52-card deck, allowing for no duplicates in the game.
As in many versions of poker, players are expected to ante up even before they receive their deal. An "ante" is a wager that players must make simply for sitting at the table. The cost of the Ante will be set by the table, usually with a sign displaying the required price.
The layout of the table should look something like a traditional Blackjack table. As you can see below, players are facing the dealer. In general, tables accommodate up to seven players. The illustration below shows the betting zone of one player.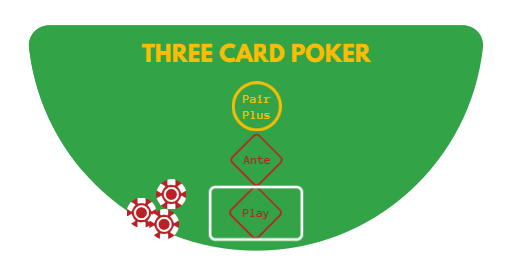 The Deal
Once all of the players have paid their Ante, the cards will be dealt to each player, three cards at a time. Once each player has been dealt out, the Dealer will deal themselves three cards.
If the Dealer does not have any melds, and does not have at least a Queen as one of their cards, then players will be granted their Ante back, and the cards will be reshuffled for a new hand. If the Dealer is able to play, then the wagering portion begins.
Betting Phase
Players must wager at least the value of their Ante in addition to their Ante itself, though players are free to bet more than this wager, up to the table maximum if there is one.
Players that do not feel that their cards are good enough to compete are free to fold, as in other games of poker.
Players that fold before they make a wager are not required to make any additional payments, but do automatically surrender their wager to the House.
Players that have paid their Ante may also double their Ante in order to receive the "Ante Bonus" based upon the value of their cards and regardless if it beats the Dealer's hand or not. The payout multiplier for this Ante Bonus is explained below.
Side Bets
Before the cards are dealt, players may make an additional side wager on top of the Ante Bonus. Players may wager whatever they wish on this side bet, with multipliers paid out based on the meld they receive in their hand.
As the name suggests, players who at least have a pair in their hand will win their money back 1:1, with more money being won with higher value melds. These multipliers, like the Ante Bonus, will be explained in the "Payouts" section.
Action Phase
Once all the players have paid their Antes, then cards will be dealt to each player face-down, three at a time. Players will then look at their cards, and are free to make an additional wager if they wish. This wager will pay out 1:1 if the player wins.
Players then compare their cards against the Dealer individually. If a player wins, they are paid their wager and original Ante 1:1. Players' side bets, the Ante Bonus and the Pair Plus, are paid out even if the player's hand is not greater than the Dealer's.
Ending
The round ends when all wagers are settled. A new round begins, and players must put up their Ante, Ante Bonus, and Pair Plus bets once more.
Rules Summarized
Below you can find a summary of the official 3 Card Poker rules:
The Ante Bonus is an additional Ante, paid in as a side bet. The Ante Bonus pay-in will be equal to the value of the original Ante.
Consult the chart for Hand Rankings. Many casino poker tables offer a chart in the form of a sign, or a print on the felt of the Poker Table itself, which will provide players with a handy reference for the value of their cards.
Players should not even attempt to play in a game where they were dealt less than a Queen as any of their individual cards, if they do not have at least a pair. This is because the Dealer automatically loses if they cannot produce a Queen or a meld. This means the Dealer must have at least an individual Queen, and as such playing with a hand less than that is guaranteed failure.
Players only receive the value of their Ante and non-side Wagers on a 1:1 basis. In order to make any substantial amount of money playing Three Card Poker, the side bets must be considered due to their large payout. Higher risk brings higher rewards at the casino table.
Hand Rankings
The hand rankings of Three Card Poker are similar to other games in the Poker Family. As these melds are the distinctive characteristic of all Poker games, this is not too surprising.
However, as most Poker games use melds based on a set of five cards, there must be some adaptation in order for these melds to function in a three-card game. Some have been removed, while the remaining melds have been altered.
The below list will demonstrate the rankings with examples for ease of understanding. From highest value to lowest, the following are the hands of Triple Card Poker:
Straight Flush
Three Cards of the same Suit, in immediate, ascending or descending order.
Example: 9♦ 10♦ J♦
Three-of-a-Kind
Three cards that are all the same rank, but different suits as there are no duplicates.
Example: Q♦ Q♣ Q♠
Straight
Three cards in immediate ascending or descending order, regardless of suit.
Example: 7♦ 8♠ 9♠
Flush
Three cards of the same suit, regardless of their rank.
Example: 2♦ 6♦ 10♦
Pair
Two cards of the same rank, with the third card considered irrelevant.
Ex. 8♦, 8♠, K♥
If neither the Player nor the Dealer has a meld, then the highest-ranking card wins. However, one should remember that the Dealer will not play if they have no melds and a high card less than a Queen. This is one of the ways the House ensures its margins are protected. It is therefore mechanically impossible to defeat the Dealer without a meld, or a single card that is at least a King or above.
Payouts in 3 Card Poker
If a player simply pays their Ante and their wager, they will win back their wager with a ratio of 1 to 1. However, most casinos offer special additional betting positions that can further increase a player's payout depending on their hand.
These side bets pay whether or not a player's hand is able to beat the Dealer's, so long as their meld meets the required conditions of the additional wager.
These two special wagers are the Pair Plus, and the Ante Bonus.
Pair Plus
The Pair Plus is a wager that a player's hand will be at least a pair or better, with special payouts depending on the hand a player manages to receive. This payout requires an additional side bet during the wager portion, with a player needing to place their chips in a special side bet zone or otherwise indicating to their Dealer that the additional money is for a Pair Plus wager.
The following list will describe each Pair Plus payout from highest payout to least:
| Hand | Wager |
| --- | --- |
| Straight Flush | 40x |
| Three of a Kind | 30x |
| Straight | 6x |
| Flush | 3x |
| Pair | Equal value |
Remember, it does not matter if a player's hand actually beats the Dealer or not. The Pair Plus pays out so long as the player receives a pair or better.
Ante Bonus
The Ante Bonus is similar to the Pair Plus, paying out if a player receives at least a straight or better. The following is the Ante Bonus list of Payouts:
| Meld | Bonus Payout |
| --- | --- |
| Straight Flush | 5x Ante |
| Three of a Kind | 4x Ante |
| Straight | Win equal to the value of the Ante |
The Pair Plus is based on a side-bet wager, whereas the Ante-Bonus is based on the value of the Ante. To perform an Ante Bonus bet, a Player must double their original Ante, but are only paid out for the value of one of those two Antes.
Players should make Ante Bonus or Pair Plus wagers before cards have been dealt, during the Ante phase.
Example Scenario
Imagine the following is a game of Three Card Poker between three players and a Dealer.
Ante is $10.
Player 1 pays their Ante, but no side bets for $10.
Player 2 pays their Ante, as well as a Pair Plus Wager for a total of $25.
Player 3 pays their Ante, as well as a Pair Plus and an Ante Bonus for a total of $35.
Player 1 is dealt 4♦, 5♦, 6♦
Player 2 is dealt 4♣, 9♠, Q♥
Player 3 is dealt K♥, K♦, K♣
Dealer is dealt Q♦, 9♥, 2♥
Player 1 wins $20.
Player 2 wins $10.
Player 3 wins $360.
Player 1 beat the Dealer, so won the value of their wager on a 1:1 basis. However, Player 1 did not take any of the side bets, making their straight unable to win an additional payout.
Player 2 made side bets, however, they did not manage to achieve them. This means Player 2 lost fifteen dollars. However, Player 2 was able to recoup some of their losses as their high card, Queen-9, matched the Dealer's high card of Queen-9, winning back the exact value of their wager.
Player 3 won so much because of the high value of their hand, and the value of the side bets made. The Ante Bonus, for $10, won 4x its wager for the Three-of-a-Kind, as well as a 30x bonus for the Pair Plus wager of $15.
Frequently Asked Questions
Does Three Card Poker have good odds?
Three Card Poker does have slightly better odds than Texas Hold'em, as fewer cards are dealt from the deck overall. This allows for players to have an increased chance of receiving at least the most basic meld. There is about a 17% chance of achieving a Pair, and about a 25% chance of receiving a meld at all.
What are the best hands in 3 Card Poker?
The best hand in 3 Card Poker is the Straight Flush. As there is no Royal Flush, generally, this is the best possible hand. Three cards that are immediately ascending or descending by rank, all of the same suit.
Is Ace high or low in Three Card Poker?
Aces can be both high or low in Three Card Poker. A player can form a straight with Ace, 2, 3, or a straight with Q, K, Ace.
What happens if the Dealer doesn't qualify?
If the Dealer does not qualify to play the game because they do not have a meld, or at least a Queen, then each player's Ante is automatically paid back to them, and the cards are reshuffled so that a new round can begin.
Does a flush beat a straight in 3 Card Poker?
No, although the flush conventionally is a better hand than the straight, in Three Card Poker Straights pay out better and beat out Flushes.
Also read