Introduction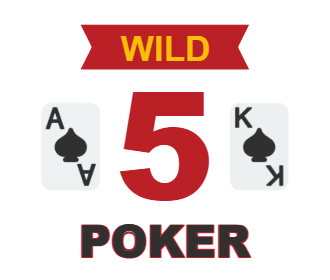 Wild 5 Poker is a Table-Comparing game with a niche presence along the Las Vegas Strip.
As its name suggests, the game includes a wild card in the deck and is a five-card poker variation. This game is fairly new, less than ten years old.
How to Play Wild 5 Poker?
Wild 5 Poker is played using a 53-card Anglo-American Joker Deck Variant. One of the Jokers should be removed from a 54-card Joker deck, in order to make the proper 53-card deck.
Betting
As a Table game, players much each place their initial wager, or Ante, before cards can be dealt and the game begins. Players in Wild 5 Poker must also place a wager, equal to the Ante, on the "Bonus" box in front of their seat at the table.
Most casinos will have posted minimums and maximums determining the value of each Player's Ante and Bonus.
In addition to the "Bonus", which is required by all Players, there are two optional side bets that act as genuine optional bonuses. The Wild 5, and the Wild 7. These Side Bets will be explained in further detail within the section Payouts and Side Bets.
The Deal
Once each Player has made their required bets, and any optional bets of their choice, the Dealer will begin the Deal.
Each Player will be dealt five face-down hole cards. Two community cards will be dealt, face-down into the center of the table.
Players may look at their own cards, but not other Player's cards.
Player Options
Once they have looked at their cards, Players weigh their options: Fold, or Play.
Folding
Players that fold forfeit their Ante and Bonus wagers, though their side bet wagers will remain in play.
Forfeiting Players hold no claim to any money deriving from the Showdown, even if they would have won had they remained in the game. However, Folding Players are not obligated to continue wagering.
Playing
Players that wish to continue into the Showdown are compelled to make an additional wager, called the "Play" bet.
The Play bet can be 3x, 2x, or equal to the size of the Ante or Bonus wager.
Players that make this wager are given the opportunity to discard a single card from their five-card hand.
If this card is discarded, then that Player may use the two community cards in order to compose the best five-card Poker hand that they can.
Players that do not discard must use their five original cards only.
The Dealer
The Dealer will always Play, although the Dealer may not always discard. The Dealer is beholden to the same discarding rule as the Players, though the Dealer has a specific house strategy to follow.
The Dealer will stand on any five-card meld, such as straights, flushes, full houses, etc. Furthermore, the Dealer must qualify by having at least a Pair. If the Dealer does not qualify, the Ante pushes automatically, while the Play and Bonus and Side Bets will still all pay out.
Any other situation will have the Dealer discarding their lowest ranking un-melded card in order to access the community cards.
The Showdown
Once the Players and Dealers have chosen their appropriate positions, and discarded if they wish, the Showdown begins.
The Dealer will reveal the two community cards, at which point the Dealer will compare their hand to each individual Player, and assign payouts or take money as appropriate.
The hand that ranks higher according to the Joker-variant poker hierarchy (including the possible Five-of-a-Kind) will win the Ante, and Play bets.
The Bonus, Wild 5, and Wild 7 wagers will pay out regardless of the Showdown.
Payouts and Side Bets
The Ante and Play bets will pay out on a 1:1 basis. The obligatory "Bonus" wager uses its own payout table, shown below:
| Meld | Payout |
| --- | --- |
| Five-Kind | 100x |
| Royal Flush | 50x |
| Straight Flush | 10x |
| Four-Kind | 5x |
| Full House | 3x |
| Flush | 2x |
| Straight | 1x |
| Three-Kind or Less | Push |
Players need to have some kind of meld, at least a pair at the minimum, in order to push their Bonus Wager. If a Player's whole hand is junk, then they must surrender their Bonus Wager.
Wid 5 Bonus
In addition to the obligatory Bonus, there are the two 'Wild' side bets.
The Wild 5 is, essentially, a higher risk-higher reward version of the obligatory Bonus. The payout is based on melds the Player can form with their original five-card hand, not including the community cards.
| Five-Card Hand | Payouts |
| --- | --- |
| Five-Kind | 1000x |
| Royal Flush | 500x |
| Straight Flush | 250x |
| Four-Kind | 100x |
| Full House | 50x |
| Flush | 25x |
| Straight | 10x |
| Three-Kind | 5x |
| Two-Pair | 5x |
Anything less than a Two-Pair will yield no money for the Player, driving up the House Edge of this side bet, and therefore driving its desirability down in kind.
Wild 7 Bonus
The Wild 7 bonus does not use a traditional, per-1 basis payout table. Instead, the Wild 7 is a progressive, involving a Jackpot that is made up of each Player's bet on the Progressive.
Progressives, despite their high house edge, are always worth playing if the Jackpot is high enough.
Players use their five hole cards and the two community cards to form the following melds and receive the associated payout for it.
Players are only allowed to bet $1 on the Progressive Wild 7.
| Meld | Payout (In USD) |
| --- | --- |
| Seven-Card Straight Flush | Full Jackpot Value |
| Five-Kind (Aces+Joker Only) | 10% of Jackpot Value |
| Five-Kind (All Others) | $500 |
| Royal Flush | $250 |
| Straight Flush | $100 |
| Four-Kind | $20 |
| Full-House | $4 |
Wild Five Poker Rules
In short, the rules of this game are as follows:
There is one Joker in the deck, which Players can use as a substitute for any other card in the deck.
Players must make an Ante, Bonus, and Play wager in order to make it to the Showdown.
Players have two optional side bets in which they can participate. One is progressive.
The Dealer must have at least a pair to qualify. If the Dealer does not qualify, the Ante is pushed.
Example Scenario
Suppose you have the following cards in your hand:
8♥ Q♠ A♥ 7♣ 7♦
A simple pair is usually strong enough to at least attend the Showdown. The Play wager does not need to be tripled, so a 1x Play Bet would be best here.
You have an Ace-Queen high, in addition to the pair of 7s. 7s are a strong pair, although pairs themselves are weak. 7s are always good, but Players should always access the community cards unless they have a pre-made five-card meld.
As such, discard the 8♥. Even though it is ranked more highly than the 7, it is unpaired. It would be unwise to break up a pair of 7s in order to discard. With the 8 removed, players have access to these two community cards:
K♣ A♣
Now you have two-pair, just for discarding a useless junk card. This is why Players should always discard, unless they already have a five-card meld.
Also see