Definition and Meaning
While it may not be the absolute nuts, a Full House, or Boat, packs a punch that few other poker hands can match. Made up of three cards of one rank combined with two cards of another rank, Full Houses don't come along often but when they do, you might be able to "bet the house" on them.
Definition in short: A Full House is a poker hand containing three cards of one rank and two cards of another rank.
The guide below covers the essentials as well as some more in-depth explanations of how you can play this interesting hand in poker.
Examples of a Full House
Below you can see what a Straight Flush looks like: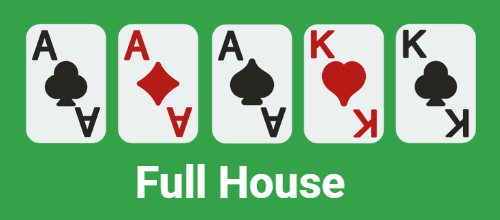 A♣ A♦ A♠ K♥ K♣
K♦ K♥ K♣ A♦ A♠
2♥ 2♠ 2♦ Q♠ Q♣
10♣ 10♥ 10♦ 7♣ 7♥
J♠ J♣ J♥ 4♠ 4♦
Which Full House Wins?
The strength of a Full House is determined first by the rank of the three cards that make up the Three of a Kind.
For example, a Full House with three Jacks is stronger than one with three Tens, because Jacks outrank Tens.
If two "Boats" have the same Three of a Kind, then the pair is used to break the tie.
For example, J-J-J-8-8 beats J-J-J-7-7 because Eights outrank Sevens.
Below you can see another example that actually happened at a live event. In this case, the A-A-A-8-8 wins versus the K-K-K-8-8. Very unlucky for the player with Kings!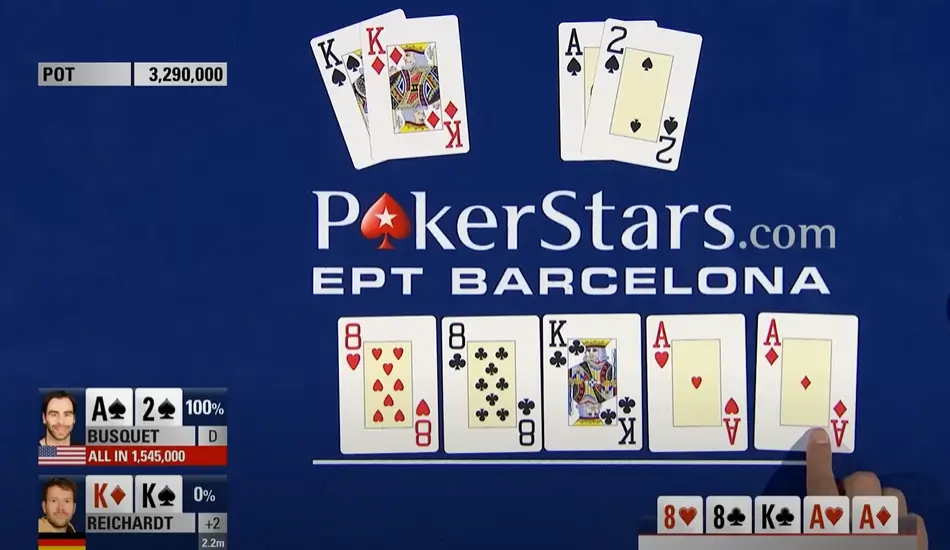 Probabilities
For the most popular game, Texas Hold'em, the below table applies:
| ODDS | PROBABILITY |
| --- | --- |
| 1 in 693 | 0.1441% |
In simple terms, the odds of being randomly dealt a Full House in a single hand of poker are about 1 in 693. This means if you were to be randomly dealt 693 hands of poker, you could expect to get only one on average.
While it is a strong hand, it doesn't come around very often purely by chance. You either need to get lucky to be dealt a Full House, or improve your starting hand over multiple rounds of betting and drawing cards.
Full House Strategy – How to Play it
Pre-Flop
You'll want to play Pocket Pairs and suited connectors aggressively if you think you may be able to flop a Full House. Bet big with these hands to build a pot in case you do connect strongly.
On the Flop
If you have a set or Two Pair with a paired board, you should bet big for value but be cautious of opponents potentially holding higher Full Houses. Consider checking your hand sometimes to trap aggressive opponents.
Turn and River
On the Turn or River if you make a Full House, again bet large for value. However, be wary of Straights or Flushes that could be out there, especially if you don't have the nuts.
You may want to check-call the River sometimes to control the pot.
General Advice
Overall, Full Houses are extremely strong hands. You can play them fast and aggressively especially if you have the highest possible one. But in multi-way pots, exercise caution as you may not always have the nuts Full House. Smart bet sizing and checking some of your strong hands is advised.
FAQs
Is a Full House a good poker hand?
Yes, a Full House is typically seen as an excellent and powerful hand in poker that has a good chance of winning the pot when made. However, do keep in mind that there are multiple that there are multiple combinations that beat it.
What is beaten by a Full House?
What is the best Full House combination?
The best possible Full House combination is Aces Full of Kings. Specifically, the hand with three Aces along with two Kings is the most powerful.
Having three Aces gives you the highest-ranked Three of a Kind, while Kings provide the second most powerful pair to accompany the three Aces.
What are alternative names for a Full House?
Some common alternative names used for a Full House in poker include a "Boat", a "Full Boat", and a "Package".