Definition and Meaning
The Straight is one of the most iconic poker hands, consisting of five cards in consecutive rank order. At first glance, the Straight appears rather simple – just get five sequential cards and you're good to go. However, there's more strategy to this hand than meets the eye.
In this guide, we'll break down everything you need to know about this hand, from how it's formed to how to play it effectively.
Definition in short: A Straight in poker is five cards in consecutive rank, suits being irrelevant.
Examples of a Straight
Below you can see an example of what this poker hand looks like: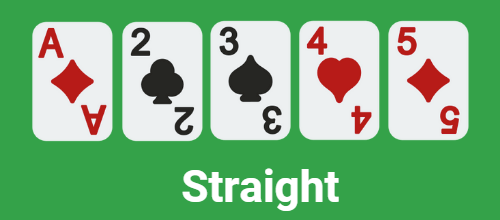 A♦ 2♣ 3♠ 4♥ 5♦
6♥ 7♠ 8♦ 9♣ 10♣
7♠ 8♦ 9♥ 10♣ J♥
8♦ 9♥ 10♣ J♠ Q♠
9♣ 10♦ J♦ Q♣ K♠
10♥ J♥ Q♣ K♦ A♦
There are 10 possible Straights you can make from the 13 card ranks in a standard 52-card deck. This number comes from the fact that you need 5 consecutive cards out of the 13 ranks.
Now, if you ignore suits and just look at the ranks, there are 10 different ways to make a 5-card Straight. Factoring in all suit combinations, there are 10,200 total combinations possible.
Rules for Determining Strength
The strength of a Straight comes down to the value of the cards that make up the 5-card sequence. Specifically, it is the value of the highest card in the Straight that determines which one is better. It's the pure value that matters, not suit or color.
For example, a King-high Straight like K-Q-J-10-9 is stronger than a Queen-high like Q-J-10-9-8. This is because the King beats the Queen.
Best and Worst
An Ace can make the highest Straight possible: A-K-Q-J-10, also known as "Broadway".
It can also make the lowest one if used as a 5-high like A-2-3-4-5.
Probabilities
| ODDS | PROBABILITY |
| --- | --- |
| 1 in 253.8 | 0.3925% |
If you randomly pull 5 cards from a deck, you have a 0.3925% chance of getting a Straight. That equates to odds of around 254-to-1 against making a Straight from a random draw.
In Texas Hold'em, where you make the best 5-card hand from 7 cards total, your odds of flopping a Straight with 2 suited connectors is around 1.3%.
So while this hand occurs less frequently than some other hands, the odds are much better than making something like a Full House or Four of a Kind. Being aware of these percentages can help guide your decision-making when pursuing a Straight.
Straight Strategy – How to Play
When Drawing
When you are drawing to a Straight, your odds are much better if you have an open-ended Straight Draw rather than an inside Straight Draw.
With an open-ender, you have 8 outs to hit your hand, whereas an inside draw only gives you 4 outs. So be more inclined to bet and chase an open-ended draw.
For example:
Open-ended Draw: Holding J-10, the flop comes 9-8-7. You need either a 6 or Queen.
Inside Draw: Holding 9-10, the flop comes J-Q-K. You need an 8.
When Hit
Once you make your Straight, you need to consider the board texture carefully. Be wary of possible Flushes or higher Straights that could beat you.
For example, if you have 8-9 and catch a Straight on a T-J-Q board, someone could easily have K-A for a higher one.
Try to disguise the strength of your hand when possible. If you hold 6-7 and catch a Straight with the 5-8-9 on board, opponents may not suspect it.
Betting
Look to build bigger pots when your Straight is disguised or you hold the nuts.
For instance, if you have K-Q on a J-10-9 board, you have the nuts and can keep betting strongly. But with a small Straight, take a more cautious line when facing aggression.
It comes down to betting when you think you are likely ahead, and checking or controlling the pot when there are visible threats on board. Pay close attention to opponents' betting patterns to avoid paying off a better hand!
FAQs
Is a Straight 4 or 5 cards in a row?
A Straight in standard poker games is always made up of 5 cards in consecutive rank order. Having just 4 cards in sequence does not qualify as a Straight.
What is beaten by a Straight?
A Straight beats:
Three of a Kind
Two Pair
One Pair
High Card
Is A-2-3-4-5 a Straight?
Yes, A-2-3-4-5 is considered a valid Straight in poker known as a "Wheel" or "Bicycle". The Ace plays as the low card, making this the lowest possible combination.
Is J-Q-K-A-2 a valid Straight?
No, J-Q-K-A-2 is not a valid Straight by standard poker rules. The Ace can only be used as the high or low card, not in the middle of the sequence. This hand would just play as Ace-high.
What is the best Straight combination?
The best Straight combination is the Ace-high or "Broadway", which is A-K-Q-J-10.