Introduction
Razz Poker is a comparing game in the Stud Poker family of card games. It is one of the older versions of poker in the world, dating to around the beginning of the 1900s.
What makes this game unique is that it is a low-handed game. Most games of poker are "High Hand", meaning Players are attempting to form the best meld that they can. The winner of the high-hand in traditional poker games wins the whole of the monetary pot at the center of the table.
Razz is differentiated by being Low Hand. As the name suggests, low-handed games involve players attempting to make the worst possible hand that they can. With the only exception being the best hand. The worse a hand is in a traditional game of Poker, the better it is in Razz Poker.
Learn How to Play Razz Poker
Razz is played utilizing the 52-card Anglo-American standard pattern deck of cards. Due to the high number of cards that are dealt to each Player, this game has a table limit lower than most other games. Unless additional decks are used, only a maximum of 7 Players including the Dealer can participate in a game.
Ante-Ups, and the Initial Deal
Each Player must pay up the Ante, a small wager that is paid in equal increments by each Player at the table that wishes to participate in the game. If the Ante is $5, each Player is required to pay $5 if they wish to be dealt their initial cards.
Once each Player has paid the Ante, they will be dealt the "Hole" and "Door" cards.
Hole Cards
The Hole cards are the first two cards dealt to a Player. These cards are dealt face-down, and only the Player to whom they were dealt may look at them.
Door Card
The Door card is a single card, dealt face-up to each Player. This card is personal, meaning other Players cannot use it to form their melds. Only the Player to whom it was dealt may use their own Door card in their final Showdown hand. However, this card is publicly known by all other Players, letting them know at least one card that is in your hand.
Bring-in
The Player with the highest door card is required to "bring it in." This is similar to the Blinds of Texas Hold'em. In essence, the Player that must bring it in is required to pay half of the table's required wager even if they wish to fold.
Betting Limits
Razz tables will have betting requirements, sometimes broken into "units." A unit is an equally agreed upon minimum packet of currency. For example, if a table has a betting requirement of $10, then 1 unit is $10.
Players must therefore wager at least a full unit before the game begins, or fold. Players who must bring it in are required to pay half of a unit, even if they wish to fold.
For example, Player 1 is dealt 2 Hole cards and their Door card. They have the highest one, and so must bring it in. Even though Player 1 wants to fold, units at this table are $10. This means Player 1 was required to pay a $5 Ante, and the $5 bring it in before they can fold, for a total of $10.
The Ante is considered a separate wager from the full betting unit. Players who wish to participate must meet or exceed at least one unit with their non-Ante wager.
Once each Player has bet at least the required amount, or folded, the next phase of the game may begin.
4th Street
Players that have not folded by this point of the game then receive an additional Door Card, known as the 4th Street. Similar to Seven Card Stud.
Once this card is dealt, Players may then begin another betting round as in normal Poker. Players may check, bet, or fold at this point.
A Player may only check when there is no outstanding bet at the table, essentially a bet of zero and "passing" their betting opportunity until another Player bets. If all Players at the table check, no additional money is paid into the pot.
When betting, Players may not bet any more than a single unit, though they may bet less. For example, if a unit is $10, a Player might bet $5, but they may not bet $11. Players MUST match the highest outstanding bet at the table, or fold.
If the highest bet at the table is $3, all Players must pay at least $3. If one of those players instead pays in more, such as $5, then all Players must put up a total of $5 instead. This continues up to the betting limit of a particular round.
5th and 6th Street
This process repeats for the Fifth Street, and the Sixth Street. All street cards are dealt face-up, for a total of four face-up cards in front of each Player. However, be aware, that all betting limits double for the 5th and 6th street. If a unit is $10, Players may bet a maximum of $20 for the 5th and 6th Street cards.
7th Street
The 7th and final card is another Hole card, dealt face-down and hidden from other Players. Betting limits are still doubled during the Seventh Street and Players are allowed to make one final betting round before the Showdown begins.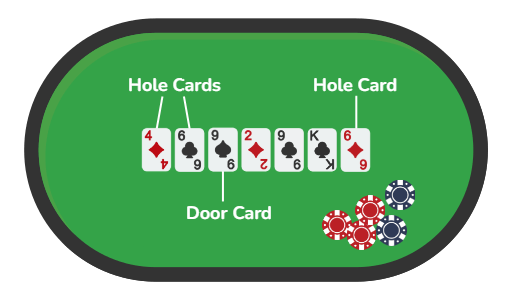 Showdown
Once the pot has been finalized and all Players have bet, or folded, Players will use their three cards that are hidden and four public cards in order to make the best possible Razz hand (which means making the worst possible Poker hand).
One thing to keep in mind is that Flushes and Straights do not exist in Razz. For this reason, the best hand in the game is actually Ace (Aces are always low), 2, 3, 4, 5.
This is because these are the lowest-ranking cards, and do not form any meld as straights do not count. That makes Ace, 2, 3, 4, 5 the lowest value hand, and therefore the best possible combination.
Razz Poker Rules
The official Razz rules are listed below:
Straights and Flushes do not count. These hands are instead based upon the sheer value of the cards contained within, rather than as a sum greater than their parts. Royal and Straight Flushes also do not exist in Razz.
It is best for a Player to form no melds if possible. Low-card, pairs, and two-pairs are the best melds. The worst melds are Four-kinds, Full Houses, and Three-kinds.
Players must respect the betting limit, and cannot exceed the prescribed betting limit at any time. During the initial deal and the 4th Street, Players are only permitted to bet up to a single unit. This betting limit doubles during the 5th Street, 6th Street, and the 3rd Hole (7th total card).
If Players cannot decide who should Bring it In, as two Players have a card of the same value, then the suit will decide who must Bring it in. The ♠ is the highest-ranking door suit, followed by ♥ ♦ ♣ in that order. This means that Ace of ♣ is the best possible door card and will never be forced to Bring it In. King of ♠ conversely will always be forced to Bring it In.
Hand Rankings
The Razz game follows a completely different rule structure than that of normal Poker. Although the melds themselves are the same, some melds are missing from the game, and the value of melds has been completely reversed.
| Rank | Hand | Example |
| --- | --- | --- |
| 1 (the Nuts) | Razz | A 2 3 4 5 |
| 2 | Low Card | 2 3 4 5 6 |
| 3 | Pair | 2♦ 2♣ 4 5 6 |
| 4 | Two-Pair | 2♦ 2♣ 3♣ 3♦ 4 |
| 5 | Three-Kind | 2♦ 2♣ 2♠ 3 4 |
| 6 | Full-House | 2♥ 2♦ 2♣ 3♦ 3♣ |
| 7 (Worst) | Four-of-a-Kind | 2♦ 2♣ 2♥ 2♠ 3♣ |
If they existed, a Royal Flush would be the worst hand a Player could have.
Below, the hands of Razz are explained in further detail and in order of best to worst:
Razz
Suits do not matter unless there is a tie. There are also no straights in this game. This means that the above hand is the best possible configuration of cards that a Player can possibly have.
If two players have this same configuration, then the winner will be determined by the suit of their aces. Ace♣ would be the best and win all ties, followed by ♦ ♥ ♠ in that order, where Spades will always lose ties.
Low Card
If a Player cannot form Razz, the above hand, then they should aim to form the lowest possible hand of cards, using their lowest value cards to form a junk hand that has no melds.
Pair
If a Player must form a pair because they have two pair in their 7 total cards, Players should choose the lowest possible pair that they can form as this gives them the highest chance of winning. However, having a pair is always disadvantageous, as it can lose to any junk hand regardless of that junk hand's low-card.
Two-Pair
Players that received three pairs in their 7 total cards must form a hand with two-pair. This is a very weak hand, as the odds of receiving three pairs are low. If a Player is forced to play two pair, then they should try to use the two lowest pairs in their hand.
Three-Kind
Another very weak hand, and should be avoided at all costs if possible. If a Player must play a three-kind, then they should try to play the lowest value three-kind, though they are likely to lose regardless.
Full-House
Very rare to actually see a Player forced to use in the Showdown. An extremely weak hand that is very unlikely, is only likely to be played by a competent Player if they had a four-kind and three-kind in their hand at the same time.
Four-of-a-Kind
The worst possible hand. As there are no Straights or Flushes, Four-Kind can be considered the highest-ranking poker hand in Razz, and as such the worst value hand a Player can possibly have.
There should be virtually no situation where a Player actually plays a four kind, as even in the worst possible deal a Player would be able to form a Full-House instead.
Example Hand and Play
Imagine the following hand is dealt to you in a game of Razz:
4♦ 6♣ 9♠
The Door card is the 9♠, with the 4th Street being a 2♦
5th Street is a 9♣
6th Street is a K♣
The 7th card is a 6♦ (hole)
This makes the total 7-card hand: 2♦ 4♦ 6♣ 6♦ 9♠ 9♣ K♣ (low to high)
With two pairs in the hand, the Player should attempt to avoid playing them both at all costs. As such, even though the King is a higher ranking card, it is better for the Player to keep it in their final five cards, with the optimal arrangement being:
2♦ 4♦ 6♣ 9♦ K♣
This way, the Player does not have any melds in their hand. Although they do have a King, the highest card, and will therefore lose to other junk hands with lower ranking cards, it is still better than a pair, which will lose to all junk hands and any pairs that are lower than 6 or 9.
This makes it statistically more likely for a Player to win with the above arrangement than if they had a pair of 6s in their hand without the King.
Frequently Asked Questions
How does one win in Razz?
The Razz poker game is very different from other games. Most games involve the "high" ruleset, or the Player with a meld highest on the hierarchy being considered the winner This is actually a "lowball" game, meaning the lowest melds and junk hands win the game.
Do Pairs count in Razz Poker?
Pairs do count in Razz and are usually a bad hand to have. A collection of low-ranking cards that form no meld would be strong. A hand with a pair or two pair is not horrible but is less likely to win than some other junk hands.
Do Flushes count against you?
Flushes do not "count against you", or are not considered melds. Remember, Razz is a game where the lowest hand wins the pot. This means that high-ranking melds such as straights and flushes would practically disqualify a Player from winning. As such, there are no straights and melds in this game.
Is the Ace a good card in Razz?
The Ace is a very good card in Razz because Aces are considered the lowest value card (and therefore the highest value card in a meta-gaming sense). As the Low card, any melds made using the Ace are the lowest possible melds. A pair of Aces would beat all other pairs, and the best hand in the game requires an Ace.
What are the nuts in Razz Poker?
The nuts are, as in all Poker games and not just in Razz, the best cards that a Player can possibly have in a particular hand. Whatever cards a Player needs to beat all of the other Players at the table, those are the nuts.
What is the best hand in Razz Poker?
The best hand in Razz Poker is the "bicycle". This is essentially a straight from Ace to five, regardless of suit. A-2-3-4-5. This is the best combination because it has the lowest value.
Straights do not count, and the lack of repeated cards means there are no pairs or three-of-a-kind to decrease the hand's value. With Ace as the lowest card and 2-5 all very low-ranking cards, the best combination is without a doubt the above configuration of cards.
Also see