Introduction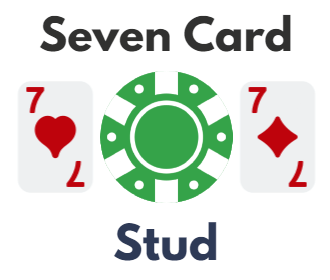 Seven Card Stud is a meld-making comparing game in the poker family of games. Prior to the rise of Texas Hold'em, Seven Card Stud Poker and Five Card Draw were the two most popular variations of poker.
7-Card Stud utilizes more betting rounds than in Texas Hold'em, with a total of 7 cards being dealt to each player. Unlike in Hold'em, there are no community cards. Each player's cards are their own, however, some cards are dealt face-up, allowing each player to know four of the seven cards in any given player's hand. This gives all other players at the table a rough estimate of their opponent's probable hands.
How to Play Seven Card Stud Poker?
Seven Card Stud is played using the Standard Anglo-American 52-card deck. As in most other games of poker, Players are required to pay an Ante. This Ante is usually a small wager, anywhere from 10-20% of the betting limit.
Betting Limits and Ante-Ups
Betting limits are very common at Seven-Card Stud tables. The betting limit is essentially a "unit" of wager, that players cannot exceed. Imagine that the betting limit at a table is $10, then one unit would equal $10.
Players may bet less than one unit, but they may not bet more unless otherwise specified. Players must also always match the highest outstanding bet at the table.
The Initial Deal
The Ante is always equal for every player, meaning every player pays the same Ante. Once each player has paid in their Ante, they will be dealt out three cards. Two of these cards, known as the "hole" cards, will be dealt face-down. Only the player to whom they were dealt may look at them.
The third card will be dealt face-up, known as the door card. This is not a community card, as in other poker games. It is publicly visible, but that card still is the personal card of the player to whom it was dealt, and cannot be used by other players for their melds.
Betting Phase
Once these cards have been dealt, a betting phase begins. During this first betting phase, the player with the highest-ranking Door card is obligated to "bring it in". This is a similar system to the Blinds of other poker games.
The player with the highest Door card, or the player closest to the Dealer clockwise in the case of a tie, must Bring it in. Generally, the price of Bringing It In is about half of a unit, or half the value of the betting limit.
Players will take turns, starting clockwise from the Dealer, making their betting positions. In the betting phase, as in most poker games, players are free to Check, Bet, or Fold.
Betting Positions
Checking
When Checking, a player is essentially making a bet of $0, and waiting to see what the other players at the table will do. Players may not check if another player made a bet before their turn during that betting phase. Players must always match or exceed (if possible) the outstanding highest wager at the table. Due to the "Bring it in" mechanic, players are not permitted to check during the first betting phase of the game.
If Player 1 bets $5, Player 2 must bet at least $5 and no more than 1 unit, or Fold.
Folding
When Folding, a player forfeits any money that they have already paid into the pot, as well as their cards. Players that fold also forfeit any right to winning the pot after the Showdown, even if their cards would have won the game. However, as they are absent from the remaining betting phases of the game, players that fold also do not stand to lose any more money than they already lost by folding. Once you fold, both your gains and losses have been cut.
Betting
Players that decide to bet are free to do so, so long as it is within the betting limit. If the limit is $10, for example, players must not exceed $10 with their bet. Players may call or raise, calling being another word for matching the previously highest bet, while raising self-explanatorily raises that bet to a higher amount.
If the previously highest bet is equal to the betting limit, players may not raise, and may only call or fold.
4th Street
Once this betting phase has been completed, each player will be dealt an additional face-up card. This card is known as the 4th Street. Once each player has been dealt their card, another betting phase begins with the same rules as the first.
5th Street and 6th Street
The process then repeats, for the 5th and 6th Streets, both of which are a single card dealt face-up to each player. However, during the 5th and 6th Streets, the betting limits are doubled to 2 units.
Showdown
After the 6th Street is completed, players will be dealt one final card face-down. This third hole card if the final card that will be dealt, and is only visible to the player who possesses it. Another betting phase begins, following the same rules as the 5th and 6th streets with a doubled betting limit.
Once this final bet has been made, players will form the best possible 5-card poker hand that they can from their total of 7 cards, and present them to the table. This is known as the Showdown. As in all High-hand poker games, the player with the highest value meld in their hand at the table will win the whole pot. In the case of a tie, there will be an evenly-split pot.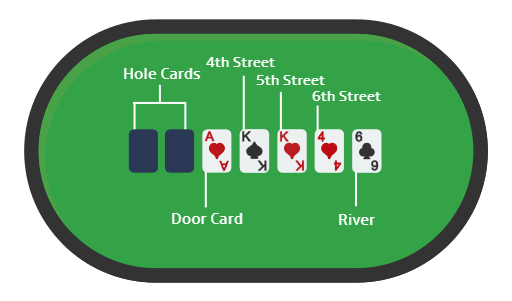 7 Card Stud Rules
An overview of the rules can be seen below:
Three cards are dealt face down, and four cards are dealt face up. Remember the phrase "Two down, four up, one down." That is a quick and easy way to remember the layout of a Seven-Card Stud hand as it is being dealt out over the course of a game.
Players may not show their Hole cards to other players unless they are in the Showdown phase of the game.
Players may not exceed the betting limit based upon the stage of the game. Only one unit during the first betting phase, and the 4th street, and then doubled to two units during the 5th, 6th streets, and the 7th card betting phase.
The players will take turns, clockwise from the Dealer, when making their betting positions. Players that made a bet that was raised upon will take a second turn, and so on, until all players have paid the same wager or folded during that particular betting phase.
Hand Rankings
The rankings of Seven Card Stud follow the traditional hands of poker. Players must try to form these 5-card melds from the 7 total cards that they will be dealt over the course of a game. The table below demonstrates the hierarchy of cards from greatest to least value.
| Meld | Example |
| --- | --- |
| Royal Flush | ♦(10,J,Q,K,A) |
| Straight Flush | ♥(5,6,7,8,9) |
| Four-Kind | 4♦ 4♣ 4♠ 4♥ 3♣ |
| Full House | 3♥ 3♣ 3♠ 2♦ 2♣ |
| Flush | ♦(2,6,8,10,K) |
| Straight | 3♥ 4♦ 5♠ 6♣ 7♥ |
| Three-Kind | 3♥ 3♣ 3♠ 7♣ 9♠ |
| Two-Pair | 2♥ 2♦ 6♣ 6♠ 8♦ |
| Pair | 2♥ 2♦ 5♣ 9♣ 10♠ |
Additionally, there is a non-meld hand known as the High-card. If a player cannot form any of the above card combinations, then players must rely on their "high" card. This being the highest-ranking card in a player's hand.
Although it is unlikely, a high card could win a game. During the Showdown, if no players have any melds, then the player with the highest card will be the winner. In the case of a tie during the Showdown, the pot is split.
Example Play
Imagine the following hand is dealt to you after the Antes have been paid up:
7♠ 8♥ A♥
With such a high Door card, it is very likely that you will have to pay to Bring it in. As such, there is no real disadvantage to playing until at least the 4th Street, as half of a unit has already been paid in.
The 4th Street is a K♠
While a player might want to consider folding here, as there is practically no hand that can be formed from these four available cards, there are two different sets of two cards that could bring a possible win in the next three cards.
The 7 and 8 could form a straight, as can the Ace and King. Furthermore, Ace-King high is considered the highest high-card a player can have—the strongest of the weakest hands, but with the additional possibility of a straight.
The 5th Street is K♥
A player here may still want to fold, even though they have just been dealt a very strong pair. Pairs are the weakest meld in poker, and even though it's a high pair, pairs themselves are still very weak.
The 6th Street is 4♥
If a player has continued into this stage of the game, they may as well continue on to the next stage of the game. Betting limits insure that a player cannot lose more than a maximum amount of money, and with four hearts cards already in the hand, the possibility of a flush is there.
The 7th card dealt is 6♣
This is quite an unfortunate draw, as it is not a ♥ card. This means that a player that has continued up until this stage in the game must rely on a pair of Kings to carry them to the winner's circle. Such a hand is very unlikely to win.
However, thanks to betting limits, at this point in the game there is not much additional risk to playing through and seeing if you can win with the pair of Kings. If you have not folded yet, which is the optimal strategy, then the most you can lose at this stage of the game is 2 units.
Even though the odds of winning are slim, a pair of Kings can still possibly win if the other players in the showdown are bluffing, or if they have pairs of a lower value.
Although Sunken Cost Fallacy does still apply, betting limits ensure that you cannot lose more than 2 additional units on top of the money you have already paid in. If all rounds were max bets, you've already sunk 6 units into this game. The pot is likely a very high payout, and paying an additional 25% for the possibility of winning is better than a guaranteed loss. Even if your odds of winning are only 1%, it's better than losing 6 units for no reason.
Frequently Asked Questions
How many cards do you get in Seven Card Stud?
Unlike in Texas Holdem, players are dealt all of the cards that they might use to form a hand. There are no community cards in Seven Card Stud. Instead, players are dealt their first three cards during the Ante phase, and then the remainder of their cards subsequently.
Do you burn cards in 7 Card Stud?
There are no cards to "burn" in 7 Card Stud, or discard in other words. Instead, players are given a total pool of seven cards, from which they must attempt to form the strongest meld with five of those seven cards. In that sense, the two unused cards from the 7 could be considered "burned", however, there is no mechanism to discard and then draw new cards.
What is the best hand in Seven Card Stud Poker?
The best possible hand in Seven Card Stud, as in most poker games, is a Royal Flush. The best hands a player can be dealt in their first three cards are three cards of the same suit, three cards that form a straight, or a three-kind.
What is the difference between 7 Card Stud and Holdem?
Although they are both versions of poker, and therefore share similar game mechanics such as the meld hierarchy and the use of betting as a psychological tool, the games are quite distinct from one another.
Players in Holdem are only dealt 2 personal cards, and 5 community cards, whereas there are no community cards in 7 Card Stud, with all 7 cards dealt to each player being personal.
What are the starting hands?
The three starting cards of 7 Card Stud Poker have different names depending on their state. The two face-down cards are known as the "Hole Cards." These cards are kept secret from other players. The face-up card dealt to each player is known as the "Door" card. This Door card is used to determine which player must "bring in", or pay an additional wager into the pot. This is similar to the system of Blinds in Hold'em style poker games.
Also see