Introduction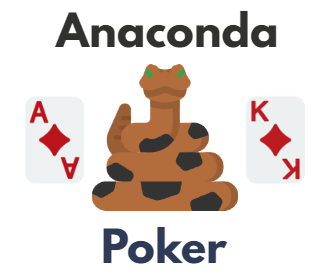 Anaconda Poker is a fun variation of Seven-card Stud Poker in which players can try to ruin the hands of their neighbors by passing off junk cards to the left or right. As a matching game, players attempt to form the best possible meld from a list of melds that will be explained below.
The name Anaconda Poker likely refers to the "shifting" nature of the card passes. Players give cards to the player on their left, then their right, then their left again. This back-and-forth movement mimics the slithering of an Anaconda, which is a type of snake.
How to Play Anaconda Poker?
Anaconda Poker is played using the standard 52-card standard deck pattern. Like in any game of poker, players must pay in the Ante before they are to be dealt their cards. The Ante is simply a small, previously agreed-upon equal wager that all players must make at the start of a hand.
The Deal
A Dealer should be chosen by random, who will then shuffle the deck and deal out 7 cards face-down to each player, one at a time. The Dealer should always deal to another player first, and to themselves last. Once each Player has the requisite number of cards, the first passing phase begins.
First passing phase
Players may look through their 7 cards, and choose three that will be passed to the player sitting immediately counterclockwise. In this way, every player will give away three cards and be given three cards. The player may then begin the betting phase, taking turns starting from the player to the left of the Dealer.
Betting Phase
As in all games of poker, players have four possible betting positions that they may take during the Betting Phase:
Fold
Folding is essentially a surrender. Players forfeit their cards, as well as any wagers made to the pot prior to their folding. Furthermore, Players are excluded from any possible winnings they may have had from the pot. However, Folded Players are not required to pay into the pot in any subsequent betting phase.
Check
Checking is essentially a bet of $0, allowing a Player to "check" what other players are going to do during the betting phase. Players may only check if the highest outstanding bet at the table is 0, or if they are the first player to take their turn during the betting phase.
Call
A Call is a match of the previously highest bet. Player 1 bets 5, so Player 2 calls and also bets 5. When making the first positive integer (Greater than 0) bet, it is simply known as the "Bet."
Raise or All-in
Players may also Raise, or go All-in. When Raising, a player is increasing the previously highest bet, and forcing all other players at the table to match this new standard.
An All-In is a special kind of Raise in which players bet all of their remaining chips on a single wager. When this occurs, players must form a side-pot. When forming the side-pot, all other players must match the All-In wager. Betting for the remaining Players that did not go All-in may then continue normally in the main pot. A player that forms a side-pot cannot win more than the value of their side-pot.
Second passing phase
After this first passing and betting phase ends, players will then begin the second passing phase. Players in the second passing phase will pass two cards to their right. This is followed by another betting phase.
Third passing phase
The third passing phase begins with players passing one card to their left, before the final betting phase begins. After the final wagers are made in this phase, the Showdown begins.
Showdown
In the Showdown, players try to form the best five-card poker hand from their seven cards. The player with the highest ranking meld, as explained below in "Card Hierarchy" will win the pot they are eligible for.
Anaconda Rules
The official rules are summarized below:
Players pass three cards to the left, then two cards to the right, then one card to the left, with a betting phase between each.
Players may pass back the same cards that were passed to them in the previous phase.
Players must match the previously highest bet during the betting phases in order to be eligible for the pot.
Players must pay the Ante at the start of the game in order to be dealt their cards.
Card Hierarchy
Anaconda follows the traditional hierarchy of poker melds, which are given in the table below:
| Meld | Example |
| --- | --- |
| Royal/Straight Flush | 9♥ 10♥ J♥ Q♥ K♥ |
| Four-of-a-Kind | 6♠ 6♣ 6♦ 6♥ 5♥ |
| Full House | 2♥ 2♦ 2♣ 3♠ 3♣ |
| Flush | 3♥ 4♥ 5♥ 6♥ 7♥ |
| Straight | 2♥ 3♥ 4♣ 5♠ 6♦ |
| Three-of-a-Kind | 6♠ 6♥ 6♦ 5♣ 2♥ |
| Two Pair | 8♠ 8♣ 4♥ 4♣ 6♠ |
| Pair | 2♥ 2♦ 5♣6♠ 10♣ |
| High-Card | (Q♦) 2♥ 5♣ 4♦ 6♠ |
Strategy & Tips
Multiple tips for winning the Anaconda card game can be found below:
Remember that the player you pass cards to first is going to pass you cards in the next round. It might not be wise to always give them the worst possible cards, because some of them might be coming back to you.
In that same line of thinking, some melds are terrible for the first hand of the game before passing. Something like a Full House is immediately going to be demoted to a three-kind or two-pair at best, as you must at least hand over one of the component cards to your opponent. If you get a Full House in the first hand, consider folding.
Some of the cards you pass away may come back to you. In this case, it may be good to hand your opponent a grouping of cards that seems like junk, so that they pass them back to you, when in actuality they are useful components for your hand.
Example Scenario
Imagine the following is your starting hand in a game of Anaconda:
9♣ 7♣ 6♣ 6♠ 10♣ J♦ 4♣
This hand has a flush in it, but it cannot be preserved due to the necessity to pass 3 cards. As such, the best cards to pass would be 6♠, J♦, 4♣. By surrendering the lowest ranking ♣ card, the odds of receiving that card back in the subsequent passing phase are maximized.
The 6♠ and J♦ are true junk cards, but might have some value to the other player. Sometimes it is valuable to give a Player the components that they might want, as this increases the odds of getting back that card that you need from them. Don't always hesitate to hand over a King or an Ace, if you have a flush for example. Rank is irrelevant for a flush.
FAQs
How many cards do you start with in Anaconda?
Players are each dealt 7 cards, face-down, at the start of the game. Afterward, they will pass a total of six cards to other players, and receive the same number as well.
What is the best hand in Anaconda Poker?
The best hand in Anaconda Poker is the Royal Flush, a Straight Flush composed of face cards or "Royal Components." Some variations utilize the Jokers as wildcards, in which case the best hand is a five-of-a-kind.
What is the difference between regular Poker and Anaconda?
The two games that might be called "Regular" poker in the United States, Five-Card Draw and Texas Hold'em, are quite different from Anaconda Poker. In Texas Hold'em, no cards are discarded, and in Five-Card Draw cards are discarded to the deck. Only in Anaconda are players' discards actually given to other players directly, making it an interesting twist on the regular games of poker.
Also read