Poker mastery is a lifelong endeavor. This strategy guide includes essential poker tips for beginners as well as some advanced strategies. Whether you dream of high-stakes glory or casual home games, success stems from balancing analytics and psychology, logic and intuition.
In the long term poker is a game of skill and constantly evolves, this means that being serious about strategy will definitely pay off! Build on the basics here, and refine your advanced tactics along the way.
It's important to note that the tips below are not only related to Texas Holdem strategy, they are mainly generic and can work for many different game variations.
Basic Poker Strategy Tips for Beginners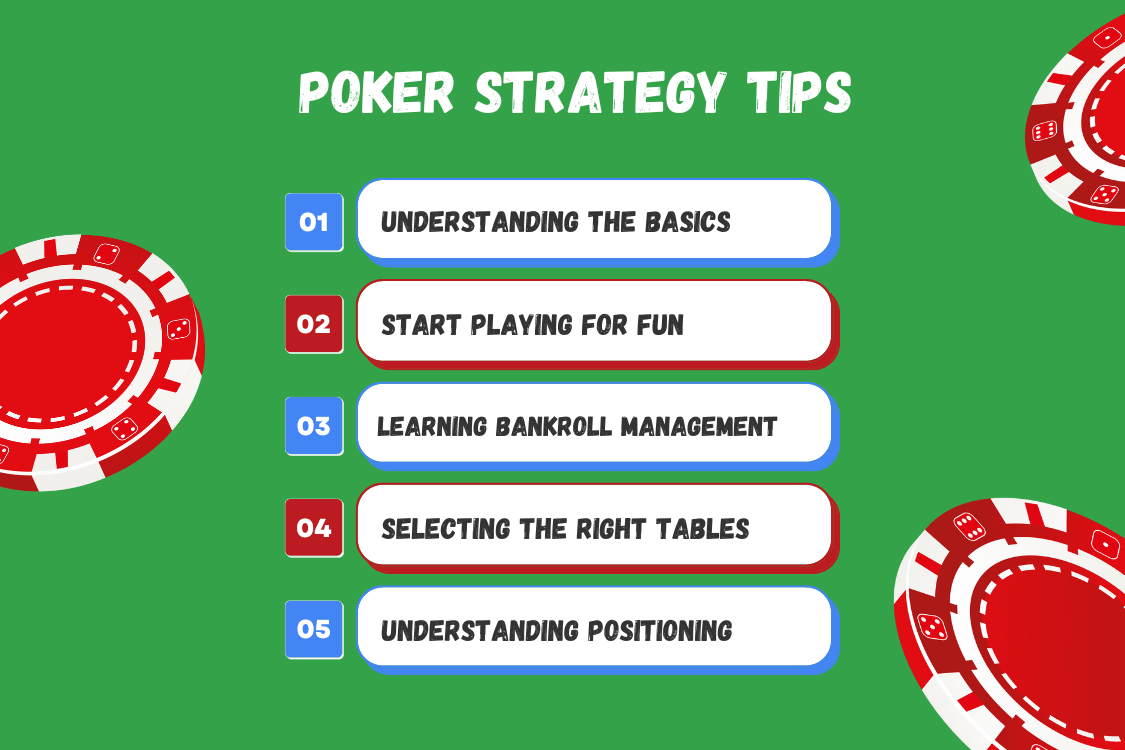 Tip 1. Understanding the Basics
First things first. As with every game, you first need to understand the rules before you can play poker well.
The foundation of winning poker begins with grasping the fundamentals. Before you can develop advanced strategies, you must comprehend the standard poker rules, hand rankings, and primary variations.
Study the hierarchy of hands like Royal Flushes (the best hand) and High Card hands.
Memorize the values of each poker hand to know which beats which. Learn the procedures for betting, when you can raise or fold, and how much can be wagered.
Become familiar with common poker variants like Texas Hold'em, Omaha, Stud, and Draw.
Understand the difference between cash games and tournaments.
Mastering the basics allows you to focus less on mechanics and more on technique at the table. With the fundamentals ingrained, you can concentrate on making optimal decisions for the situation. This paves the way for implementing winning strategies.
Tip 2. Start Playing for Fun or Micro-Stakes
Getting a feel for the game is crucial before playing seriously. You have multiple low-risk options to gain experience:
Play in real life with friends. Get comfortable with mechanics in a casual home game.
Free-to-play online poker games. Just play from your browser against real players or bots.
Free poker apps. These are easy to find in the App Store.
Sign up for a real money poker site but play with pennies.
You can for example deposit $20-$50 and select the lowest stakes around $0.01/$0.02. Treat this deposit as a learning budget by focusing on practice, not profits. The Micro-Stakes offer soft competition. Don't worry about winning, just absorb experience through hands-on practice.
The goal is to build foundations before forming bad habits. Low-risk options let you learn the ropes safely.
Tip 3. Learning Bankroll Management
Bankroll management is a crucial discipline for long-term poker success. It is very important to never risk more money than you can afford to lose. Set a bankroll limit based on your financial situation and stick to it religiously.
Only allocate a small percentage of your bankroll to each session or tournament buy-in. This ensures you have leftover funds if you hit a losing streak. The bankroll cushion gives you staying power to ride out unlucky streaks.
Take a conservative approach when moving up limits based on win rates and confidence. Don't let ego drive your limits higher. Incremental measured growth with a sufficient safety net enables sustainable profits.
All in all, bankroll discipline minimizes stress and tilt while promoting rational decisions.
Tip 4. Selecting the Right Tables
Choosing the right table is a critical yet underrated skill in poker. The stakes and format impact your strategy and winning potential. Think about cash games versus tournaments and sit-and-go's for example.
Equally important is selecting a table with weak, emotional players rather than strong regulars who will punish mistakes.
Seek out "fish" who tend to play too many hands.
Avoid sharks who only play premium holdings. Study waiting lists and player stats to find softer competition.
Move down if the game gets too tough. Don't let ego keep you at a table with many players clearly better than you.
Finding the most profitable seat relative to the skills of your opponents makes a tremendous difference long term. Just a few weaker players at the table can turn a losing situation into a big winner.
Tip 5. Understanding the Effect of Positioning
As a new player, focus on how position impacts your decisions. The dealer button rotates each hand, and your spot in relation to it matters! You should be playing differently in the Big Blind than in the Small Blind for example.
Early position (under the gun/UTG) means you must act before most opponents, so only try to play very strong hands like big pairs.
Middle position opens up more options, and you can enter pots with a broader mix of hands.
Late position near the button provides maximum information since you see what others do before acting. Use late position to play more hands and raise aggressively.
When out of position, be selective with starting hands and cautious after the flop. Position determines how opponents will react to your bets and raises.
Mastering position gives you an instant edge at lower stakes.
Tip 6. Using Pre-Flop Chart
Preflop hand charts are invaluable tools for beginners to learn solid starting hand ranges. They provide clear guidelines for which hands to play from every position.
Print out a preflop chart and keep it handy when you play online poker or live games.
Start with basic beginner charts focused on the fundamentals. You can advance to more nuanced charts later.
Stick closely to the chart recommendations especially early in your development. No need to play junk hands.
Pay attention to the significant differences hand requirements between early, middle, and late position.
With time you'll internalize proper opening ranges and can reference the charts less frequently. However, as a beginner, a chart simplifies the learning curve dramatically. Following prescribed preflop ranges removes much of the guesswork from poker's most critical decisions.
Tip 7. Understanding Bet Sizing
Bet sizing is a critical skill. The amount you bet or raise conveys information and requires balancing many factors. Here are some sizing guidelines:
Bet small with speculative hands or draws. Risk less but allow yourself to see additional cards affordably.
Bet large when you want to charge draws or protect a strong, potentially winning hand. Make them pay to continue or force out opponents.
Consider stack sizes. Bet relative to the pot but don't commit your entire stack unless necessary.
Favor small bets in multi-way pots and larger bets heads up.
When betting for value, size relative to what you think your opponent will call.
Don't always bet the same amount or opponents can read your patterns.
Pay attention to the sizing of your bets as a beginner. Start with simplified guidelines like smaller with draws, and larger with strong hands. Fine-tune your sizing through experience.
Tip 8. Focusing on the Right Decisions Long-Term
Avoid emotional decisions based on one-hand results. Take a detached view focusing on making optimal plays for the situation. This means distancing yourself mentally from short-term gains and losses.
Make balanced rational choices based on percentages and pot odds.
Accept variance knowing that correct decisions will be profitable over time.
Trust your strategy over intuitions in the moment.
Suppress ego and emotion at the poker table. Stay calm, analytical, and focused on making high-percentage plays.
The long run favors optimal detached decisions over feelings. Results will come through consistently sound poker.
Tip 9. Being Aware of Your Mental State
Your mental state impacts your decisions and your ability to play optimally. Prioritize playing when feeling focused and energetic with a positive mindset.
Avoid playing when frustrated, tired, or experiencing strong emotions. This almost always leads to poor choices.
If you find yourself going on tilt during a session, immediately stop playing and take a break.
Meditation and breathing exercises can help still your mind before sessions. Eat healthy and stay hydrated.
With a clear focused mindset, you make the best analytical decisions. Monitor yourself and don't play with cluttered emotions. Your mental state impacts your strategy and earnings so make it a priority!
Tip 10. Analyzing Your Game
Continuously analyze your poker game and results to improve. Review hand histories looking for mistakes in hand selection, betting, and decision-making. Identify mistakes in your play.
Maintain records of your sessions.
Discuss hands and strategy with other knowledgeable players to gain an outside perspective.
Stay up-to-date learning with poker training sites, books, forums, and videos. The game evolves quickly.
Regularly review the fundamentals like bet sizing, pot odds, implied odds, and positional play. Reground yourself.
Be honest in assessing yourself. Don't rationalize errors or overestimate abilities.
Set goals and benchmarks for measurable improvement.
Small incremental improvements compound over time. Never stop learning, adapting, and sharpening your skills if you want to win consistently.
Learn How to Win at Poker
Above just touched upon the basics. Turing into a winning poker player with consistent results requires experience and in-depth knowledge of ranges, odds, and psychology.
Making the step from a recreational poker player to a professional one is a huge leap. Below we will shine the light on multiple advanced poker tips that can possibly improve your game enough to become the best player you can be.
Important Poker Tips for Advanced Players
Sharpening Your Bluffing Skills
The best poker players make bluffing a crucial part of their toolbox. However, they also know reckless bluffing is a fast way to drain your bankroll.
Employ bluffs strategically in smart situations. Ideal spots include when opponents show weakness by checking or calling instead of raising with draws.
Bluffs work best against tight passive players not expecting aggression.
Choose your hands wisely by using blockers that reduce combos your opponent could have. For example, bluffing with J♦ 9♦ reduces flush draw possibilities.
Avoid repetitive patterns. If your table starts calling too often, revert to value betting. Always tell a story with your betting that aligns with the board as it makes bluffs reasonable.
While bluffing is important, don't overdo it. Selective smart bluffs in optimal spots will boost your win rate as you climb the ranks.
Understanding Ranges
Assigning your opponents a range of possible hands they could hold based on their actions and board textures is pivotal to optimal play.
Observe betting patterns and frequently shown hands to tailor your assigned ranges.
Put opponents on narrow value-heavy ranges when they show aggression. Expand ranges when players check and call passively.
Factor in position, assessing how polarized late position opening ranges can be versus early position.
Notice sizing tells based on bet amounts. For example, small bets typically indicate draws or uncertain holdings.
Mastering range estimation improves your hand-reading abilities tremendously. You can make better decisions against specific hands you put villains on when you assign accurate ranges.
Understanding Odds
Calculating pot odds, equity, and implied odds is essential for maximizing value with draws and judging profitable call downs.
Memorize quick pot odds guides for Gutshots, Flush Draws, and Straight Draws based on outs.
Compare known odds against pot odds when facing bets with draws. Discounted implied odds make draws like small Flush Draws profitable that pure pot odds do not.
Master the Rule of 4 and 2 to quickly estimate the odds of hitting your draw on the next street or river.
Use poker calculators and apps to gain accurate equity percentages and odds.
Always determine if the price is right to continue based on odds before committing more chips.
With experience, you will quickly estimate odds automatically during play. Your chance to win improves dramatically when you make emotions secondary to odds-based decisions.
Going for GTO Approach
GTO (Game Theory Optimal) is a mathematical poker approach using balanced ranges, mixed strategies, and exploitation. In theory, GTO play makes a player unexploitable. But GTO is hard to play perfectly and unnecessary against weak opposition.
Do study basic GTO concepts like betting frequency, sizing, and range construction to understand optimal play.
Watch GTO-focused training videos.
Try implementing aspects like mixed bet sizing and randomization against regulars.
However, don't get blinded by GTO. Against bad players, simplify your strategies and abuse their weaknesses rather than focus on balancing.
GTO is incredible for honing fundamentals and providing counter-strategies when opponents adjust well. But it's just one tool, not a rigid rulebook. The key is to add GTO concepts selectively but stay flexible.
Getting Familiar with Software and Tools
Another way to improve your poker game is by learning how to use quality software as it enhances learning, strategy, and reviewing hands. Trackers like Hold'em Manager and Poker Tracker compile key stats on you and your opponents. This reveals weaknesses and strong points.
HUDs display vital real-time opponent stats on the table. Tracking and HUDs are legal game-changers online.
Simulation software like PioSOLVER and PokerSnowie models optimum play to drill GTO concepts.
Preflop apps help you with your starting hand decisions to sharpen preflop skills.
Equilab calculates equity pre-flop and post-flop.
Leverage software to study away from tables and benchmark your improvement. Review your tracked stats and remedy flaws. However, don't overly rely on tools as a substitute for thinking, but do utilize the technology to level up faster.
Frequently Asked Questions
What is the best poker strategy?
Rather than rely on a singular "best" strategy, which doesn't exist, adaptability is key. Analyze your opponents for weaknesses. Then create an exploitative strategy targeting those weaknesses aggressively.
Poker rewards those who can identify and capitalize on specific vulnerabilities in a given situation or opponent.
How can I improve my poker skills?
Sharpening your poker skills never stops. Maintain a growth mindset. Commit to continuous improvement on and off the tables through ongoing study, practice, and review.
Getting familiar with all of the tips in this poker strategy guide can act as a solid foundation to build upon and win the pot!
What are good sources to learn poker online?
Quality online poker learning resources include training sites like RunItOnce, and PokerCoaching.com, which provide videos, articles, and software.
YouTube channels by pros like Doug Polk and Jonathan Little also have excellent free content. You can also Join forums at 2+2 and Reddit to discuss hands and strategies.
How does Texas Hold'em strategy differ from other variants?
Texas Hold'em uses two hole cards versus four in Omaha, affecting hand values. Draw poker involves no community cards, requiring different betting.
Texas Hold'em simplifies hand values and ranges. Other games feature more variables, nuanced strategies, and math. Texas Hold'em universal fundamentals like position and aggression apply to most games, but each variant has unique strategic complexities to master.