Introduction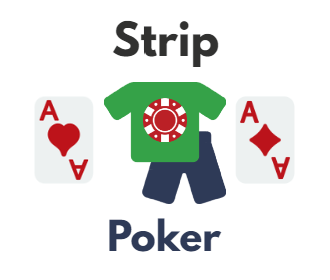 Strip Poker is a comparing card game in the Poker family. Strip Poker is notorious for its intimate implications, with the option of playing down until one is completely naked, at which point they are a "Loser" and must sit at the table naked while the remaining Players finish their game.
Alternatively, Strip Poker can be played "Safe", where Players do not discard anything past their underwear. Though this defeats the purpose of playing the game somewhat, it's better if people are uncomfortable or are all just platonic friends. However, in that case…why even play?
Strip Poker is often represented in American media as a way to show characters are casual about their own nudity or to show that two characters are secretly dating. One common trope is the "Walk-in", where the main character walks in on two supporting characters that do not like each-other playing Strip Poker alone. This is to show that they may secretly have a relationship in order to save face, as they publicly dislike each other.
How to Play Strip Poker?
Strip Poker is played using the Standard Anglo-American 52-card deck. If there are Jokers present, they should be removed from the deck. At the start of the game, just as in any Poker variation, a Dealer should be decided by random means agreed upon by all Players present at the table.
Getting Started
Once a Dealer has been chosen, Players will need a few Poker chips in order to wager their items of clothing. The chips are optional, and Strip Poker can be played without them, but it makes the game easier to keep track of when there is a large number of people playing at once.
Assigning Clothing to Chips
These chips should be associated with a corresponding piece of clothing.
For example:
One chip is worth one sock
Another chip is worth the other sock
A third chip might be the pants.
Each chip should correspond to one article of clothing and one article only.
Furthermore, Players should try to have the same amount of clothing, more or less. This is where the chips come in handy, as Players can assign multiple articles of clothing to a single chip if they are wearing significantly more than the other Players.
Player 1 has 10 articles of clothing, but Player 2 only has 8, so Player one makes 2 of their chips remove an additional part of clothing, such that both Players have 8 total chips, and both Players will be completely naked when they lose all 8 of those chips.
Order of Undressing
Players generally do not wager whatever clothing items they want, but rather go in a certain order to gradually undress. For example, the order might go Jacket>Hat>Socks>Shirt>Pants>Underwear. Players wager along an order something like that, where outer layers of clothing must be wagered before the underclothes can be wagered.
Dealing the Cards
Once each Player has their chips, or at least has determined what clothes they will be wagering at what points, the Dealer can deal out the shuffled cards to each Player.
Each Player will be dealt two cards to their hand that they should hide from other Players. They are able to look at these two cards. After each Player has been dealt their hand, or hole-cards, then two extra cards will be dealt face-down in front of each Player. These cards cannot be looked at.
The Flop and Exchange
Next, Players will deal the Flop normally as in Texas Hold'em. This means three face-up cards that will be dealt into the center of the table. These cards will be community cards, usable by any Player for forming a 5-card Poker hand.
Once the flop has been dealt, Players are able to exchange the two face-downs in front of them. They may either exchange neither, one, or both of the face-down cards. However, they may not look at them at any point. When cards are exchanged, their new cards will be dealt face-down, but Players may look at them. If a Player exchanges only one card, for example, then they are allowed to look at both of their face-down cards, after the exchange.
If a Player chooses not to exchange, they may still look at their face-down cards.
Turn and River
Following the exchange, the Dealer will then deal out the Turn and River as one normally would in Texas Hold'em. However, there are no betting positions in Strip Poker.
Determining the Loser
Players are not attempting to form the highest-ranking hand according to the traditional Poker hierarchy in order to take a whole pot of wagers.
Instead, Players are attempting to have a better hand than the worst hand at the table according to that same hierarchy.
For example, if the worst meld at a table held by a Player is a pair, then all other Players with better cards than a Pair win, and only that Player with the pair is considered the loser.
In the case of a losing tie between two Players, both of them are considered the loser.
The Showdown
Following the exchange, the Showdown begins. Players form the best possible five-card Poker hand that they can form with the four cards in front of them, and the five community cards. The Player that forms the worst hand, relative to all the other Players at the table, is considered a loser.
Losing Chips and Exiting the Game
Losers in Strip Poker always lose one chip per loss. When a Player completely runs out of chips, they are considered out of the game.
However, according to traditional rules, Players are not supposed to get up from the table until the game is done. This means that even though you are naked, you are supposed to remain naked at the table until the game is over.
Ending
The game then continues until all Players but one are completely out of chips, and thereby, clothing! The last Player, being the winner, is saved the potential embarrassment of getting naked.
Strip Poker Rules
The rules of the game are summarized below:
Players should try to have a near-equal amount of clothing on when the game begins. If someone is only wearing a tank top and underwear at the start of the game, they won't exactly be able to strip at the same speed as someone wearing a jacket, hat, over-shirt, under-shirt, pants, etc.
Players that run out of chips/clothing and are now naked must remain at the table. The whole point of Strip Poker is either the thrill or humiliation of being naked in front of lovers or friends. If you simply get up and walk away the moment you're naked, why play Strip Poker at all? It's a game for the confident.
There are many winners and only "one" (there can be multiple losers in the case of a tie) loser per round of Strip Poker.
Someone with too many clothes relative to other Players should assign multiple articles of clothing to a single chip. Someone with two few clothes should assign multiple chips to a single article of clothing. For example, if someone has 10 articles of clothing, assign their socks and hat to the same chip. If someone only has 5 articles of clothing, make their shirt worth 2 or 3 chips.
Scoring
Strip Poker is scored using the chips, and by extension the amount of clothing that they still have on their body.
If you're playing a game, and everyone else at the table is down to their underwear while you're still in your winter coat, then you're playing very well.
If you're down to your underwear before anybody else has taken their tie off, then you're playing very badly.
Of course, Strip Poker is a fun and generally non-competitive game. The point of the game is the stripping, not really the Poker. Don't be too distraught if you lose.
Example Hand
Imagine the following is your hand at the start of a game of Strip Poker:
J♣ 3♠
Now suppose the Flop is the following: 9♣ 2♦ 8♣
Assuming you were the first Player to be dealt cards in the game, it would actually be advantageous for you to keep your initial bonus cards, rather than making an exchange.
This is because you already have 3 of the clubs needed for a flush visible. One in your visible hand, and 2 in the Flop. It is better to keep your bonus cards rather than exchanging because of a principle similar to that of the Monty Hall Problem.
Your bonus cards, if you were dealt first, were dealt from a deck of 50 cards (52-2 cards in your hand). This maximizes the probability that you were dealt another club card. If you exchange at this point, you are drawing cards from a deck of more than 50 cards depending on the number of Players at the table.
Essentially, your statistical odds are much higher if you keep your cards rather than exchanging them in this particular situation.
Do's, Dont's, and Tips
As explained above, it is advantageous to keep your bonus cards rather than exchanging them if you are trying to go for a straight. You are more likely to be dealt the components of your straight when the deck has the highest number of cards in it, and since your bonus cards were dealt when the deck had more cards in it, those cards are more likely to already be in your bonus than if you were exchange it from the smaller, depleted deck.
Strip Poker is not too serious of a game. It's intended to be a fun party game, with an exciting or humiliating twinge depending on the company you are presently keeping. Don't take the game so seriously, relax, and get naked when you're supposed to. It's a game for fun.
Only suggest playing Strip Poker if you're a very confident person yourself. The risk of rejection to the suggestion always exists, which runs the risk of an awkward conversation, and it would be hypocritical to suggest Strip Poker and then be modest about nudity. Play with a group of good friends, or another socially appropriate situation.
Don't be a creep!
Frequently Asked Questions
Are chips used in Strip Poker?
Chips are preferably used in Strip Poker, as it makes it easier to keep track of each Player's clothing, and allows to set up a system such that everybody has roughly the same number of chances to lose before they have to get completely naked.
What is the most common variant?
Strip Poker can be played using any form of Poker rules, though Hold'em and Five Card Draw are going to be the most common variations that one will find if they search online.
As Strip Poker is a fun game played on double dates or house-parties, any number of house rules can be applied in order to make the game more interesting as desired.
Does Texas Hold'em Strip Poker exist?
Yes, as mentioned above, Strip Poker could easily be played with any version of Poker. However, the game will have to be adjusted slightly, as Players should not be putting clothes back on if they are winning.
Strip Poker works best when there is one Loser, and without betting procedures to ensure Players only strip one piece of clothing per Player at a given time. Players can use some of the mechanics of Texas Hold'em, but not all of them.
Can you play Strip Poker with two people?
Yes. Strip Poker is a game that can be played with two people, though the intimacy of such a thing is going to imply an intimate relationship. If you plan on suggesting to someone that you play 1-on-1, you should probably be in a relationship first, to avoid an awkward rejection.
Also see