Introduction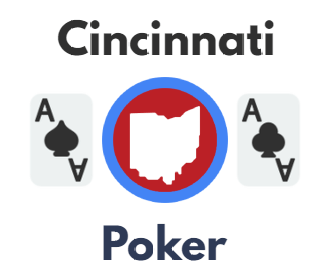 Cincinnati Poker is a regional variant of the rules of Texas Hold'em. It is most popular in its namesake of Cincinnati Ohio. Cincinnati Poker is a matching game, like all games in the Poker family. Although the game was not featured in the movie, The Cincinnati Kid is a famous movie starring Hollywood Legend Steve McQueen as the titular poker player.
How to Play Cincinnati Poker?
Cincinnati Poker is played using the standard 52-card Anglo-American deck. Some variations of the game can include Jokers, in which case the best hand in the game is the five-of-a-kind. This guide will not assume there are Jokers, and as such will use the Royal Flush as its best possible hand. This will be explained further in the Card Hierarchy section.
Players begin the game by paying the Ante, a small agreed-upon wager that each Player must pay equally. After each Player has paid the Ante, a Dealer is chosen randomly.
After a Dealer is randomly chosen, each Player will be dealt five cards face-down. Players are free to look at their own cards, but not at the cards of other Players. There will then be a betting phase, after this initial deal.
In a Poker betting phase, Players take turns starting clockwise from the Dealer and have 4 possible options:
Players may Fold, surrendering their cards, all previous wagers to the pot, and any claim to the pot regardless of their cards.
Players may Check if there is no outstanding bet, or if they are the first player to take their turn. A Check is essentially a "pass."
A Call is a bet made by a player that matches the previously highest bet. If Player 1 bets 5, Player 2 must call 5. A "Bet" is simply the first bet made in a given betting phase.
Players are also able to Raise. When raising, Players are increasing upon the previously highest bet, forcing all other Players to then call their new wager. Players may also go All-In, wagering all of their chips at once. When this is done, Players must form a side-pot in which all other Players match their All-in bet, using their winnings from the main pot as well as any additional necessary funds. Afterward, Players that did not go all-in continue to wager in the main pot.
Once these positions have been fulfilled, and all Players have either folded or matched the highest outstanding bet at the table, five cards will be dealt face-down. One of those cards will then be flipped face up, and another betting phase occurs.
This process continues until all but one of the face-down public cards have been flipped face up. Players will wager one last time, and then the final card is flipped face-up for the Showdown.
In the Showdown, Players use the ten cards (their 5 personal and the 5 public) in order to form the best possible 5-card Poker hand that they can.
The winner takes the full pot, and ties split the pot evenly. Players that formed a side-pot may only win the value of their side-pot.
Cincinnati Poker Rules
The rules a player needs to know in short:
Players must always match the previously highest bet in order to continue into the next phase of the game.
Players must always pay the Ante before they will be dealt their initial cards.
The game follows the standard Poker hierarchy, explained in the table below.
Some variations offer the use of the Jokers.
Strategy & Tips
Due to the high number of cards each Player has to choose from, ten, the odds of winning a game of Cincinnati with a simple pair, high-card, or two-pair is very unlikely. As such, if you cannot form at least a Three-kind or a Straight, folding might be the best course of action.
Cincinnati has a betting phase after each individual public card is revealed. Once it becomes obvious that you cannot form at least a straight by the time the 2nd card is revealed, for a total of 7 cards, consider folding. Otherwise, if you keep betting on the off-chance that you get that perfect hand, you're more likely to lose money than gain it.
Card Hierarchy
The traditional Poker hierarchy follows in Cincinnati Poker. The below table assumes this is a non-Joker variant of Cincinnati.
| Meld | Example |
| --- | --- |
| Royal/Straight Flush | 9♦ 10♦ J♦ Q♦ K♦ |
| Four-of-a-Kind | 4♦ 4♣ 4♠ 4♥ 5♣ |
| Full House | 2♥ 2♦ 2♣ 3♠ 3♣ |
| Flush | 4♣ 9♣ Q♣ K♣ A♣ |
| Straight | 3♥ 4♣ 5♠ 6♦ 7♥ |
| Three-of-a-Kind | 3♥ 3♦ 3♣ 6♠ 8♣ |
| Two-Pair | 2♥ 2♦ 6♠ 6♣ 3♥ |
| Pair | 2♥ 2♠ 4♦ 3♣ 6♠ |
| High-Card | (K♦) 3♦ 6♣ 8♦ 9♥ |
Example Play
Imagine the following are the 5 cards in your hand:
3♥ J♣ 9♥ 5♠ 2♦
And now suppose that the following are the public cards:
6♣ 5♥ 2♥ K♠ 8♠
The Player could form a two-pair, but this is the strongest possible hand that you could form given these circumstances. As Two-Pair can only beat pairs and high cards, consider the advice given in the strategy section above.
Even though no flush could be formed, assume one could be, and the 8♠ is instead an 8♥. Even then, a Flush composed of 3 public cards is likely not going to win a hand. This is because the majority of the flush comes from the public, and another Player is also likely to have a flush.
At best, a Player that pushes looking for a flush might win, but at great risk. Otherwise, they could split the pot, or lose outright.
The Cincinnati card game gives Players so many cards that a flush or straight can be compared to a Two-Pair or Three-Kind in other Poker games. Sometimes, hoping for that Flush might not even be worth it.
FAQs
How many cards are dealt in Cincinnati Poker?
Players are dealt five cards face-down, and then an additional five cards are dealt into the center for public use. This leaves a total of ten cards for a Player to use to form their five-card Poker hand.
What are the best hands in Cincinnati Poker?
This depends on which variant of the game you are playing, though generally speaking the best will either be the Royal Flush, or the Five-of-a-Kind, depending on whether or not the variant you are Playing has Jokers or not.
Are there any variants on the game?
There are several Cincinnati variants.
Some versions of the game, such as fixed-limit, do not allow Players to make a wager that is greater than the total value of the pot.
Others involve the use of the Jokers as wildcards.
One could also play Hi-Lo Cincinnati, where the best and worst hands at the table split the pot 50/50.
Also read