Definition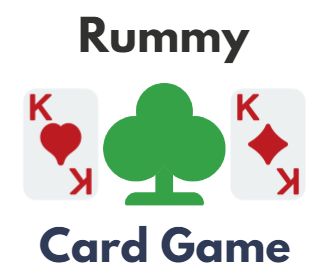 Rummy is a genre of card games based around matching cards to form sets, involving a perfect blend of strategy and chance.
The goal of the basic Rummy card game is to build up a hand of sets and combinations, and decide when to end the game, while also minimizing the chances of losing. The game and its complexity may seem complicated, but it is deceptively so.
How to Play Rummy?
Rummy is designed for 2 or more players, and only requires the standard Anglo-American 52-card deck.
Despite the large variety of Rummy games, such as the popular Gin Rummy and Indian Rummy, all the way to the Mexican game of Conquian, the rules, and ideas follow a similar template. This guide will give an overall impression of how Rummy plays.
Decks
The deck used varies based on player count and deck type. For example, the traditional Conquian uses the Spanish 40-card deck, with 2 decks used in the case of 4-players; on the other hand, basic Rummy uses the standard 52-card deck.
Regardless, the different decks can be adapted, as traditional European decks have similar rulesets to the modern Anglo-American deck. To get the Spanish deck, the 8, 9, and 10 cards are removed from the standard deck.
Dealing
Much like other card games, the dealer is determined by card-splitting, and the selected player shuffles the deck. Each player is dealt cards based on the rules of the game. The remaining cards are then set aside, forming the draw pile or stock.
If the Rummy game involves discarding to a discard pile, the top card of the stock is placed face-up, forming the discard pile.
Melds
The goal when playing Rummy games is to form a hand of melds, aiming to win by removing as many unmatched cards, sometimes known as deadwood, as possible.
The allowed melds are sets and sequences.
Sets consist of cards of the same rank or value, but from different suits.
Sequences are straights, or consecutive cards from the same suit.
Examples of the legal melds are shown below:
A straight of 5 cards (same suit):
7♠ 8♠ 9♠ 10♠ J♠
A set of 4 cards:
2♠ 2♦ 2♣ 2♥
If wild cards or Jokers are included in the deck, they can be used to substitute any card in a combination.
Most variations of the traditional Rummy card game have a minimum number of cards per meld, normally 3. In some variations there are also maximum number limits, with numbers exceeding 5 being commonly disallowed.
How to Win Rummy?
Winning is normally based on points. For example, in Oklahoma Gin, the first person to reach a predetermined number of points, gathered across multiple rounds, will win.
Turns
The dealer begins the round. Each player draws 1 card at the start of their turn, and generally has the option to draw from the stock or the last revealed card on the discard pile. To end their turn, a player discards a card of their choosing. Turn order is generally in anticlockwise order, though this can differ in non-European Rummy games.
The goal of the game is to improve one's hand by careful discarding.
Calling Rummy
Calling Rummy happens in the rare case where the player completes a full hand consisting of only melds. This can only be done with a hand consisting of only melds. This can be done once a draw completes the melds. By discarding one excess card, players are 'floating' until the game ends (if the game variant does not allow premature endings).
Showing/Going Out
Showing ends a round, and can be done at any point provided certain conditions are achieved. Normally, the essential prerequisite is the need for at least 2 melds in hand. In some games, players can Show at any time, even if there are still unmatched cards.
Certain variations of the classic Rummy game also require a player to Show individual melds as they are completed, revealing them on the board. Showing is also followed by the process of laying off.
Laying Off
Laying off allows other players to play cards into a different player's shown melds. Regardless of whether the showing is done at the end or during the round. An example of laying off is shown in the Hands section of the guide.
In point-based games, laying off allows the players to offset the point gain, and in some cases steal the victory with the right cards in hand.
In Gin Rummy, since unmatched cards are still in hand during the Show, the other players can offload their unmatched cards to the melds of the hands of the showing player.
In 500 Rum, players are allowed to play their cards to reveal melds of other players if they desire, allowing players to replace weak cards if necessary.
Rummy Rules
Rummy, regardless of variation, will follow a similar set of rules.
Showing
These are all terms describing the process of ending a round. Since certain variations of Rummy allow players to end the round at any point, there are certain rules present to prevent players from prematurely ending the game, making it completely chance-based.
In games allowing the ending call even without full hand melds, players are required to have a minimum of 2 melds in hands, as well as a total unmatched card value (known as deadwood value) of less than 10. This is also necessary since these games are scored based on the difference in deadwood values.
In games only allowing the end call with a completed hand, players will generally be required to reveal their melds in the preceding turn, giving other players the opportunity to lay off cards.
Discarding
Rummy discard rules require players to cards at the end of their turns, ensuring that they always have the same number of cards outside of their turns. Discarded cards in the pile can be drawn by different players if it is at the top. Players can play cards into the revealed melds of the forfeit player.
Melding
Melds in Rummy variations have a minimum of 3 cards, and a maximum value that differs from variation to variation.
Declaring Rummy
This is a rare occasion where a player manages to get a full hand consisting of only melds. In some variations, players can only call Rummy when they have not shown any other melds previously.
Rules Summarized
In conclusion, the general Rummy rules are:
Dealer is determined via deck splitting.
Each player is dealt a number of cards as required by the game.
The remaining cards form the stock, and the first card is revealed, forming the discard pile.
Each player takes their turn by drawing a card from the stock or discard pile, and discarding a card at the end of their turn.
Players can steal discards, if allowed by the game.
Once a player is satisfied with his/her hand, they can end the game by showing their hand. (This differs from game to game).
Scoring is done, and the winner becomes the dealer of the next round.
The first player to achieve the winning conditions will become the victor.
Scoring and Points
Rummy scoring is based on the values of unmatched cards. In general, this is based on the difference in value. The values of each card rank are shown below:
2 – 10: Face Value
10 – K: 10 points
Ace: 1 point
Joker: 20 points (when included)
In games allowing the round to end at any time, the score is awarded to the winning player with the lowest unmatched card sum based on the differences with the other players. Here, the responding players can have the chance to steal the win by Laying Off.
Most game types will end once a player reaches the point threshold.
Hands Examples
Rummy hands are focused on ending the game with a satisfactory hand, which, depending on game rules, will either consist entirely, or mostly of melds. Melds include 3 or more cards, and include runs and sets. Examples are shown below:
A straight of 5 cards:
7♠ 8♠ 9♠ 10♠ J♠
A set of 4 cards:
2♠ 2♦ 2♣ 2♥
Illegal set of 2 cards (below the minimum of 3 cards per meld):
7♦ 7♣
Incomplete Hand and Laying Off
An example hand from the game of Gin Rummy and the layoff phase is shown below. Player 1 calls for the round end.
Player 1 clearly wins via score, but player 2 can lay off their J♥ and 7♥ to the first meld in Player 1's hand. This results in:
It can be observed that Player 2 now has less deadwood than Player 1. Player 2 is awarded the difference of 4 points.
Complete Hand and Laying Off
In games like Conquian where a complete hand is required to end a round, the scores are still counted similarly. In this case, Player 1 has a complete hand and calls for the round to end.
In this case, Player 2 can lay off their 4♥ and 7♦ cards, resulting in a reduced score for Player 1.

Hence, Player 1 is awarded 4 points for their victory.
Strategy Tips
The keys to Rummy strategy are to know when to end the round, especially in those variations allowing incomplete hands.
Discard carefully. A discarded card can be used by another player to complete melds, whereas if it is still in hand, it can be used to complete melds by laying off.
Discard pile draws are arguably better, since you know for certain what you can get.
You do not need to end the round immediately when you can. Improving your hand can help prevent lay offs and stolen wins.
Counting cards is important. While this skill is difficult, it can help in winning all forms of card games.
Sets are easier to form than runs. Discard accordingly.
Variations
The American variation of Rummy, this card game is unique as discards can only be taken to form melds, which are subsequently revealed and set aside. This plays somewhat similarly to Mahjong.
A classic variation on 500 Rummy, players attempt to make sets using seven cards. This game is played in partnerships of 2. The popular Hand and Foot card game also is very similar.
The originator of the Rummy playstyle. Conquian is of Mexican origin and uses the 40-card deck. Players use cards from other melds to form newer melds.
Sometimes known as Combination, this game goes until a player "goes out", which is when a player can discard the final card in their hand. This adds a layer of complexity, as players cannot discard haphazardly.
German Rummy
Popular in Germany and Austria, each player plays to meld all their cards, with no overly complex rules, making it an easy-to-learn game.
The most popular Rummy variation. Designed for 2 players, each player draws and discards until they have a satisfactory hand, where they then end the round by calling for an end.
Popular in India, Indian Rummy combines rules from Gin and 500 Rum to make a fast-paced game. The draw of this variation is the focus on skill, due to the laws of the country, hence the massive online popularity of this game type.
A variation of Rummy similar to Contract Rummy, with added rules that allow a player to affect the scoring by calling "Liverpool".
Royal/Michigan Rummy
A merger between aspects of Poker and Rummy, this game focuses on the gambling aspect with bids, while following similar rules as 500 Rum.
Sometimes known as California Rummy, and characterized by the special action of "buying". These are the option of stealing the discard out of order.
Frequently Asked Questions
Can you play Rummy online for free against the computer?
Yes, there are many Rummy game simulators available online, and you don't need to play with real players if you do not want to.
When can you call Rummy?
Rummy can be called when a player has not shown any melds previously.
What is floating in Rummy?
When a player has melded all cards, and they do not have a discard to make, they float, which means they draw from the stock and immediately discard the same card.
What happens in Rummy when the deck runs out?
When the deck runs out, depending on the game variation, the round is deemed void or the player with the most melds made will win.
How to count cards in Rummy?
Counting cards can be done using estimation and memory. To practice, once a card has been revealed, mark it down on a piece of paper.
Do you have to discard to go out in Rummy?
Yes, once you've gone out. You either end the round or float, depending on the game mode.
Also read