Introduction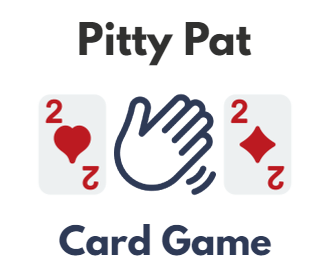 Pitty Pat is a fun matching card game that originated in Belize, and can be played with two to four players. Although it may not seem like it, the game is related to Rummy and to Conquian (Coon Can) in particular.
It's easy to learn for children and lots of fun as a family activity.
How to Play Pitty Pat?
To play Pitty Pat you will need one standard 52-card deck. No real relative ranking of cards is necessary for this game.
The objective of the game is to get rid of all your cards before anyone else does. You do this by playing certain sets or sequences of cards into the discard pile while also drawing new cards from the draw pile when needed.
Determining The Dealer
The first step in playing Pitty Pat is determining who the dealer shall be.
Traditionally, a player will begin to deal out cards one at a time from the shuffled deck face up until any Jack appears – this person becomes the lucky winner and dealer for that game!
But if players have difficulty deciding on seating positions, there's an alternative method: everyone draws one card from the shuffled deck and seats themselves around the table according to rank of card drawn, starting with the highest rank first.
Here are four easy steps for allocating seating arrangements:
Shuffle Deck
Draw Cards
Arrange Seats
Start Game
These can help you get started quickly and easily so you can focus on having fun! With these simple steps, it should take no time before you're ready to start your round of Pitty Pat.
The Deal
The player to the dealer's left begins by playing one of their cards face-up onto the play pile.
The card must match either suit or rank with the topmost card in the play pile; if they cannot do this, then they must draw a card from the stock pile until they can successfully place a matching card on the play pile.
If the stock pile runs out and the player is still unable to make a move, then it becomes that player's turn again but no more cards are drawn.
Play continues like this around the table until someone has run out of cards – at which point everyone else adds up how many cards remain in their hands, subtracts this total from 25 (the maximum number possible) and whoever gets closest wins.
When all players have had an equal amount of turns, each remaining card counts as 1 point against them.
Gameplay Rules
Continuing on from the previous section, the gameplay is where the fun of Pitty Pat really begins.
Players take it in turns to either play a matching card or draw one from the deck until someone wins the hand.
Here are three key rules that players must follow:
If, at the start of their turn they have a card of the same rank as the current top card of the play pile they may play that card from their hand.
If, on their turn, they don't have a matching card then they must take the top card of the draw pile and place it on top of the discard pile.
If a player plays all their cards during their turn then they win that hand and earn themselves one point; if two cards form a pair then this also counts for winning.
Ending
The first person with five points declared victory and wins the game. So let's get playing!
Conclusion
Playing Pitty Pat is a great way to spend time with family and friends. It's easy to learn, yet complex enough to keep you entertained for hours at a time.
I've been playing since I was a kid, and it still feels just as exciting every time we set up the table.
Whether you're looking for something new or want to revisit an old favorite, consider giving this game a try – you won't be disappointed!
FAQs
How many cards do you start with in Pitty Pat?
Each player is dealt five cards at the start of the game.
How many pairs are in Pitty Pat?
Since Pitty Pat is played with a 52-card deck, there are 78 possible pairs in the game.
Can you swap cards?
You can't swap with other players. However, if you are unable to match the rank of the upcard then you can take a new card from the stock pile.
Is Deuces Wild in Pitty Pat?
Yes, deuces are wild in this game.
Also read