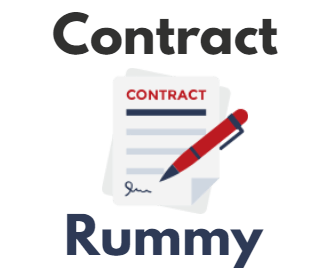 Definition
Contract Rummy is a variation of Rummy that is particularly popular. It is similar to another variation known as Progressive Rummy. They are almost identical games, except that in the Progressive version, each player is dealt an additional card at the start of each round.
How to Play Contract Rummy
Decks
Contract Rummy is traditionally played with 4 people using two Joker variant Anglo-American standard 54-card decks combined into a single deck, or stock.
However, to play with more than 4 people: simply add another deck for each two additional Players. 3 decks for up to 6 Players, 4 decks for up to 8, etc.
Contracts
There are two types of melds, or contracts, in Contract Rummy. These are Runs, and Books.
Runs
Runs, like a Straight in Poker, denotes cards that are incremental in rank. In Rummy-style games, these Runs are also required to be of the same suit. For example, 7♦, 8♦, 9♦.
In order to place a Run on the board, it must be at least three cards long.
Books
Books are groups of cards that are all the same rank, regardless of their suit. For example, 9♦, 9♣, 9♠.
Books, like Runs, must be at least 3 cards long when they are played.
Players may also play off of a meld that is already on the board. For example, if Player 1 places a Book of three 9 cards, and Player 2 has a 9 in their hand, Player 2 may place their 9 on the board, within the book already placed by Player 1.
Deal
The game will begin with a deal. The Dealer will either be drawn for, with the highest card being the Dealer, or voluntarily.
The Player clockwise to the Dealer will start the round, and will become the Dealer in the following round.
In the first four rounds, each Player will be dealt 10 cards. In the last three rounds, Players will be dealt 12 cards instead.
Once each Player has been dealt their cards, the remaining cards will be placed in the center of the board as a "stock", or a deck from which all Players may draw from on their turn.
The top card of the stock will be turned over, face-up, and placed next to the stock. This represents the discard pile.
At the start of a Player's turn, they must draw one card from the stock or the discard pile. At the end of their turn, except on round 7, they must discard one card as well.
Rounds
The game is broken up into 7 rounds, each with their own unique rules in order to meld.
Round 1: 6 cards, 2 Books.
Round 2: 7 cards, 1 Book and 1 Run
Round 3: 8 cards, 2 Runs
Round 4: 9 Cards, 3 Books
Round 5: 10 Card, 2 Books and 1 Run
Round 6: 11 Cards, 1 Book and 2 Runs
Round 7: 13 Cards, 2 Books of 3 cards and 1 Run of 7 cards.
Round 7 also has an additional unique rule: cards may not be discarded in the 7th round.
Melding
In order to meld, a Player must have the requisite number of cards on the board after their meld.
For example, in Round 1, if a Player has the cards in order to form 2 Books, they may meld right away. However, in Round 3, they must either have the cards to make two separate Runs of 4 cards, or else they will have to add cards onto another Player's meld until they can make a smaller Run.
A round continues until a Player is "out", or has emptied their hand of cards. When this happens, that Player scores 0 points for the round.
All other Players must calculate the penalties they take, based on the cards that are still in their hand at the end of the round.
Penalty point values are listed below in the Scoring section.
End
The game ends after a Player is "out" in the 7th round. At this point, all the previous penalty totals are calculated. The Player with the fewest points at the end of all 7 rounds wins the entire game.
Rules of Contract Rummy
Although it is similar to another variation of the Rummy card game known as "May I?", Contract Rummy has several distinct rules from May I, including joker-swapping and the special rules for Round 7
Where there is a Joker in a Book or a Run, official rules state that a Player with a card that matches the Joker's value within that meld may exchange that card for the Joker, placing the Joker in their hand instead.
Players may place individual cards on melds that are already on the board. However, melds must follow the round's requisite number of played cards, and must have at least 3 cards within them in order to be played.
Suits do not matter for Books, but they do matter for Runs.
Scoring
Melds in Rummy-style games do not generate points. Instead, the purpose of melds in Rummy is to remove the cards from your hand in order to avoid penalty points at the end of the round.
Cards that remain in the hand at the end of the round are tallied thusly, and their scores are total together and added to your score. Remember, the lowest score in Contract Rummy wins.
Here is a helpful score chart to tally together penalty points at the end of a round:
| Card | Scoring Value |
| --- | --- |
| Ace | 20 Points |
| Joker | 20 Points |
| 2 | 20 Points |
| K, Q, J, 10 | 10 Points |
| 9-3 | 5 Points |
Hands
Here is a possible board and hand in round 4 of Contract Rummy:
Board
2♦, 3♦, 4♦,5♦ 3♦,3♣,3♠ 6♣,6♥,6♠
Hand
10♦, Q♣, A♦, 5♠,3♣, 8♦, 6♥, 8♥, K♦, Joker
The Joker and the 6 could be used in the Run, or the 6 could be used in the Book while the 8s are combined with the Joker in order to make a unique Book on the board.
This would be the best move, as it takes 4 cards out of your hand.
Variants
Frequently Asked Questions
Can you play Contract Rummy with 8 people?
Yes. Contract Rummy can be played by as many Players as desired. Simply add 1 deck for each two additional Players. Round up, meaning if there are an odd number of Players, such as 5, play with three decks. 7 people, 4 decks, etc.
How many cards are dealt in Contract Rummy?
10 cards are dealt during the initial 4 rounds, for the remaining three rounds 12 cards will be dealt instead.
How many decks are used in Contract Rummy?
This depends on the number of Players. As previously started, one deck should be added for each additional 1-2 Players.
Can you play online?
No. This exact variation of Rummy does not appear to be readily available for play online, so it's time to break out the decks!