Introduction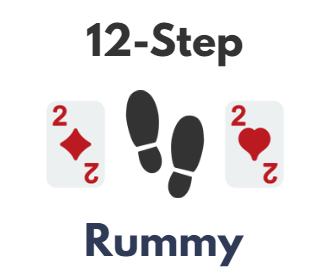 12-Step Rummy is a fun and strategic game for 2 to 5 players that combines set collection and sequencing to complete 12 contracts.
It has many similarities to regular Contract Rummy but also some unique rules that require new strategies.
Goal
Be the first player to complete all 12 contracts. If multiple players complete the 12th contract in the same round, the player with the lowest point total wins.
Rules at a Glance
For those that don't like reading too much, here is a quick summary of the 12-Step Rummy rules:
Deal 13 cards to each player
Complete 12 contracts in order
Draw 1 card from the stock or discard pile each turn
Discard 1 card at the end of the turn
Jokers and 2s are wild
Aces high or low
Lay all cards for a contract down simultaneously
Can lay off cards on your own or others' melds after completing your contract
Score based on cards left at the end. The lowest score wins.
Deal and Setting Up
12-Step Rummy uses two standard decks plus jokers for 2-5 players. You can add another deck and jokers for each additional two players.
The dealer deals 13 cards to each player, starting with the player to their left and continuing clockwise. Place the remaining cards face down as the stock pile. Turn the top card of the stock pile face up to begin the discard pile.
Melds
Melds in 12-Step Rummy consist of either Sets or Runs.
Sets
Three or more cards of the same rank, such as three 5s or 4 queens. Jokers and 2s can substitute for other cards to make sets (wild cards).
For example, you could make 5-5-Joker-2, counting as a set of four 5s.
Runs
Four or more cards in sequence of the same suit. For runs, jokers and 2s must be separated by at least one natural card.
For example, you could make a run of 6-2-8-9 using a 2 as a substitute for the 7.
Aces can be used at both high or low ends of runs, so A-2-3-4 and J-Q-K-A are valid runs.
Contracts
There are 12 contracts that must be completed sequentially:
| Round/Contract | Requirement |
| --- | --- |
| 1 | Two sets of 3 |
| 2 | One set of 3 + one run of 4 |
| 3 | Two sets of 4 |
| 4 | Two runs of 4 |
| 5 | Three sets of 3 |
| 6 | One set of 4 + one run of 4 |
| 7 | One set of 3 + one run of 7 |
| 8 | Two sets of 3 + one run of 4 |
| 9 | Two sets of 5 |
| 10 | Two runs of 5 |
| 11 | One set of 8 |
| 12 | One run of 10 |
Gameplay
On their turn, a player must draw the top card from either the stock or discard pile. They then try to use cards from their hand or the drawn card to make any melds that will help complete their current contract. All cards for a contract must be melded simultaneously.
Once a contract is complete, the player can lay off extra cards onto their own or other players' melds. A player who has completed their contract can also replace another player's joker with the natural card.
After melding and laying off cards, one card must be discarded. Play proceeds clockwise with the next player's turn.
Scoring
When one player goes out, the hand ends. Any cards remaining in other players' hands are counted for penalty points:
| Cards | Score |
| --- | --- |
| Jokers | 50 Points |
| Aces | 20 Points |
| Face Cards (J-K) | 10 Points |
| Numbered Cards (2-10) | 5 Points |
12-Step Rummy Example
Paul is still on Contract #1 and his starting hand is:
5♠ 5♥ 5♦ 8♠ 9♠ 10♠ J♥ Q♦ 7♦ 7♥ 6♣ A♥ 4♦
Contract #1 requires 2 sets of 3 cards.
John draws the 2♦ from the stock pile.
He places the 5♠ 5♥ 5♦ down as a set.
Paul then places the 7♦ 7♥ 2♦ down as a second set, using the 2 as a wild card.
Having completed Contract #1, Paul discards the Q♦.
He can now start laying off the remainder of the cards on his own or others' melds.
Let's assume James is on Contract #2 which requires 1 set of 3 cards and 1 run of 4 cards.
James melded a set of A♣ A♦ Joker and a run of J♠ Q♠ K♠ A♠ per the requirements.
Paul could now lay off his A♥ to the A♣ A♦ Joker, and his 8♠ 9♠ 10♠ to James' J♠ Q♠ K♠ A♠.
This leaves Paul with J♥ 6♣ 4♦. Leaving him with 20 penalty points (10+5+5) for this round. Could be worse!
Strategy Tips
Be Tactical with Wild Cards
Having jokers and 2s gives you flexibility when melding. However, be mindful about when to use them. Also, try to discard other high-point cards that aren't helping you with a meld, this will prevent high penalty points.
Watch Discards
Pay attention to what other players are discarding as it may reveal what they are collecting for their contract. Their discards may be useful for your own contract.
Also read