Introduction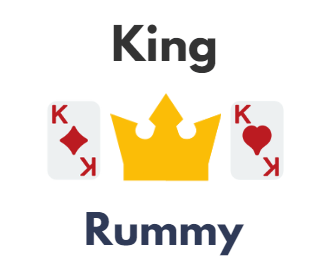 King Rummy is yet another twist on the Contract Rummy ruleset. Most of the gameplay is identical except for some specific rule changes. The objective is to be the first player to lay down all of your cards in the proper melds. You try to end every round was as few points as possible.
Quick Rule Differences
Four jokers are used, as opposed to one in regular Contract Rummy.
There are only four rounds instead of seven.
Players are always dealt 10 cards.
Opponents can swap your melded Joker with one of their cards.
Laying off only applies to rounds 1 to 3.
Melds
The possible melds in King Rummy are sets and sequences. Straightforward and no changes here:
A set consists of at least 3 cards of the same rank.
A sequence consists of at least 4 cards of the same suit in consecutive order.
Jokers are wild and can stand in for any card in a meld.
Unique rule: when a joker is melded, the other players have a chance to immediately replace it with one of their own cards that matches the melded set or sequence.
King Rummy Contracts
Each deal has a specific contract that must be fulfilled. This is a significantly lower number of contracts needed compared to regular Contract Rummy. However, the contracts are a bit harder straight out of the gate.
Deal 1
One set of 3 cards and one sequence of 4+ cards
Example: 10♦ 10♥ 10♣ + 3♠ 4♠ 5♠ 6♠
Deal 2
Three sets of 3+ cards each.
Example: 7♠ 7♣ 7♥ + 10♦ 10♥ 10♣ + 3♠ 3♠ 3♦
Deal 3
Two sequences of 4+ cards each.
Example: A♠ 2♠ Joker 4♠ 5♠ + 9♥ 10♥ J♥ Q♥
Deal 4
Two sets of 3 cards and one sequence of 4 cards.
Example: 2♦ 2♣ 2♦ + Q♦ Q♠ Q♥ + 4♣ Joker 6♣ 7♣
Gameplay
Make sure to shuffle and cut the deck. Every player draws one card from the deck. The one with the highest card becomes the dealer. Ten cards are then dealt to each player. Turns move clockwise.
On the first three deals, after a player melds their initial contract, they can immediately lay off additional cards before their next turn.
On the fourth deal, the contract requires all cards so no additional laying off is allowed.
Scoring
Nothing changes here compared to the original game. At the end of each hand, players receive penalty points for their remaining cards:
| Cards | Penalty Value |
| --- | --- |
| Number cards | Face value |
| J, Q, K | 10 Points |
| Aces | 15 Points |
| Jokers | 25 Points |
The lowest total points after 4 deals wins.
Example Play
Assume two people are playing King Rummy:
Player 1 is on Contract #1 and is dealt: A♥ A♦ 10♥ 8♣ 7♣ 5♠ 9♥ J♥ Q♥ Joker
Player 1 melds A♥ A♦ Joker for the set.
Player 1 melds 9♥ 10♥ J♥ Q♥ for the sequence.
Player 1 completed the contract and is left with 8♣ 7♣ 5♠.
8 + 7 + 5 = 18 penalty points
Player 2 is on Contract #2 and is dealt: 3♠ Joker A♣ 3♣ K♥ K♣ 6♥ 8♥ 6♦ 6♥
The player melds 3♠ Joker 3♣ and 6♥ 6♦ 6♥ for two sets.
Player 2 swaps Player 1's Joker in the A♥ A♦ Joker set with their own A♣.
Player 2 can now meld their third and final set: K♥ K♣ Joker
Contract completed! Remaining card: 8♥.
However, they can lay off 8♥ to Player 1's sequence!
Player 2 goes out and wins the round.
Strategy Tips
Try to meld as early as possible
Melding your contract early allows you to lay off additional cards before your next turn. This increases your chances of going out first.
Watch out for Jokers
Since there are 4 jokers in the deck, they come up more frequently. When an opponent melds a joker, look to see if you have a card that could potentially replace it to break up their meld.
Hold onto key cards for melds
It can be beneficial to hold onto cards like Jokers and Aces since they are useful for creating melds. Don't discard them early unless necessary. It's a balance between trying to complete your contract as fast as possible and strategically using the 'special' cards.
You May Also Like