Introduction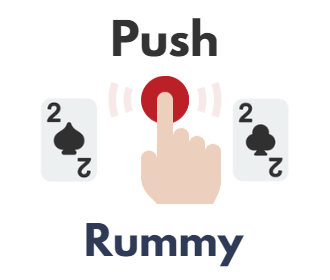 Push Rummy is a fun partnership card game that is a variant of Contract Rummy.
Four players play in teams of two partners that sit across from each other. It utilizes two decks of cards plus jokers to allow for interesting melds and card plays.
Goal
The goal is to empty your hand of cards before your opponents by forming melds on the table. When your team has a player go out first, the opposing team scores penalty points based on their remaining cards. After five hands, the team with the lowest total penalty points wins.
Push Rummy Rule Differences
Push Rummy has some specific rule differences compared to regular Contract Rummy. See below:
This is a four-player partnership game, while Contract Rummy is usually for 2-6 players.
There is a unique "push" mechanism for drawing and discarding cards.
The hand sizes and meld requirements increase with each hand.
Only the opposing team scores penalty points when someone goes out.
Setup and Deal
Push Rummy uses two decks of cards plus four jokers, for a total of 108 cards. Five hands are played, starting with 6 cards and increasing to 10 cards in the final hand.
A random dealer is chosen first and then dealer rotates each hand clockwise. The appropriate number of cards are dealt to each player one at a time. The next card starts the discard pile face up, and the remaining cards become the stock pile.
Melds
Melds in Push Rummy are sets of equal cards and runs of consecutive cards in the same suit, like in most Rummy games.
Sets must contain at least 3 cards and can only contain up to 4 cards since there are 2 of each card. Example: 3♦ 3♥ 3♠
Runs must be at least 3 cards as well. Example: J♦ Q♦ K♦ A♦ (aces can either be used as the highest or the lowest card in a run)
Jokers and 2s are wild cards that can represent any normal card to help form melds. When using only wild cards, the type of meld must be specified.
Rounds
Before a player can form arbitrary melds, they must complete an initial "contract" meld on their own. Their partner fulfilling the contract does not allow them to meld freely.
The initial meld requirements increase each round:
Hand 1
Cards dealt: 6
Requirements: Two sets of 3
Example: 4♥ 4♦ 4♠ + 7♣ 7♥ 7♥
Hand 2
Cards dealt: 7
Requirements: One set of 3, one run of 4
Example: 5♥ 5♣ 5♠ + 8♥ 9♥ 10♥ J♥
Hand 3
Cards dealt: 8
Requirements: Two runs of 4
Example: 8♥ 9♥ 10♥ J♥ + 3♣ 4♣ 5♣ 6♣
Hand 4
Cards dealt: 9
Requirements: Three sets of 3
Example: K♣ K♣ K♥ + Joker 9♦ 9♠ + Q♥ Q♦ Q♣
Hand 5
Cards dealt: 10
Requirements: Two runs of 5
Example: A♥ 2♥ 3♥ 4♥ 5♥ + 9♣ Joker 10♣ Joker Q♣
Gameplay
On a turn, a player first draws a card, either from the top discard or by "pushing" two cards to the opponent on the left.
Next, the player can form their initial contract meld if they haven't already. After fulfilling the contract, they can meld and lay off cards freely.
Finally, they must discard one card face up to end their turn.
Play continues until one player empties their entire hand, either by melding all cards or melding all but one and discarding it.
Scoring
When a player goes out, only the opposing team scores penalty points based on their remaining cards:
| Cards | Points |
| --- | --- |
| Threes | 5 |
| Fours | 5 |
| Fives | 5 |
| Sixes | 5 |
| Sevens | 5 |
| Eights | 5 |
| Nines | 5 |
| Tens | 10 |
| Jacks | 10 |
| Queens | 10 |
| Kings | 10 |
| Aces | 15 |
| Jokers | 20 |
| Twos | 20 |
After five hands, the team with the lowest total penalty points wins.
Example Scenario
The dealer, Player A, deals 6 cards to each player. Player B has the first turn. Their starting hand is:
9♥ 10♠ 5♠ 5♦ Joker 3♠
Player B draws the 2♣ from the top of the discard pile. They meld a set of 5's. Unable to meld or lay off anything else, Player B discards the 3♠.
Player C's hand: 10♦ 9♠ 9♣ 8♥ 7♦ 6♥
Player C draws the next card from the stock pile and pushes it face down with the 3♠ to Player D. Player C melds the set of 9's.
Player D draws from the stock and melds a set of 3's.
Player A is unable to meld so discards.
On Player B's next turn, they draw the Q♥ from the stock pile. Using the Q♥, 10♠, Joker, and 9♥ from their hand, Player B melds a valid run of 9♥ 10♠ Joker Q♥. They discard the 2♣ and go out!
Strategy Tips
Pay Attention to the Discard Pile
Since you can draw the top discard or push cards to your opponent, watch what is being discarded. Try to avoid pushing desirable cards to your opponents.
Coordinate with Your Partner
Talk strategy with your partner. Call out what melds you need or watch what they discard as a hint.
Conserve Key Cards
Try to hold on to wild cards and cards you see your partner needs. Don't discard them early if you can avoid it.
You May Also Like