Introduction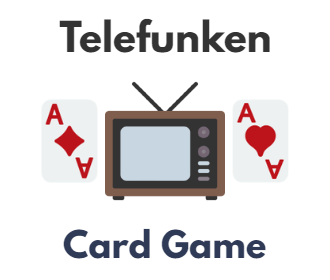 Telefunken or Telefunque is a card game of the contract rummy family that originated in South America. It is most popular in Peru, Bolivia, Ecuador, and Colombia.
The game has a fun blend of strategy and chance that makes it an engaging pastime for 2 to 4 players.
Goal
The goal of Telefunken is to be the first player to empty your hand of cards by forming sets and sequences. This is called "going out." You can go out by melding all your cards or all but one.
The game ends when a player goes out and the other players receive penalty points based on their remaining cards. The player with the lowest total penalty points after 7 deals wins.
Quick Rules
In short, the Telefunken rules are as follows:
Two standard decks and 4 jokers
Players get 7 chips to buy discards
7 deals with different melding contracts
Form sets (3+ equal cards) and runs (3+ in sequence)
Can only buy discards before your initial meld
Penalty points for leftover cards
Deck and Deal
Telefunken uses a deck of 108 cards consisting of 2 standard 52-card decks plus 4 jokers. This gives you enough cards for longer runs and larger sets with duplicates. The jokers act as wild cards.
The first dealer is chosen randomly. Each player is dealt 11 cards. There is also a face-up discard pile started with one card. In deal 6, there is a discard and re-deal before gameplay starts where players can exchange their cards.
The player to the dealer's left cuts the deck and gets to take any jokers revealed on the bottom to add to their hand. This gives them an advantage on the first deal.
Telefunken Melds
Melds are combinations of cards that players aim to form during the game. There are two types of melds in Telefunken:
Sets
A set consists of 3 or more cards of equal rank.
For example, 8♥ 8♦ 8♣ or K♥ K♥ K♣ K♦ would count as a set. The terminology for set sizes is:
Trio – A set of 3 equal cards
Quartet – A set of 4 equal cards
Quintet – A set of 5 equal cards
Sets can include duplicate cards, since the game uses two combined decks. This gives players a better chance of gathering multiple cards of the same rank.
Sets can contain a maximum of one joker, which acts as a wildcard that can represent any card in the set. Using a joker lets you complete a set when you lack a specific rank. However, due to the one-joker limit per meld, they should be used strategically.
There is a special "pure" trio set required in the first deal, containing no jokers and three cards of different suits. This makes the first contract more challenging.
Run (Sequidilla or Escalera)
A run consists of 3 or more consecutive cards of the same suit. For example, the 4♥ 5♥ 6♥ would be a valid 3-card run. Runs can descend in rank as well, such as Q♦ K♦ A♦.
When it comes to runs, there are a few key rules:
An Ace can be high or low in a run, but not in the middle (K-A-2 is invalid).
Jokers cannot be used to fill the middle of a run. They can only represent cards at the very beginning or very end of a run.
A joker on the end of the run can be swapped with the natural card it represents.
Runs test players' card drawing luck and management of suits. Long runs of 7+ cards are especially valuable for meeting the goal in the 7th deal.
Contracts
A unique aspect of Telefunken is that each of the 7 deals has a specific melding contract that players must fulfill. The required combinations increase in difficulty:
Round 1
Requirement: One pure trio (no jokers, all different suits)
The first contract is a pure trio set. This is the most restrictive, forcing players to find 3 of the same rank in 3 suits without using a joker. It tests their luck right off the bat.
Example: 5♥ 5♠ 5♦
Round 2
Requirement: Two trios
Now players must form two standard trio sets using any cards. Jokers can help fill in one of the trios if needed.
Example: 5♥ 5♠ 5♦ + 8♣ 8♦ Joker
Deal 3
Requirement: One quartet
A quartet (set of 4 equal cards) becomes the new challenge. Jokers once again provide some flexibility.
Example: 10♦ 10♣ 10♠ 10♦
Round 4
Requirement: Two quartets
The task ramps up to two quartets in a single hand. Now luck of the draw is more important if jokers are scarce.
Example:
Deal 5
Requirement: One quintet
In deal 5, players must gather the daunting quintet – a set of 5 equal cards. Jokers are highly valuable here.
Example: 9♠ 9♦ Joker Joker 9♠
Round 6
Requirement: Two quintets
This is the peak difficulty, requiring two quintets before players can even begin melding and laying off cards.
Example: J♠ J♦ J♣ J♦ J♥ + A♥ Joker A♣ A♠ A♦
Deal 7
Requirement: One trio and one 7+ card run, must go out
The final deal eases up, but requires a long run alongside a trio to successfully go out.
Example: 2♣ 2♥ 2♠ + Joker 7♦ 8♦ 9♦ 10♦ J♦ Q♦
Gameplay
The player to the dealer's right goes first. Gameplay proceeds clockwise around the table.
On your turn, you must:
Draw one card from the stock pile
Optionally meld card combinations once you meet the contract
Discard one card from your hand
Players can only meld on the turn after they fulfill that deal's contract. This requires strategic planning of draws and discards to build toward the needed combination(s).
On the very first turn, the player can take the face-up discard pile card instead of drawing from the stock. This gives them a small starting advantage.
Buying Discards
If a player discards a card you want, you can "buy" it on your next turn before drawing. To buy a discard:
Spend 1 of your limited chips
Take the top discard pile card
Draw another card from the stock
You can only buy discards before your initial meld each hand. This spends your chips but lets you gain key cards.
If multiple players want the discard, priority goes clockwise from the discarding player.
Once melded, players cannot add to their contract melds until the next turn.
The hand continues until someone completely empties their hand, ending the deal. Then penalty points are scored based on cards remaining in other players' hands.
Scoring Points
This is straightforward. Players get penalty points for leftover cards:
| Card Type | Value |
| --- | --- |
| Jokers | 15 points |
| Aces | 11 points |
| Face cards (J, Q, K) | 10 points |
| Number cards (2-10) | face value |
The lowest total points after 7 deals wins.
Strategy Tips
Save Chips for Key Moments
Since you only get 7 chips to buy discards for the whole game, use them sparingly. Save several chips for the harder deals at the end. Buying a key card then can help you go out.
Weigh Decisions Carefully
With 7 deals, you can recover from one bad hand. But avoid unnecessary risks that will hurt you across multiple hands. Play strategically within each deal, but keep the big picture in mind too.
Target Runs in Deal 7
For the final deal, focus on getting a solid 7+ card run along with your trio. This will help you meet the goal of going out. Plan ahead by building runs through draws and discards in early deals.
More Contract-type Games