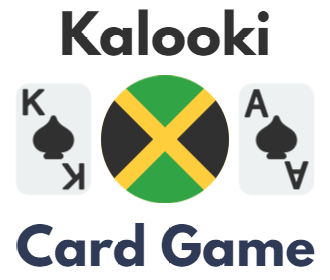 Introduction
Kalooki, also known as Kaluki, or Caribbean Kalooki, is a Contract Rummy variation that's particularly popular in the Caribbean Islands, especially Jamaica. Sometimes, the game is called "Jamaican Rummy", even though it is popular in Trinidad and Tobago as well.
How to Play Kalooki?
Kalooki is played using a shoe of two Joker variants of the Anglo-American 54-card decks. Jokers are included, and therefore a Kalooki deck should have 108 total cards in it.
Sets
Kalooki is broken up into 9 games, with a total "set" of Kalooki ending after those 9 games. During each game, there is a particular "contract" that must be met by each Player in order to score for that game. For example, in the first game, a Player must at least play three "threes."
Threes
The "Three" in quotes refers to the melds, known as "threes and fours". Threes are referred to as "books" in other Rummy games. This means a "three" is a set of three or more cards that are all the same rank. Suit (♥♦♣♠) does not matter, and cards of the same suit may be in a single Three.
Fours
Fours are known as "Sequences" in other Rummy variations. Fours are a sequence of at least 4 cards that are all the same suit, ascending or descending in rank (Ace, 2-9, 10, J, Q, K, Ace).
In Kalooki, Jokers may not be used consecutively. 9, Joker, Joker, Q is not valid, but 9, Joker, Jack, Joker is valid. The same rule applies to "Threes" as well.
Deal
The Dealer is decided randomly, and then will deal 9 cards to each Player including themselves for the first game. The Dealer position will change between each round of Play, moving clockwise around the circle of Players at the end of each game.
Gameplay
The game then begins, with the Player immediately clockwise from the Dealer taking their turn first. Just Like with the regular instructions for Rummy, a Player must draw one card at the start of their turn, and discard one card at the end of it. The first discard should be placed next to the stock, face-up. All discards will be placed face-up.
Calling
Kalooki has a special rule that distinguishes it from other Rummy variations, aside from its progressive contracts and dealings. This is known as "calling." When a Player has not laid out any melds, or tacked any cards, they may call.
A Player calls when another Player has discarded a card at the end of their turn, and it is not their turn next in the rotation. The call is essentially a bid for the card that was just discarded.
The Player that placed the discard has two options: Allow, or disallow.
If the Player allows the call, the calling Player will immediately take the discard, as well as drawing another card from the stock. This will give the calling Player 2 extra cards, relative to the other Players.
If the Player disallows the call, the Player who's turn it is gets first dibs on the discard. If they do not want it, the card is discarded as normal into the discard pile and play continues.
Ending and Winning
Each round ends when a Player empties their hand of cards, and has met the minimum contract requirement.
The winner of the overall game is the Player with the lowest cumulative penalty score. The winner of a round receives a bonus and subtracts 50 points from their total score.
Kalooki Rules
Jokers cannot be exchanged like in other Rummy Games. The original Player of a Four with a Joker in it may replace the Joker with the card it represents, but the Joker must then be moved to either end of the Four. Jokers in Threes cannot be moved at all.
A Player must meet the minimum melding requirement laid out before the round ends, otherwise they will be attached with a 50 Point penalty in addition to the deadwood in their hand.
Players may also "tack" cards, adding individual legal cards onto melds that are already laid out onto the board. A Player may only tack after they have played all their melds on that turn. If a Player tacks, they will not be allowed to form a meld afterwards on the same turn.
Scoring & Points
Like in Progressive Rummy, Kalooki involves a set number of rounds with specific melds that must be played in each round. Furthermore, each progressive round involves the dealing of an additional card. This chart below will explain in further detail:
Round 1: 9 Card Deal, 3 Threes must be played.
Round 2: 10 Card Deal, 2 Threes and 1 Four
Round 3: 11 Card Deal, 2 Fours, and 1 Three
Round 4: 12 Card Deal, 3 Fours
Round 5: 12 Card Deal, 4 Threes
Round 6: 13 Card Deal, 3 Threes and 1 Four
Round 7: 14 Card Deal, 2 Threes and 2 Fours
Round 8: 15 Card Deal, 1 Three and 3 Fours
Round 9: 16 Card Deal, 4 Fours
When the same Player is laying down a Three or Four, when they already have a Three or Four on the board, the second meld must be a different suit than the suit of the first. All Threes and Fours played by a Player must have unique suits relative to eachother, but not across melds.
For Example, Player 1 has played a Three of ♦ and a Four of ♣, and now has a Three of ♣ in their hand. They may lay down those cards, but they could not play another Three of ♦.
Like other Rummy variations, the lowest score at the end of the total set will win the whole set. For this reason, each card has an associated penalty value. If that card is still in your hand at the end of the round, its penalty score will be added to your total.
The following scoring chart displays the penalty value for each card:
| Card | Penalty Value |
| --- | --- |
| Joker | 50 Points |
| Black (♣♠) Ace | 15 Points |
| K, Q, J, 10 | 10 Points |
| 9 | 9 Points |
| 8 | 8 Points |
| 7 | 7 Points |
| 6 | 6 Points |
| 5 | 5 Points |
| 4 | 4 Points |
| 3 | 3 Points |
| 2 | 2 Points |
| Red (♥♦) Ace | 1 Point |
Example Hand
Assume the board is laid out with the following melds:
3♦, 4♦, 5♦, Joker,     5♣, 5♦, 5♠,     9♠, 10♠, J♠, Q♠
And assume your hand is this:
5♥, 8♣, K♠, 7♥, 8♥, 9♥, 10♥, 4♥, 10♥
Presuming you have played no melds, then it would be advantageous to play the 7-10♥, melding first, and then tacking the 5♥ and K♠ for a 6 card play.
Frequently Asked Questions
Are aces high or low in Kalooki?
The score of an Ace, for deadwood, like other Rummy variations, is 1 Point. As for its place in Sequences, Aces may be played as either high or low. A, 2, 3, or Q, K, A are both valid placements for the Ace.
Where can I play Kalooki online?
Luckily, Kalooki is offered by Cardgames.io, a popular and free website that offers several popular card multiplayer card games online. Here you can play against other real people.
How many cards do you start with in Kalooki?
It depends on the number of Players, but generally in a two-to-four-player game of Kalooki, each Player should be dealt 15 cards at the start of the game.
Also read